Back on solid footing, Trumbo sets D-backs' path
Slugger poised to overshadow injury-shortened debut season with club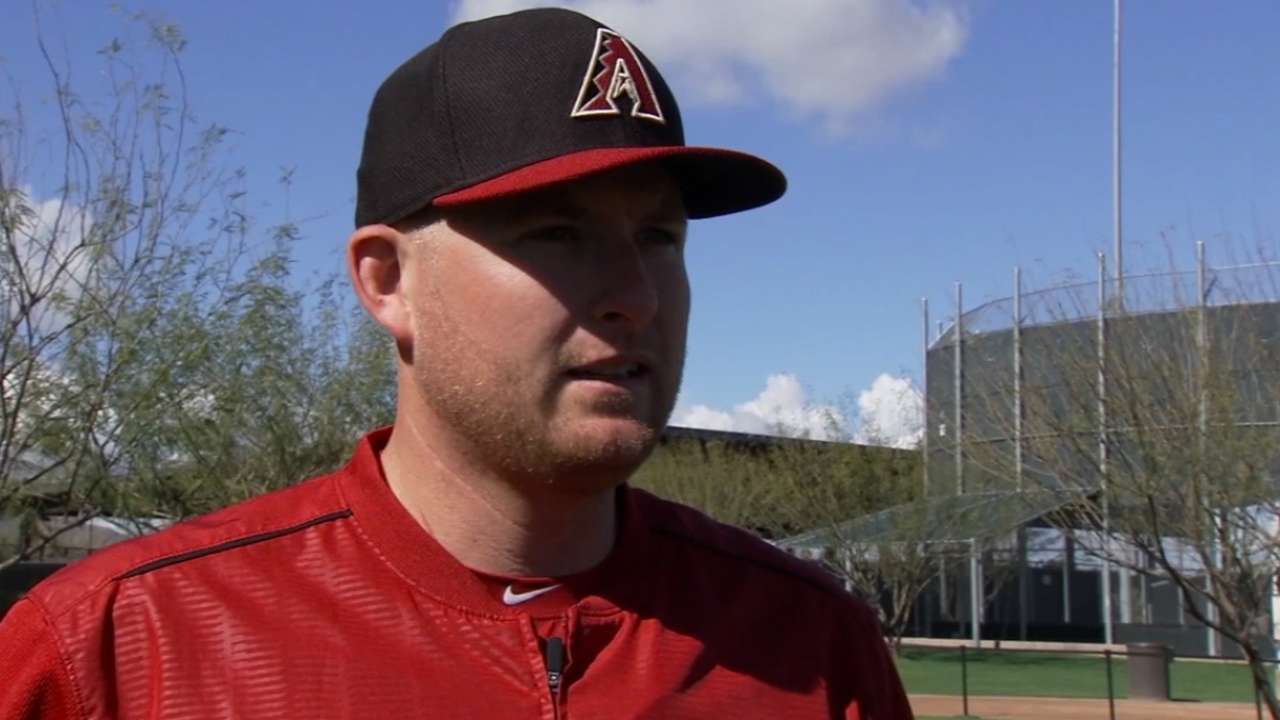 SCOTTSDALE, Ariz. -- You can tell the difference in Mark Trumbo this year just by watching the D-backs outfielder -- on the field as well as in the clubhouse.
Acquired in December 2013 from the Angels, Trumbo was expected to provide protection for first baseman Paul Goldschmidt, and given his prodigious power, there was talk of Trumbo increasing his already impressive home run totals thanks to hitter-friendly Chase Field.
Right from the first few days of Spring Training, though, those plans started to go sideways when Trumbo developed plantar fasciitis in his left foot, hampering his movement, particularly in the field.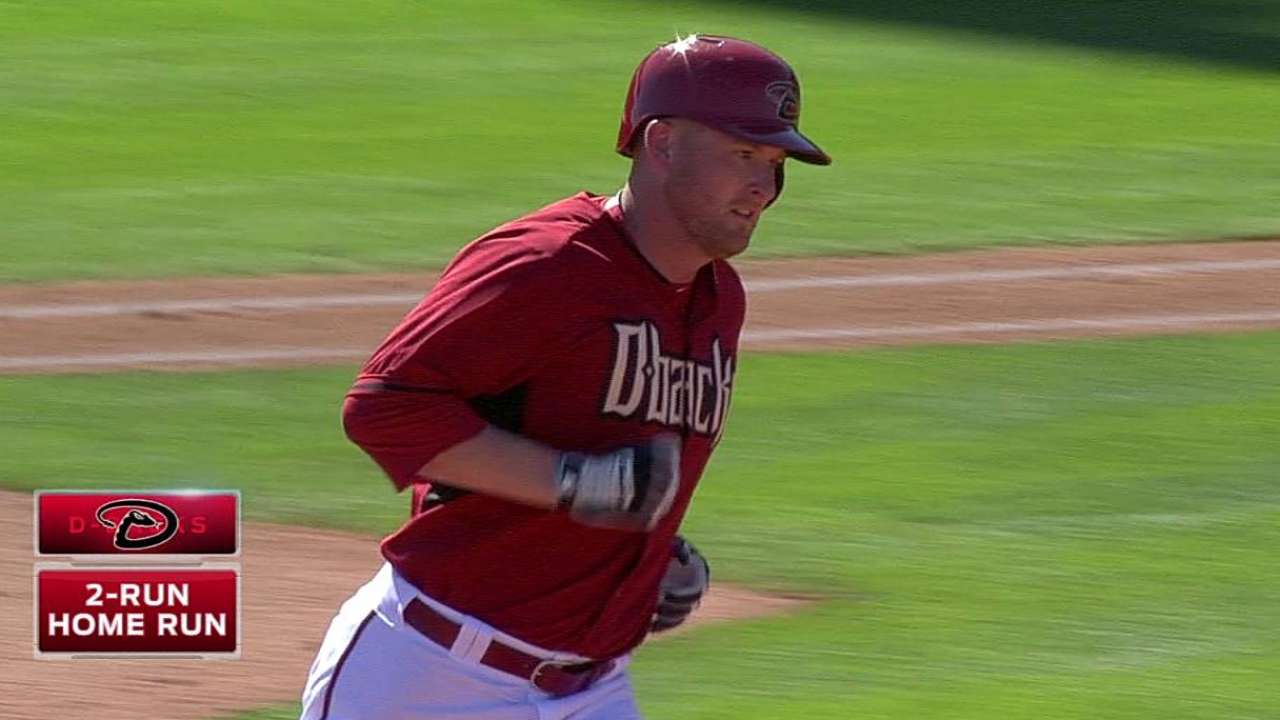 "I just never was able to shake it," Trumbo said. "There were a couple of times that I thought we could be out of the woods, and then you take one hard step down the baseline, and, 'Whoa.' But it was what it was. You can't go back and change it."
Trying to play through the plantar fasciitis eventually led to a foot fracture and a 2 1/2-month stint on the disabled list.
"Some days were better than others," Trumbo said. "Some days were kind of exceptionally bad. Unless someone has had the plantar type issue, you really don't know. It's just about hard enough to where you can play, but it's very annoying."
This spring, with his foot issues behind him, Trumbo has been able to spend time working on his defense, which is important, given that he is transitioning from left field to right.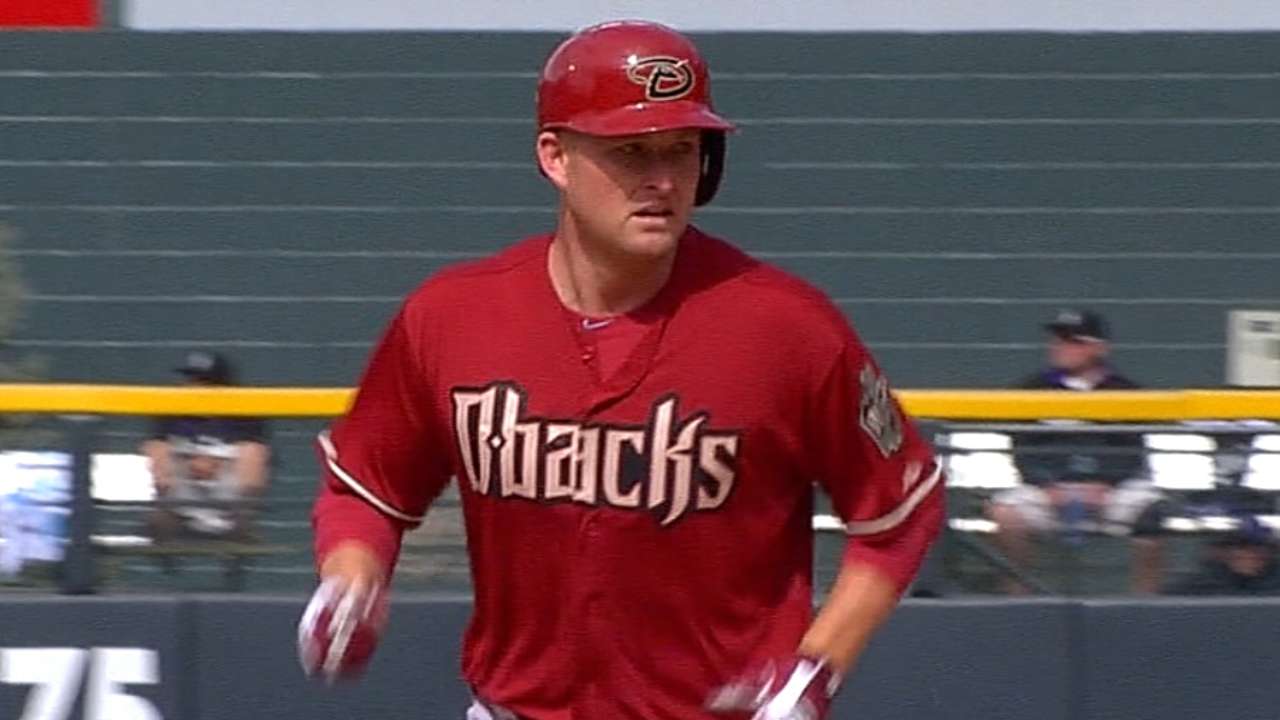 "I think last year was a tough break for him," fellow outfielder A.J. Pollock said. "He brings a lot -- he brings leadership, he's a lot of fun to be around and he works hard, especially in the outfield. He's out there every day, and he's working on it. He wants to refine his game out there."
While he takes his defensive work seriously, Trumbo earns his money in the batter's box. With the Angels, he slammed 29 homers in 2011, 32 in '12 and 34 in '13.
Production like that would give Arizona a powerful middle of the lineup and ease some of the pressure on Goldschmidt.
"He's always that big presence in the middle of the lineup," D-backs manager Chip Hale said of Trumbo. "The ball is flying off his bat. The BPs and all the drills we've done with him have been great. He's taken it into games. I think we're keeping him fresh, so I think he feels pretty good physically. That's the key to keeping him going."
In the clubhouse, Trumbo seems more relaxed than last year and teammates seem drawn to him. It's not uncommon to look over and see a few players gathered around his locker talking.
"When you're new, you've got to feel your way around a little bit," Trumbo said. "We had a number of established guys last year, and I was happy just to try and do my part. I think naturally, as you get a little older and have been around a little longer, it's up to you to start taking some initiative. I think there's a number of guys in this room that would be applicable to."
Steve Gilbert is a reporter for MLB.com. Read his blog, Inside the D-backs, and follow him on Twitter @SteveGilbertMLB. This story was not subject to the approval of Major League Baseball or its clubs.