Russell told to keep it up in Minors
Cubs send down shortstop despite having little to work on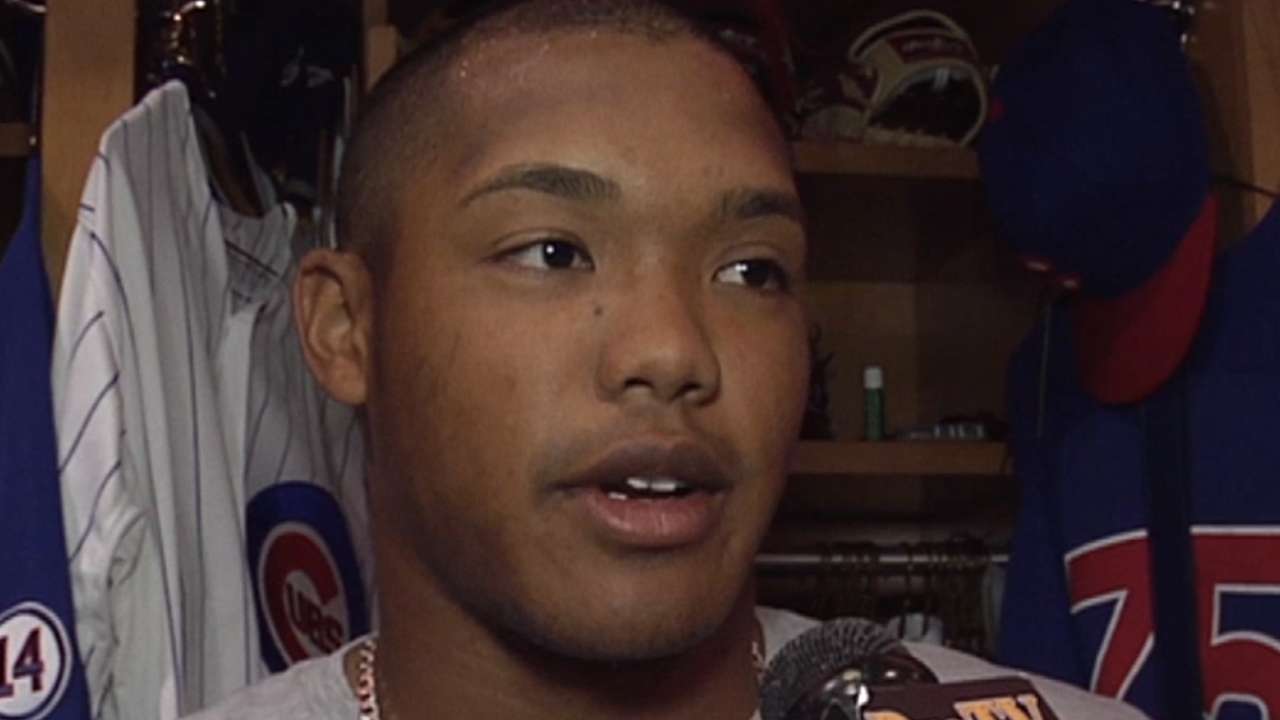 MESA, Ariz. -- When Joe Maddon met with Addison Russell to tell the shortstop he was being assigned to Minor League camp, the Cubs manager was nearly speechless.
"I couldn't tell him what to work on," Maddon said. "He's that accomplished at that age. I told him, 'Just keep doing what you're doing.'"
Russell and top prospect Kris Bryant were both assigned to Minor League camp, while Javier Baez was optioned to Triple-A Iowa on Monday. The moves leave the Cubs with 35 players in spring camp.
• Outfielder Chris Denorfia, sidelined with a sore left hamstring, took batting practice Monday and was expected to play in a Minor League game by midweek. Whether he'll be ready for Opening Day is still to be determined.
"I don't like to speculate on things like that," Denorfia said Monday. "When you're rehabbing, anything can happen. As long as everything progresses the way it should, [I should be ready] sometime around that time. The goal is to be ready by then."
He wasn't worried about switching from 90-degree weather in Arizona to the upper 30s in Chicago, where the Cubs open the season.
"I would 100 percent love to be in Chicago," he said.
• Jon Lester will start in a Minor League game Tuesday at the Cubs complex, his final tuneup before Opening Night. The Cubs want to be able to control his pitch count and situations. The left-hander was scratched from his March 21 start because of a tired arm.
• Travis Wood and Kyle Hendricks will likely pitch Saturday in the Cubs' final Spring Training game against the D-backs at Chase Field. The rest of the big league team will be headed to Chicago that day to prepare for the season opener Sunday night against the Cardinals.
• The Cubs players were greeted by "DJ Sean" as they did their morning stretch Monday, courtesy of bench coach Dave Martinez, who found the disc jockey at a Scottsdale restaurant. Maddon was among those asked to dance a little after the stretch.
Carrie Muskat is a reporter for MLB.com. She writes a blog, Muskat Ramblings, and you can follow her on Twitter @CarrieMuskat. This story was not subject to the approval of Major League Baseball or its clubs.