Growing up: Puig now letting play do talking
Surrounded by supportive former opponents, Dodgers star minimizing theatrics, gaffes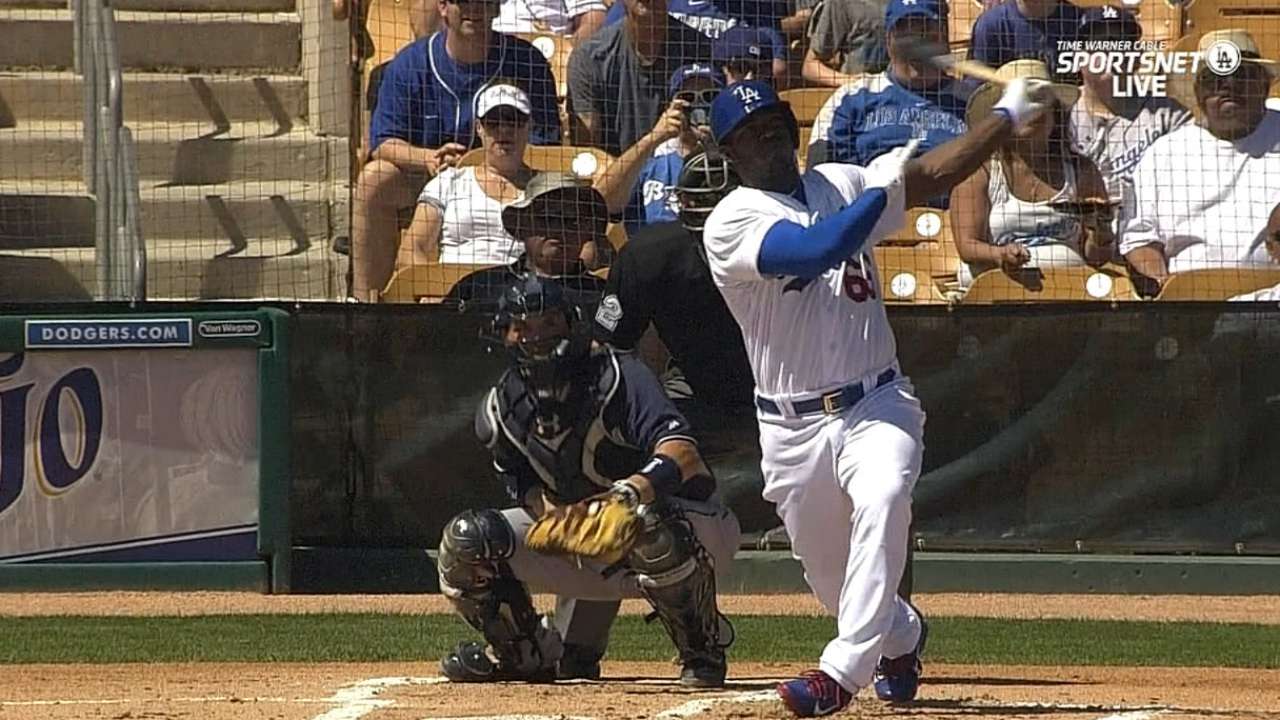 GLENDALE, Ariz. -- The guess here is that Yasiel Puig arrives on time for Opening Day this year.
The Dodgers right fielder, emerging face of the game and lightning rod for controversy has been -- for him -- drama free this Spring Training, making headlines for home runs and not throwing to the wrong base.
"A lot of articles we were able to read in the offseason, he talked about being more professional and a better teammate," manager Don Mattingly said of Puig. "I think the guys we got in the clubhouse are good for him, guys like Jimmy Rollins, Howie Kendrick, Joel Peralta, and of course [Adrian Gonzalez]is always there and [Juan] Uribe is always there.
"I think it's just part of his maturity as a player. Last year was his first full season in the big leagues, and he's still very young [24]. All we look for is him to get a little better every year."
With Hanley Ramirez and Matt Kemp ex-Dodgers, Puig inherits the role of primary right-handed run producer. He's also the undisputed clubhouse focal point, except on days Clayton Kershaw doesn't pitch.
A five-tool All-Star, he's still a precocious kid at times, but he's dialed down the volume a bit. Even his bat flips have been less audacious.
"As an opponent, you see the things he does and think, 'Oh, really?'" said Rollins. "But the other side of it, as a teammate, he does have his style and flair, but as long as he's not disrespectful, keep doing it. We have enough people in here to say something if something needs to be said, and that goes for anybody in the clubhouse."
In the past, the Dodgers either didn't have the players to rebuke Puig, or he didn't listen. The dynamics this year have changed, both with the big names that are gone, but also the ones that arrived. The roster makeover turned some Puig opponents into teammates. That includes new catcher Yasmani Grandal from the Padres and Brandon McCarthy from the D-backs, among the many clubs that Puig has irritated.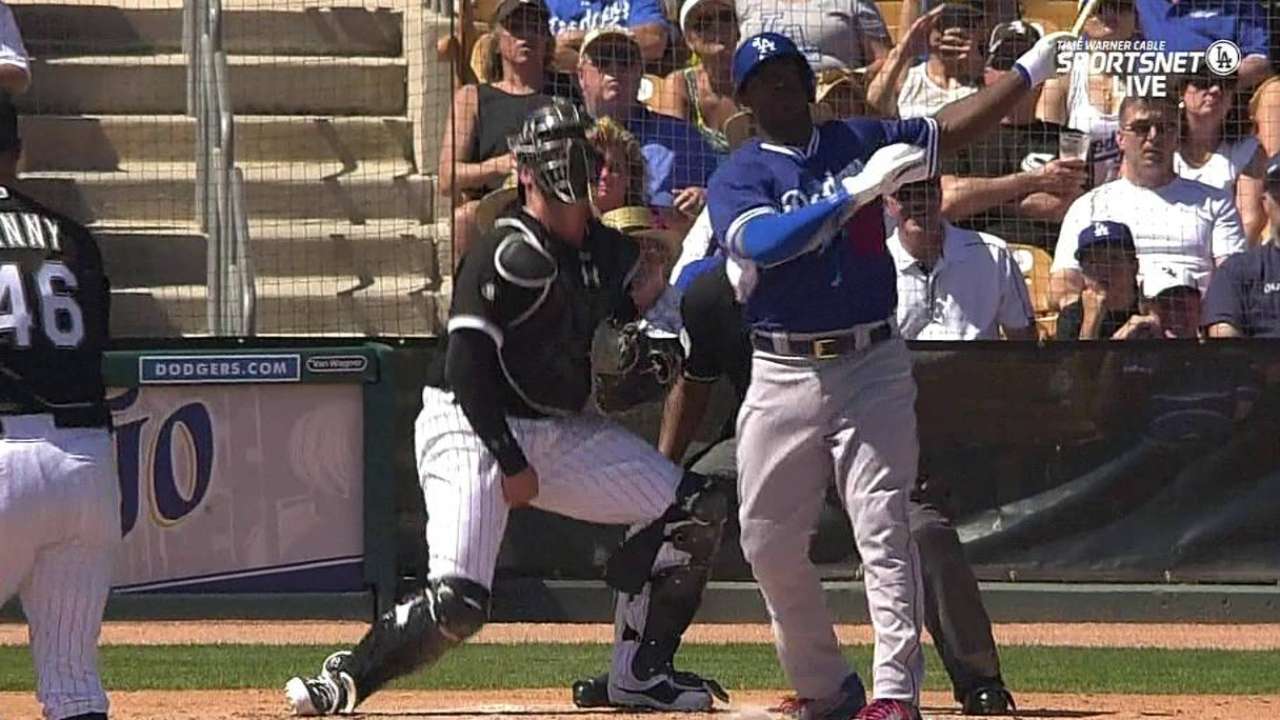 "The way I saw it, he could do whatever he wants as long as he backs it up," Grandal, a fellow Cuban native said of Puig, who was in the middle of the 2013 benches-clearing incident in San Diego that left Zack Greinke with a broken collarbone.
"I've seen a lot of guys in Cuba play that way. But they also [promote] it in the Dominican Republic. They like to celebrate a hit, and I understand it. Some guys show it up more than others. For me, I never had a problem with it. I've seen the other side of it. That's the way it is over there. Different people perceive it differently.
"I try to explain to guys who don't get it. Go overseas, play winter ball and you see it and get it. Cuban players like to bat flip. Center fielders swipe at balls they catch. It becomes a habit, and habits are hard to change. It always comes back for me that if you're doing the job, you can do whatever you want. With Puig, there's a reason why the guy's played a year and a half and all of a sudden is on the cover of [MLB 15 The Show]. This guy has tremendous upside, and part of it is the way he plays."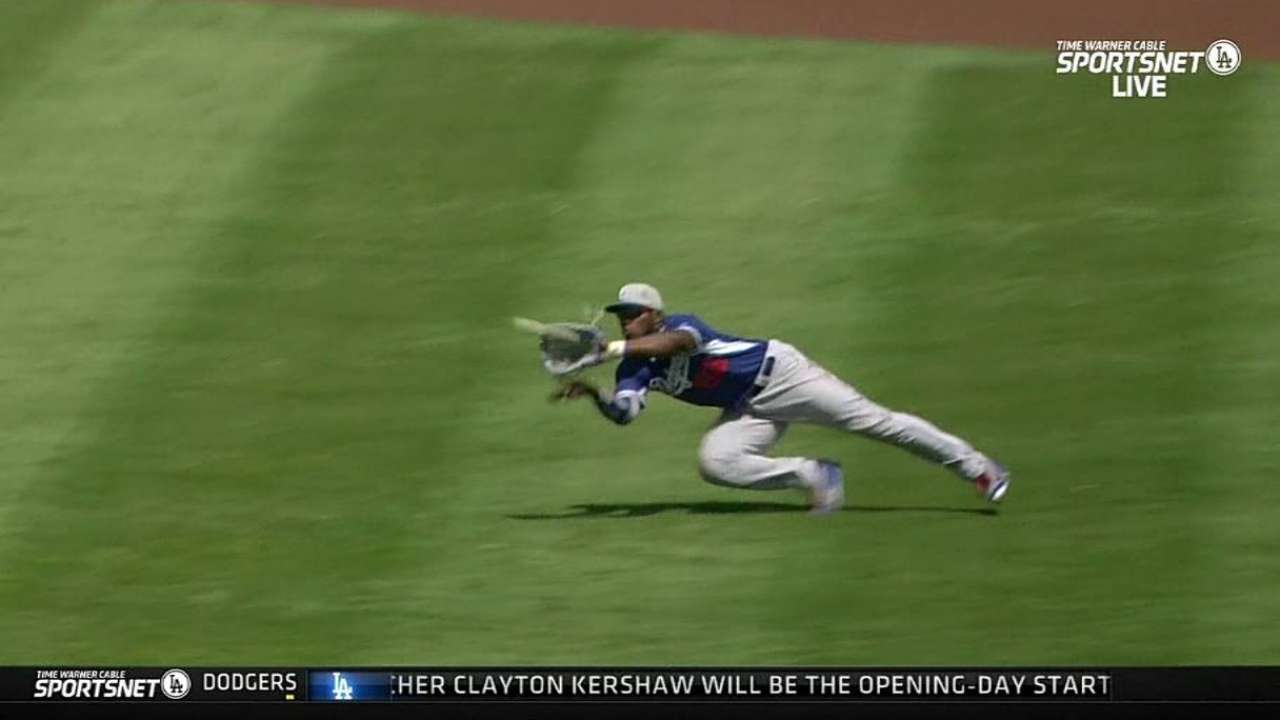 Puig was also in the middle of the major dustup with McCarthy's D-backs the same year.
"I can see where he can aggravate the other team," said McCarthy. "But he's a new teammate, and I definitely look forward to that. I hope he rakes all year long."
Pitcher Juan Nicasio said in his first week of Spring Training he asked Puig why he does the things he does.
"I ask him in the training room, why he plays like that, so excited when he hits a home run," said Nicasio. "He says it's just natural. He says he doesn't try to do something bad, but it's just natural for him when he hits a home run. A lot of times when I strike out a guy, I don't do anything, but they hit you and they throw the bat and do a show."
Kendrick remembers last year with the Angels, when Albert Pujols exploited Puig's nonchalance in the outfield to take an extra base. But for every mishap, there are multiple highlights.
"When you try to build a championship-caliber team, you need players like him," said Kendrick. "In here, he seems to get along with everybody."
Ken Gurnick is a reporter for MLB.com. This story was not subject to the approval of Major League Baseball or its clubs.