Brothers labors through third straight rough outing
Left-hander struggles with command; CarGo feels fine in return to lineup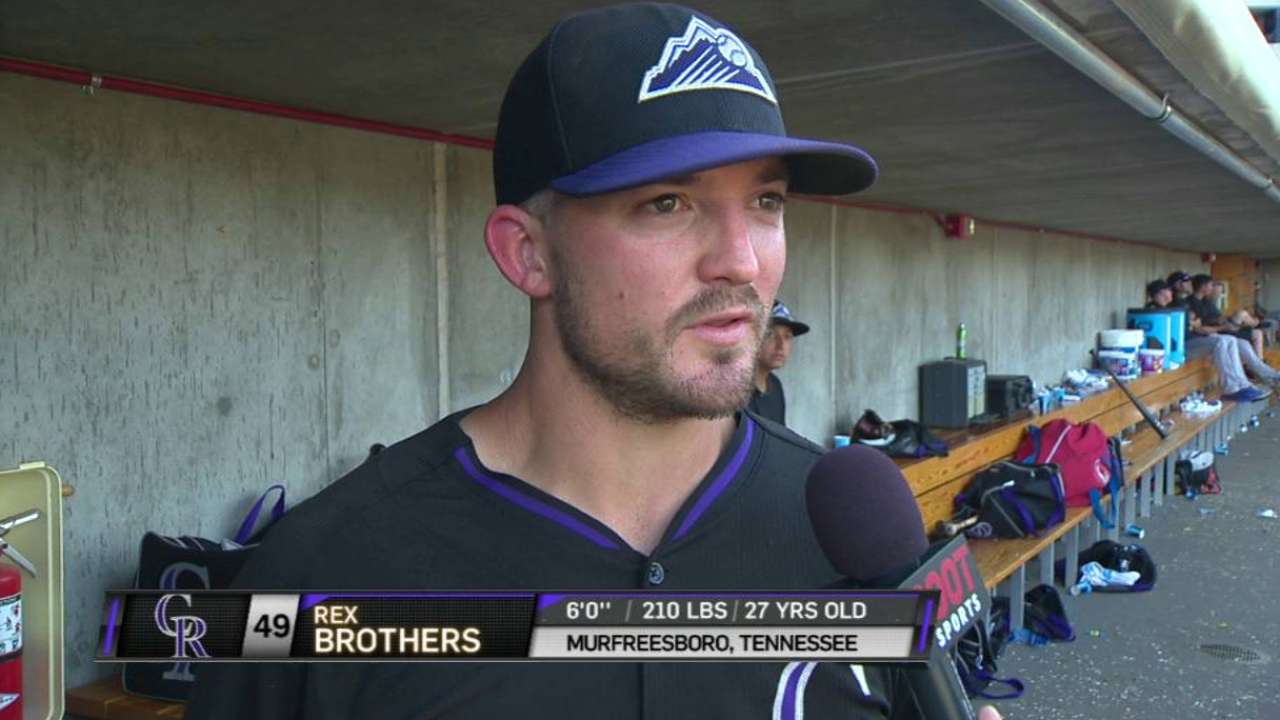 MESA, Ariz. -- Rex Brothers struggled for the third consecutive outing Monday in the Rockies' 11-2 loss to the A's at Hohokam Stadium. The left-handed reliever didn't allow a run in the eighth inning, but he continued his late Spring Training swoon.
Brothers opened the inning with a quick out before issuing a four-pitch walk, and he then fell behind the next batter before coming back for a strikeout. He fell behind Oakland's Stephen Vogt before allowing a single and issuing another four-pitch walk to load the bases. A grounder to first got him out of the bases-loaded jam.
It was the third such outing for Brothers, who has allowed six runs on five hits and five walks -- plus a hit batsman -- in his last three appearances (2 2/3 innings)
That's a 180 from Brothers' first five outings, in which he limited opponents to one run on two hits in five innings.
"We've got some work to do," Rockies manager Walt Weiss said. "We're trying to get him right, he's trying to get right. It comes and goes. He'll throw well for a batter or two and then it'll get away from him. But he's been able to reel it back in, and he needs to be more consistent."
Rockies fans know full well the difference how Brothers can perform. After dominating in 2013 to the tune of a 1.74 ERA, he stumbled last season to a 5.59 mark.
Other news from Monday:
• Rockies outfielder Carlos Gonzalez returned to the lineup for the first time since Friday, when he felt pain in his surgically repaired left knee. He was 0-for-2, and he said he felt fine.
"Feel great. Hit a ground ball, ran hard down the line, no problem. Caught a couple fly balls in the outfield. It was good," Gonzalez said.
• Closer LaTroy Hawkins got roughed up in the sixth, surrendering five runs in one-third of an inning. After retiring the first batter he faced, Hawkins allowed five consecutive hits -- the last of which was a Brett Lawrie three-run homer.
• Rockies right-hander David Hale, out with a left oblique strain, said he's been throwing long-toss from 90 feet as he works his way back. With a week to go before the regular season, it's unlikely Hale will be ready in time for Opening Day. He posted a 3.30 ERA in 45 games (six starts) last season in Atlanta, and he said he's willing to begin the season at Triple-A Albuquerque to get his innings in.
"Obviously, my goal is to spend as much time in the big leagues as I can, but if it means starting in Triple-A and working up from there, I'd do it," Hale said. "Or if I could do it in long relief and get my innings that way, I wouldn't mind doing it that way. There's a couple options, and it's up to them.'
• Matt McBride, who entered Monday with three home runs in his last two games, added a pinch-hit single to lead off the eighth inning. He's hitting .313 this spring, and he has been noticed.
"He can hit. He's always hit and probably always will," Weiss said. "He's a good fit for the way we look at things around here. He's a great kid, great work ethic."
Cash Kruth is a reporter for MLB.com. Follow him on Twitter at @cashkruth. This story was not subject to the approval of Major League Baseball or its clubs.