McClendon offers preview of Opening Day lineup
Mariners release veteran right-hander Correia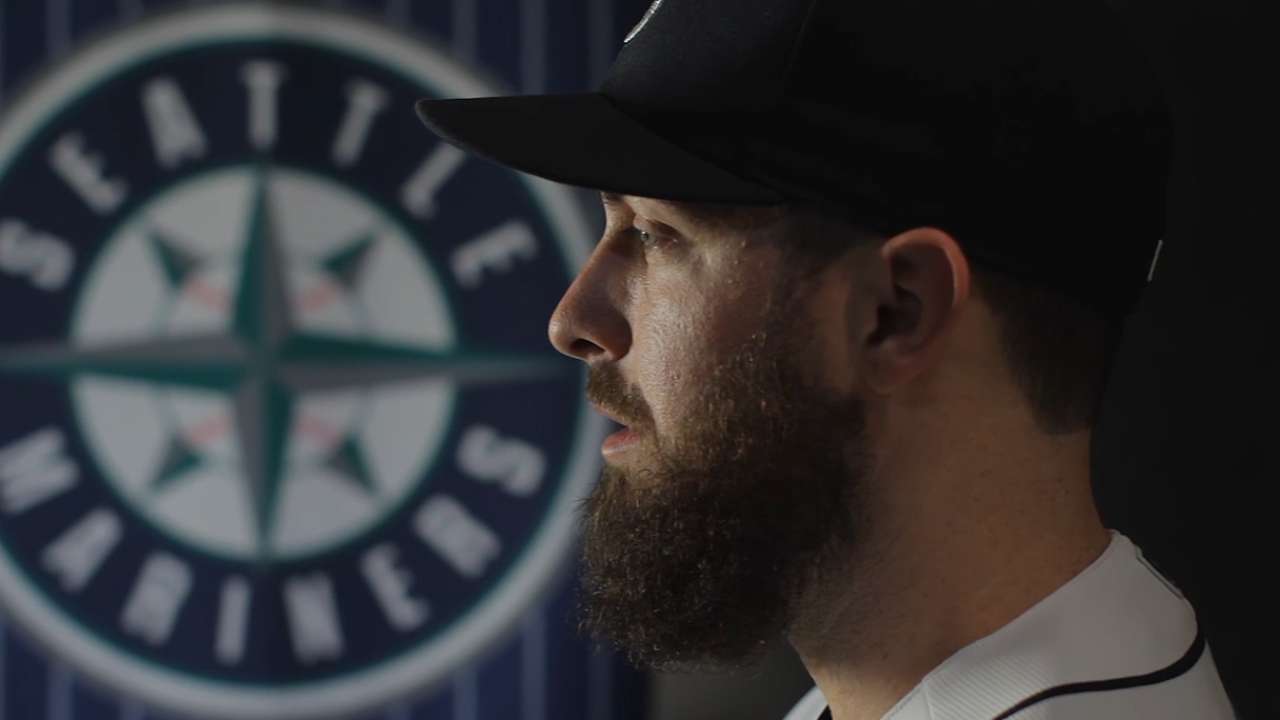 PEORIA, Ariz. -- If you're curious about Seattle's likely Opening Day lineup, Mariners manager Lloyd McClendon acknowledged Monday's initial starting nine against the Angels will likely mirror what he goes with in a week when the same two teams square off at Safeco Field to kick off the regular season.
"If we face a right-hander, yeah, it most likely would be my Opening Day lineup," said McClendon, who has previously been reluctant to pin down an exact batting order.
With the Angels planning to start right-hander Jered Weaver, that means McClendon will trot out his left-leaning group with Seth Smith in right field and Dustin Ackley in left. Against southpaws, right-handed-hitting Justin Ruggiano and Rickie Weeks would expect to see more time in those spots.
McClendon's original lineup for Monday: Austin Jackson CF, Smith RF, Robinson Cano 2B, Nelson Cruz DH, Kyle Seager 3B, Logan Morrison 1B, Mike Zunino C, Ackley LF, Brad Miller SS.
Smith later was scratched for a second straight day due to a sore ankle, but that is a minor issue and won't affect the Opening Day order. Weeks replaced Smith in Monday's lineup, playing DH, while Cruz was moved to right field.
In other Monday news:
• Veteran right-hander Kevin Correia was released. Correia signed a Minor League deal midway through camp with the hope of showcasing himself as a starting candidate, but he had a 16.88 ERA in three Cactus League outings over 2 2/3 innings and had been sent down to Minor League camp a week ago.
• Miller was back in the lineup after missing four days with a nasty stomach flu. The 25-year-old said he couldn't keep any food down until Monday morning and lost some weight, but he was glad the illness hit when it did and not a week later.
"I'm back and ready to go," he said. "It sucked. But better now and get a week to get back to full strength. I'm excited to get back out there."
• McClendon said Weeks likely will play a game at first base before the end of camp after practicing there more in recent days as he expands his utility duties.
"His work has been going very well," McClendon said. "I almost pulled the trigger today, but we just want to wait and see."
• Weeks' transition to left field -- after playing second base his entire pro career -- has been slowed somewhat because no one seems to hit fly balls in his direction when he's been in the outfield during Cactus League games.
"Darndest thing I've ever seen," McClendon said before Monday's game. "This is week six and I'm still waiting for him to catch a fly ball. Are you kidding me? It's driving me nuts. He goes through the work and gets all his work done with [outfield coach Andy Van Slyke], then he gets out there and, no fly balls. Ackley's out there, there's a ton of fly balls. We'll see. Maybe today is the day."
Greg Johns is a reporter for MLB.com. Follow him on Twitter @GregJohnsMLB as well as his Mariners Musings blog. This story was not subject to the approval of Major League Baseball or its clubs.