Roenicke's focus on future, not past
Manager impressed with Gennett's, Lind's approach vs. left-handers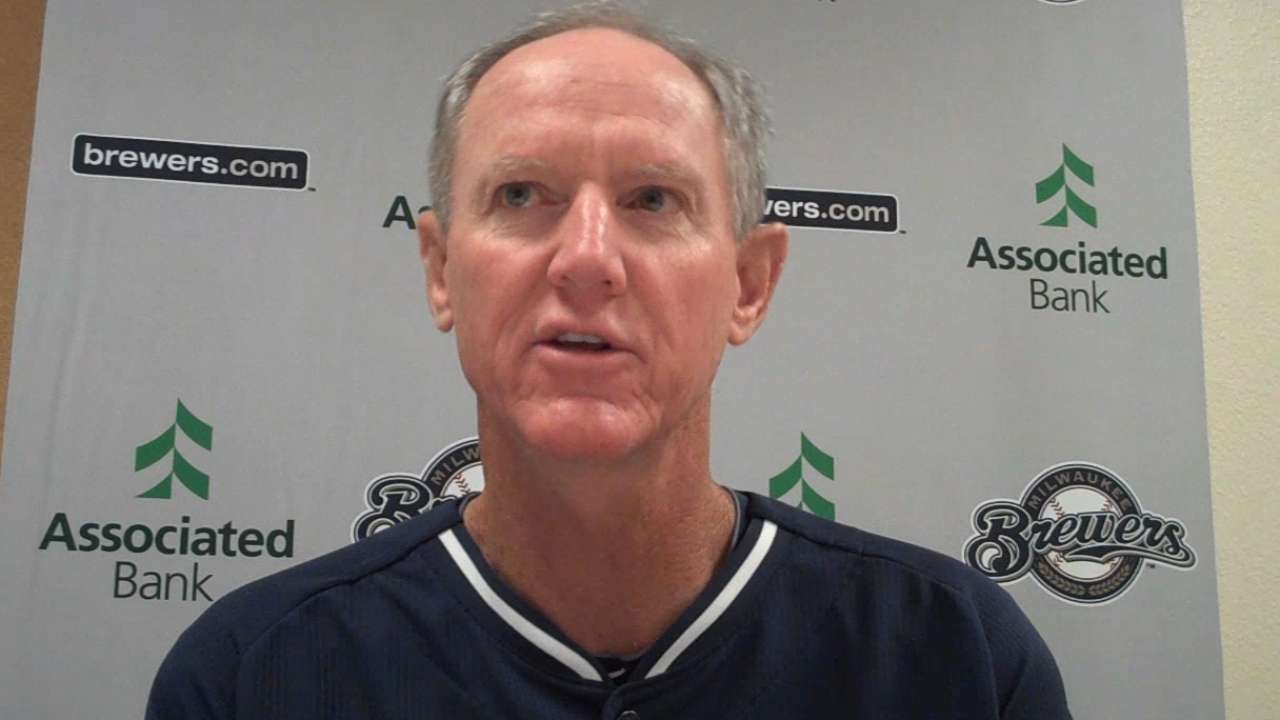 PHOENIX -- Brewers manager Ron Roenicke sat down with MLB.com last week to discuss where his team stands heading into his fifth season at the helm. Video of the session is available above, and here are some of the highlights.
• On confronting last season's collapse during team meetings this spring.
"I don't want to dwell on it, but by addressing it, talking about it, explaining what I see happened and how we get through it the next time, I think it helps," said Roenicke. "A bad thing will happen to everybody and every team, no matter how good they are. I think to address it and talk about what went wrong is helpful. … That's part of life, and let's learn and let's get through it, and let's be a better team because of it."
• On where he stands with starting Adam Lind and Scooter Gennett vs. left-handed pitchers.
"I'm not seeing any bad at-bats from Scooter, and the most important thing is he's not chasing," said Roenicke. "That's going to lead to a lot of hits if you continue to do that. Lind, I'm not saying that because he's getting a lot of hits now that we're never going to play a right-hander [at first base] against a lefty during the season, but he's showing us that he's capable of hitting anybody. If that plays out well, we think the whole group is a tough lineup to pitch against. We're trying to figure out where Lind slots in. Does he slot in in the fourth spot between [Ryan] Braun and Aramis [Ramirez]? Does he slot in the fifth spot after Braun and Aramis? A lot of that depends on how those guys are swinging the bat."
• On whether he worries about starting pitching depth.
"For one, I think we're really fortunate to have five guys we like," said Roenicke. "I don't think most teams come into a season knowing who their fourth and fifth starters are. Everybody would like more depth, there's no question. … Hopefully, Jimmy Nelson continues to grow and to learn as a pitcher and to stay confident."
• On whether there's a healthy debate with general manager Doug Melvin on the value of small ball vs. the three-run home run.
"We talk about it," said Roenicke. "The nice thing is the first two or three years I was here, we got both. We had the small ball, we were running, but we also had power. Last year, we didn't see the power. Opposing teams hit more home runs than we did in our ballpark. I don't like that. I like being able to scratch out a run. … Doug likes it too, but his idea more is with the ballpark, you do have to have a power hitting team, which I agree with. We agree about most of this stuff, I'm just used to having personnel I can do a lot of stuff with. Last year, we didn't have that kind of personnel. The personnel dictates how much I can do."
• On why he likes the stress of managing.
"I wanted to be challenged a little bit more," said Roenicke. "I did like [coaching], and if I go back to coaching sometime, I'll like that also. But the challenge of doing more, being more in a position of a leadership role, I think I can make more of a difference. … I think the challenge of knowing personalities and how to get to players, and ultimately getting the most out of players, which always produces more wins, is really what I can do in this job. That's why I wanted to do it."
Adam McCalvy is a reporter for MLB.com. Read his blog, Brew Beat, and follow him on Twitter at @AdamMcCalvy. This story was not subject to the approval of Major League Baseball or its clubs.