Sofield, Samuel ejected after benches-clearing incident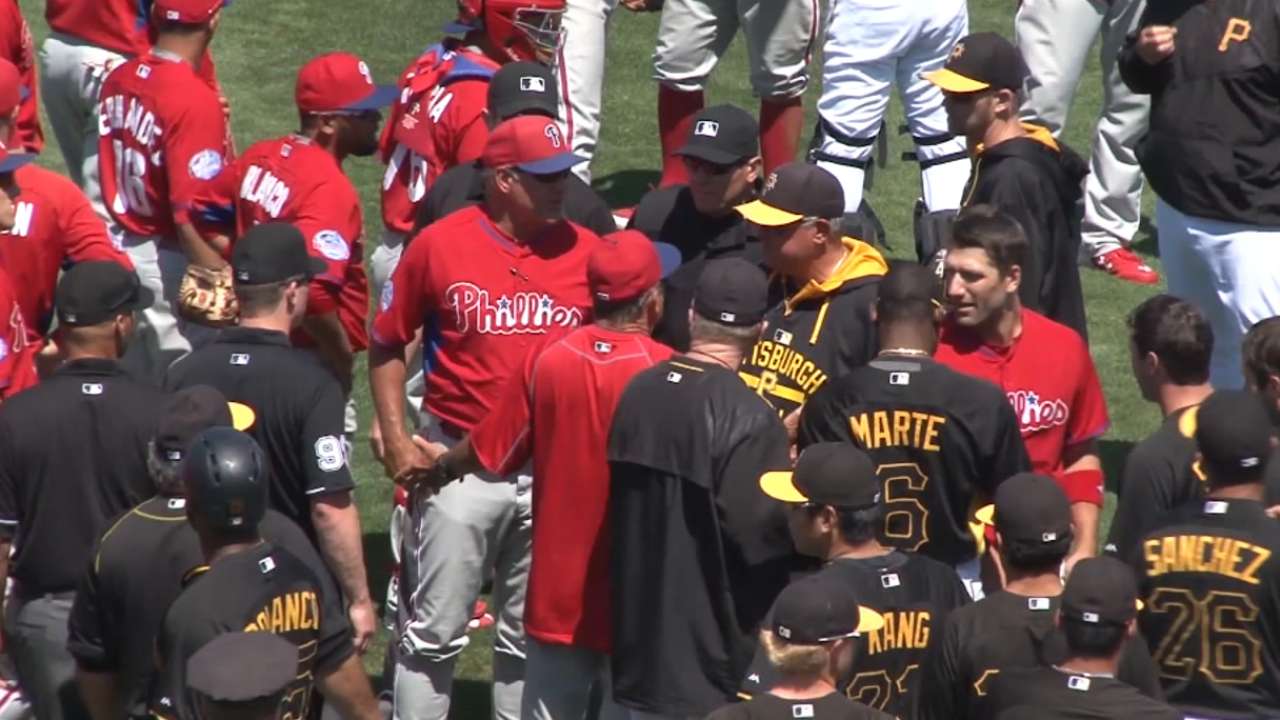 BRADENTON, Fla. -- The benches emptied and two coaches were ejected Monday in a game between the Pirates and Phillies that featured six Bucs homers in an 18-4 rout of Philadelphia.
Phillies right-hander Kevin Slowey delivered a fourth-inning pitch before Sean Rodriguez was set in the batter's box, and things escalated from there.
After Rodriguez struck out to end the inning, plate umpire Chad Fairchild positioned himself between him and Slowey as the two jawed.
Aftter the game, Rodriguez declined to comment on the incident, saying only, "Nada."
"It surprised me to be that upset. And challenging somebody to a physical altercation hardly seems like the best way to resolve your frustrations," Slowey said. "I was kind of taken by surprise at his animosity after his at-bat. I know the kind of guy that he purports to be. That surprised me that that would be his choice of words and reaction. I guess I understand the frustration of a singular failure. It's a game of failures. But to react that way to me was very surprising."
After the exchange of words, the situation seemed over.
However, when the top of the fifth ended and he and Slowey crossed paths again, Rodriguez resumed saying his piece. Both dugouts quickly emptied onto the field, as well as the respective bullpens.
"Nothing happened," Philadelphia first base coach Juan Samuel said, "but, again, when [Rodriguez] was coming off the field in the [middle of the fifth], he kind of told [Slowey] the same kind of thing: 'If you want to take it out back, meet me in the parking lot.'"
The umpires worked to restore peace and appeared to have succeeded. However, as he made his way toward the third base coaching box, Pittsburgh third base coach Rick Sofield got an earful from Samuel, and both drew quick thumbs as a new episode on on-field mingling broke out between pockets of opponents.
"[Sofield] was telling me to get into my dugout," Samuel said. "So I told him to help me come in. Help me get in my dugout. I'll show you."
Sofield also declined comment. Pittsburgh manager Clint Hurdle, himself ejected in an unrelated incident an inning later, spoke both for his coach and for Rodriguez.
"Sometimes, springs get long, and we don't communicate as well as we should," Hurdle said. "Guys' patience level gets shorter. We need to move past it -- and I believe we will."
Of the pitch that triggered the disturbance, Hurdle said, "If you feel like you were quick-pitched … the umpires don't have to give you time … I'm not here to be judge and jury. We have to let go of it."
Hurdle was chased after Fairchild called a strike with Andrew Lambo at bat in the sixth inning.
"I just said, 'Ball's low.' And he said he'd had enough," Hurdle said of Fairchild. "Guys are out there, fighting to make the club."
Tom Singer is a reporter for MLB.com and writes an MLBlog Change for a Nickel. Follow him on Twitter @Tom_Singer. This story was not subject to the approval of Major League Baseball or its clubs.