Phillies looking outside for rotation help
Pitchers likely to come from minor trade or waivers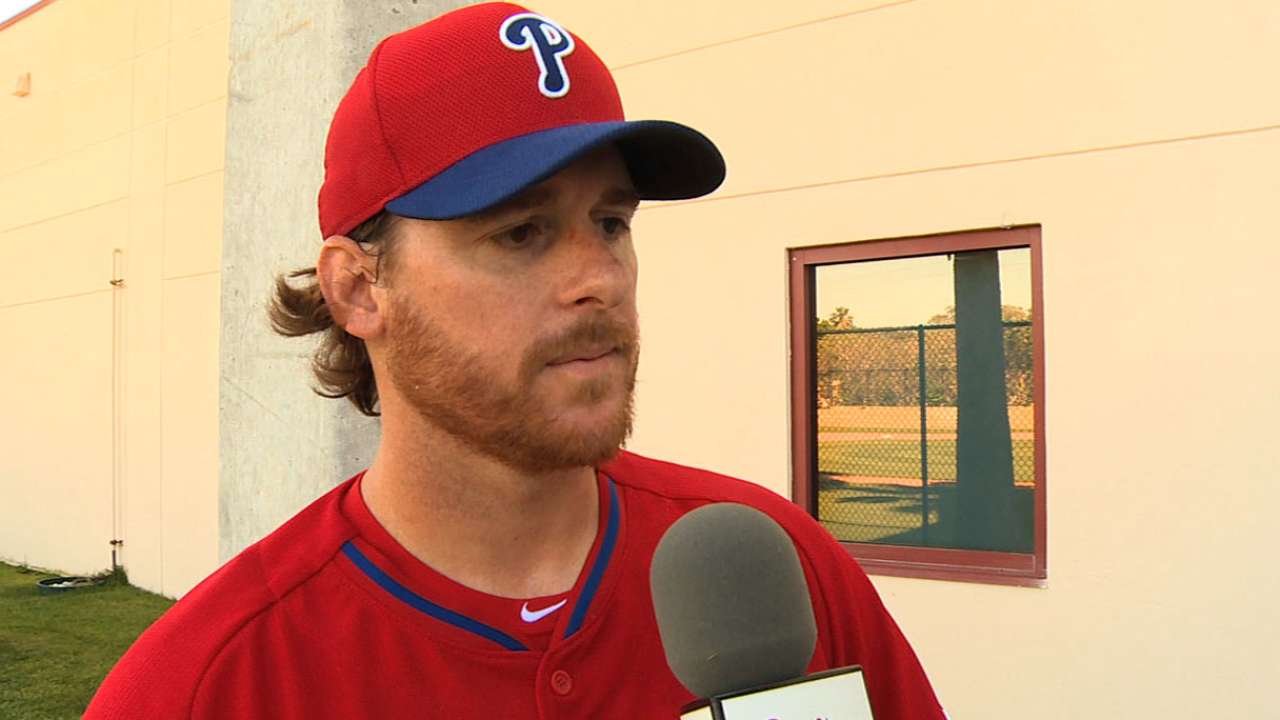 BRADENTON, Fla. -- The Phillies have made their starting pitching schedule top secret this spring, but they announced Sean O'Sullivan will pitch Tuesday against the Blue Jays.
It is noteworthy because O'Sullivan is the favorite to be the team's No. 5 starter, which they will need April 12. The Phillies reassigned O'Sullivan to Minor League camp earlier this month, but he has been getting stretched out.
Miguel Alfredo Gonzalez had been a candidate, but the Phillies optioned him Sunday. Kevin Slowey remains a candidate, but Phillies general manager Ruben Amaro Jr. said Monday the Phillies are looking outside the organization for starting pitching help.
"But it's likely to be an internal candidate," Amaro said.
But there are options out there. The Reds just released left-hander Paul Maholm. He allowed seven hits, three earend runs and two walks with five strikeouts in 12 1/3 innings. If Maholm, 32, isn't a fit, a minor trade or another free-agent signing might work. Twins pitcher Mike Pelfrey could be available. He is not happy after being sent to the bullpen.
If the Phillies find somebody from the outside, it likely is going to come in a minor trade or waivers.
There is no need to sacrifice any young talent for a No. 5 starter this season.
Right-hander Chad Billingsley is recovering from a pair of right elbow surgeries. Amaro said they expect Billingsley to be big league ready around late April or early May. He could slide into the No. 5 slot at that time if he is capable.
Oh, Phillies fans with tickets to Opening Day on Monday against the Red Sox can relax. Amaro said he expects Cole Hamels to be on the mound for the Phillies. The Phillies have been looking to trade him to help their rebuilding efforts.
"I expect us to go into the season with the folks we have out here, by and large," Amaro said.
Amaro said right-hander Jonathan Pettibone, who is recovering from right shoulder sugery, will throw a live bullpen session Tuesday. Amaro said Cliff Lee, Billingsley, Pettibone, Mario Hollands and possibly Domonic Brown will open the season on the disabled list.
Todd Zolecki is a reporter for MLB.com. Read his Phillies blog The Zo Zone. Follow him on Twitter. This story was not subject to the approval of Major League Baseball or its clubs.