Phils' Gonzalez deal might not pan out
General manager Amaro thinks risks are sometimes necessary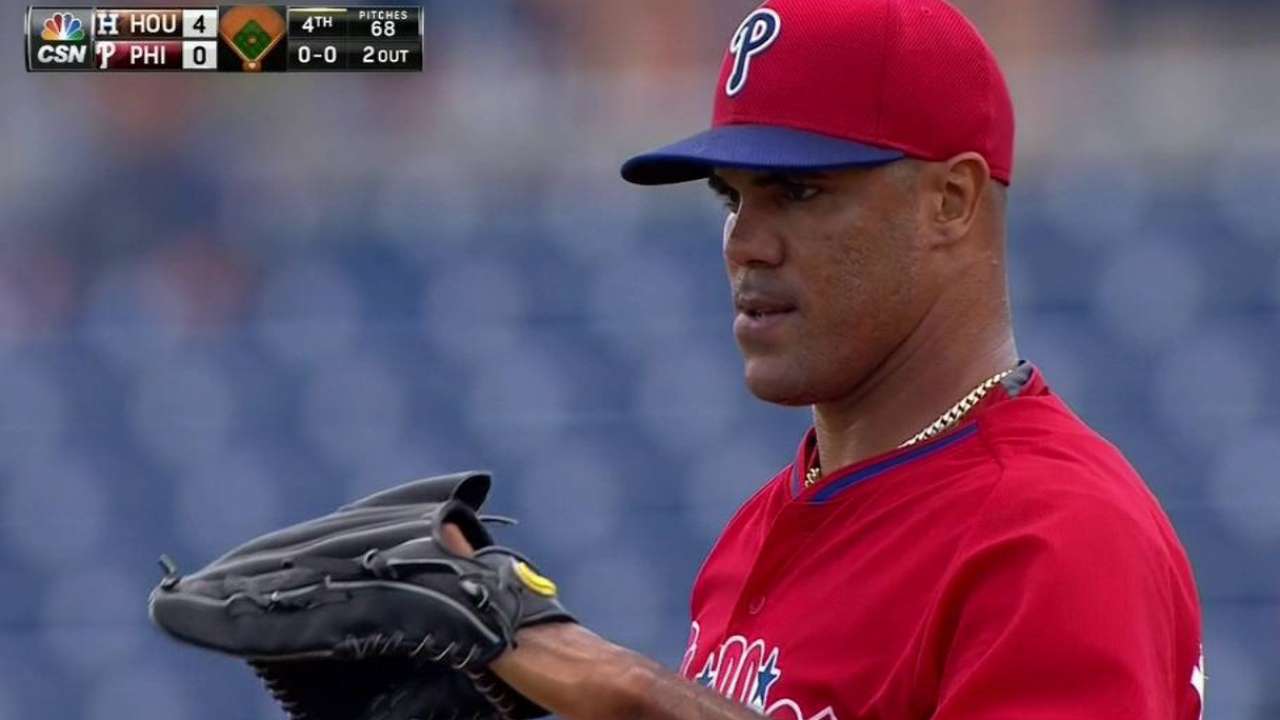 BRADENTON, Fla. -- The Phillies thought so highly of Miguel Alfredo Gonzalez in the summer of 2013 that they offered him a six-year, $48 million contract.
They fully expected him to jump into the 2014 rotation behind Cole Hamels and Cliff Lee.
But more than a year into his three-year, $12 million contract (Gonzalez lost $36 million because of concerns following his physical), the Phillies have received no return on their investment. And one wonders if they ever will. The Phillies optioned Gonzalez to Minor League camp Sunday after he went 0-3 with a 7.53 ERA in five Grapefruit League appearances. He allowed 25 hits, 12 runs, five home runs and one walk with seven strikeouts in 14 1/3 innings.
"It's possible," Phillies general manager Ruben Amaro Jr. said Monday when asked if he is worried the organization will get nothing from Gonzalez.
"He hasn't pitched well enough to be a Major League starter for us," Amaro said. "His stuff and his command just weren't good enough. It's kind of simple. He needs to be better for us to utilize him in our rotation. He'll go down and pitch, and hopefully he improves. If he doesn't, then he doesn't."
The killer is that Gonzalez never had a better opportunity to make the team. The Phillies desperately need a No. 5 starter with Lee almost certainly lost for the season with a torn tendon in his left elbow. But Gonzalez could not outpitch non-roster invitees Kevin Slowey and Sean O'Sullivan.
"You wish the guy was pitching better," Amaro said. "I think he does, too. I think he's disappointed. I think he's disappointed in himself because he geared himself up to want to take this job. It doesn't mean it's the end of him, but he's just not ready to take that job right now."
Does this serve as a warning for those who want the Phillies to drop tens of millions of dollars on Cuban free agents?
"It's a risk," Amaro said. "There's a lot of teams that were in on him, and we ended up signing him. He hasn't performed as well as we would have liked. He may never perform as well as we would have liked, but that's the risk you take. Sometimes, you've got to take a risk."
Todd Zolecki is a reporter for MLB.com. Read his Phillies blog The Zo Zone. Follow him on Twitter. This story was not subject to the approval of Major League Baseball or its clubs.