Amaro weighs in on Opening Day roster decisions
Balancing Spring Training performance with regular season numbers important in final stages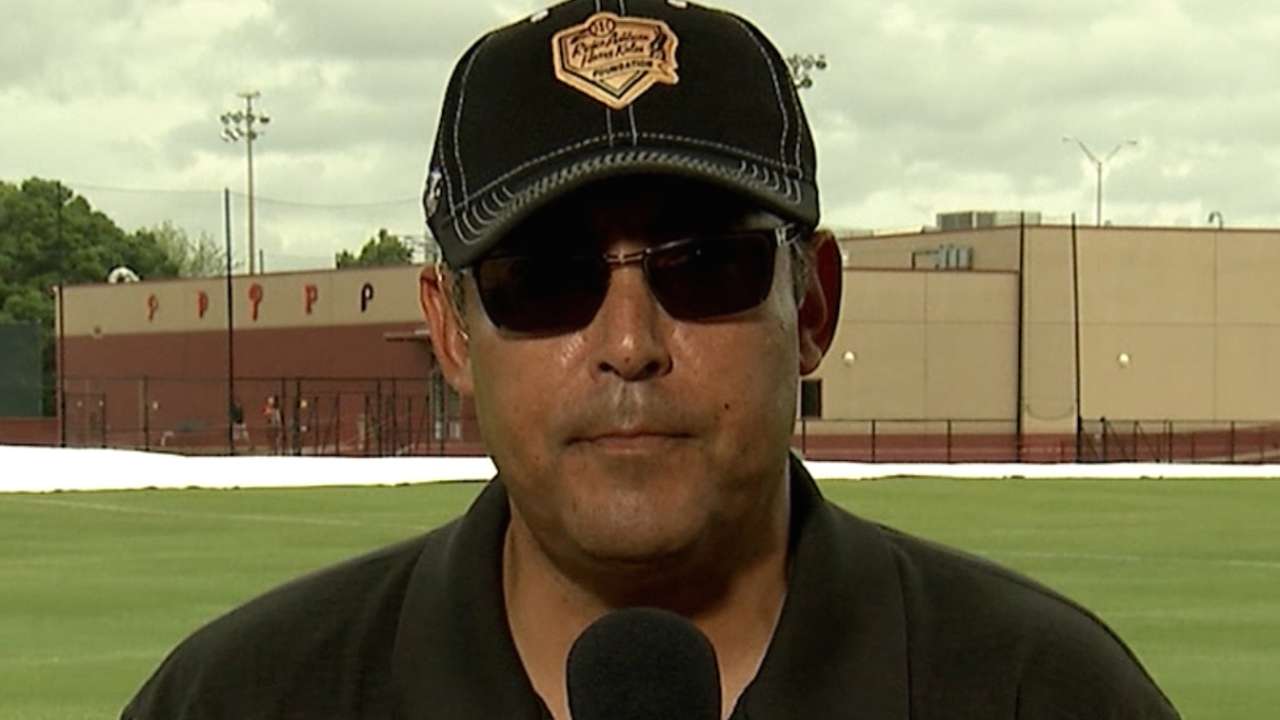 BRADENTON, Fla. -- Ruben Amaro Jr. said the Phillies have about four or five decisions to make before they finalize the Opening Day roster.
One important decision has been made. Rule 5 Draft pick Odubel Herrera not only has made the team, but he will also be the Opening Day center fielder.
"He kind of fits the bill of what we were trying to do," Amaro said before Monday's Grapefruit League game against the Pirates at McKechnie Field. "We were trying to get younger, a little more athletic. He's got good energy; he's got a decent package. Is he going to be a .300 hitter toward the top of our lineup or wherever [Ryne Sandberg] puts him? I don't know. We're going to give him a shot. That's what this season is about."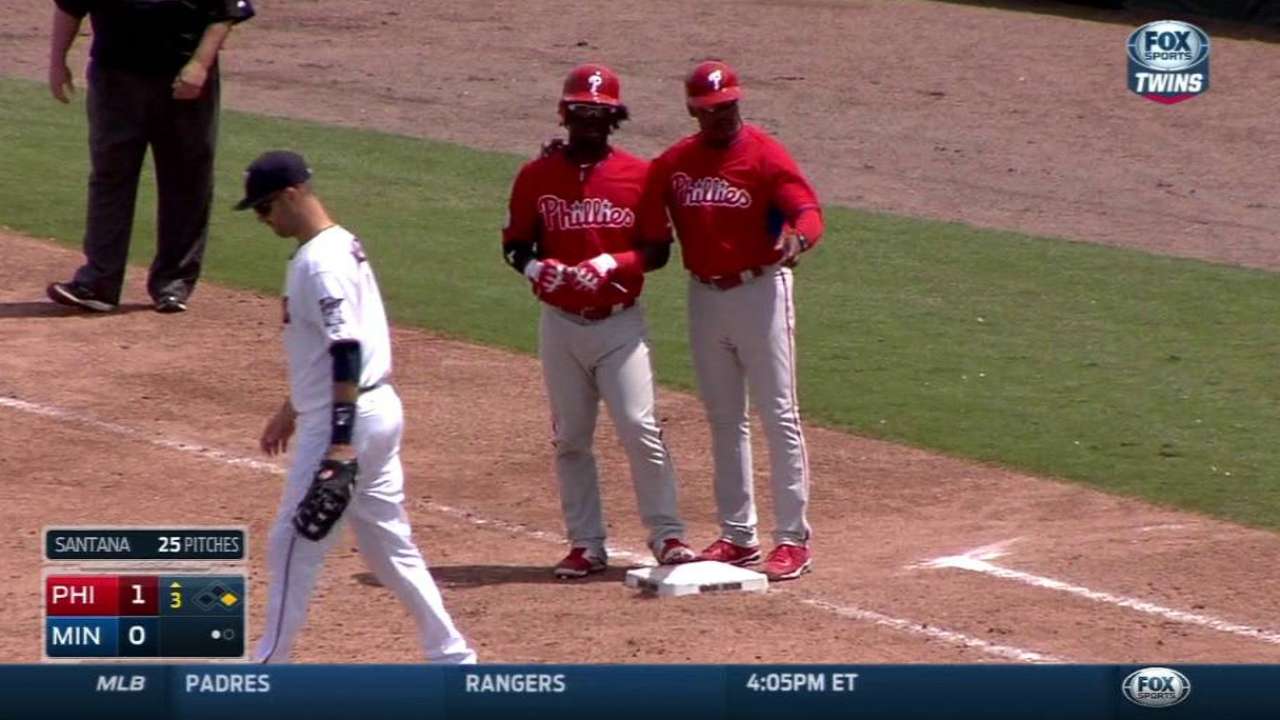 Phillies right fielder Domonic Brown is likely to open the season on the disabled list with tendinitis in his left Achilles, which would open up another roster spot. The Phillies also might carry an extra bench player or relief pitcher with no need for a fifth starter until April 12.
Darin Ruf is one of the only right-handed bats in camp with power. Amaro said Ruf is not a lock to make the team, but he also said Ruf playing in Triple-A is not ideal.
Read between the lines, folks. Ruf is a safe bet to make the team.
"He's not really a natural outfielder," Amaro said when asked why Ruf has not received a longer look in left field. "We're going to try to utilize speed at the top of the lineup and throughout the lineup rather than power, because we just don't have enough. Ruf can break in and get as many at-bats as he wants if he produces. He'll get some chances to play."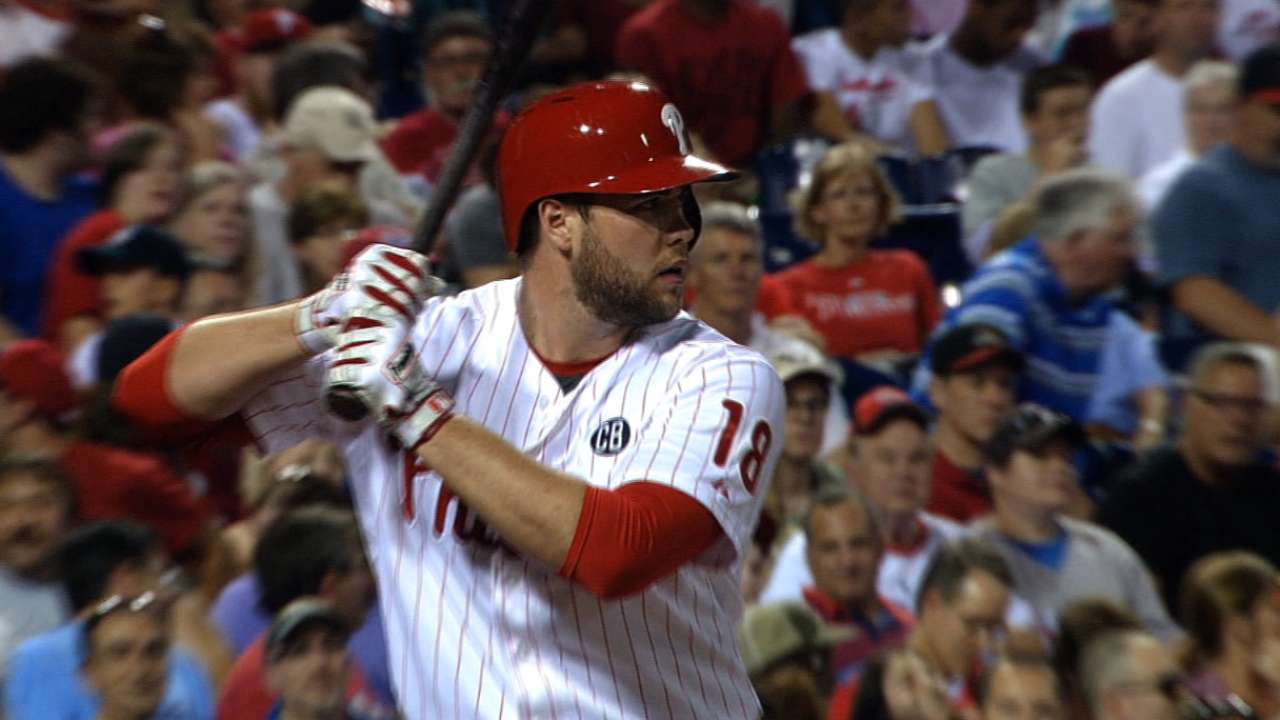 Asked about the lack of power in the outfield with Ben Revere in left and Herrera in center, Amaro said: "We knew we weren't going to have any. We didn't expect to have any power in our outfield. Or our infield. We didn't have any expectations that we'd have power. We're going to have to try to create runs with our legs and with decent at-bats. That's how we're going to have to do it."
Infielder Cesar Hernandez has hit just .133 in 45 at-bats this spring. Non-roster invitees Russ Canzler (.316) and Cord Phelps (.270) have outplayed him, but Hernandez is out of options, so the Phillies could lose him if he does not make the team.
That alone could keep Hernandez on the roster.
"He kind of falls in that category of young player with some athleticism and such," Amaro said.
Right-hander Phillippe Aumont (4.15 ERA in seven appearances) also is out of options. He seems to be on the outside looking in, but he could find a spot if the Phillies carry an extra relief pitcher through April 12.
"If we take 13 pitchers, he'd have a much better chance to be a part of that," Amaro said.
The Phillies signed outfielder Grady Sizemore to a one-year, $2 million contract in October, despite posting a .580 OPS from Aug. 6 through the end of the season. Sizemore has hit just .147 in 34 at-bats this spring. Other outfielders in camp like Brian Bogusevic (.344 in 32 at-bats), Jordan Danks (.257 in 35 at-bats) and Jeff Francoeur (.206 in 34 at-bats) have either outperformed Sizemore or have skill sets that Sizemore does not have (i.e. better defensively). Amaro said Bogusevic, Danks, Francoeur or Canzler could be the team's Opening Day right fielder.
That said, Sizemore is expected to make the team.
"For me, he is [on the team]," Amaro said. "Sizemore can swing the bat."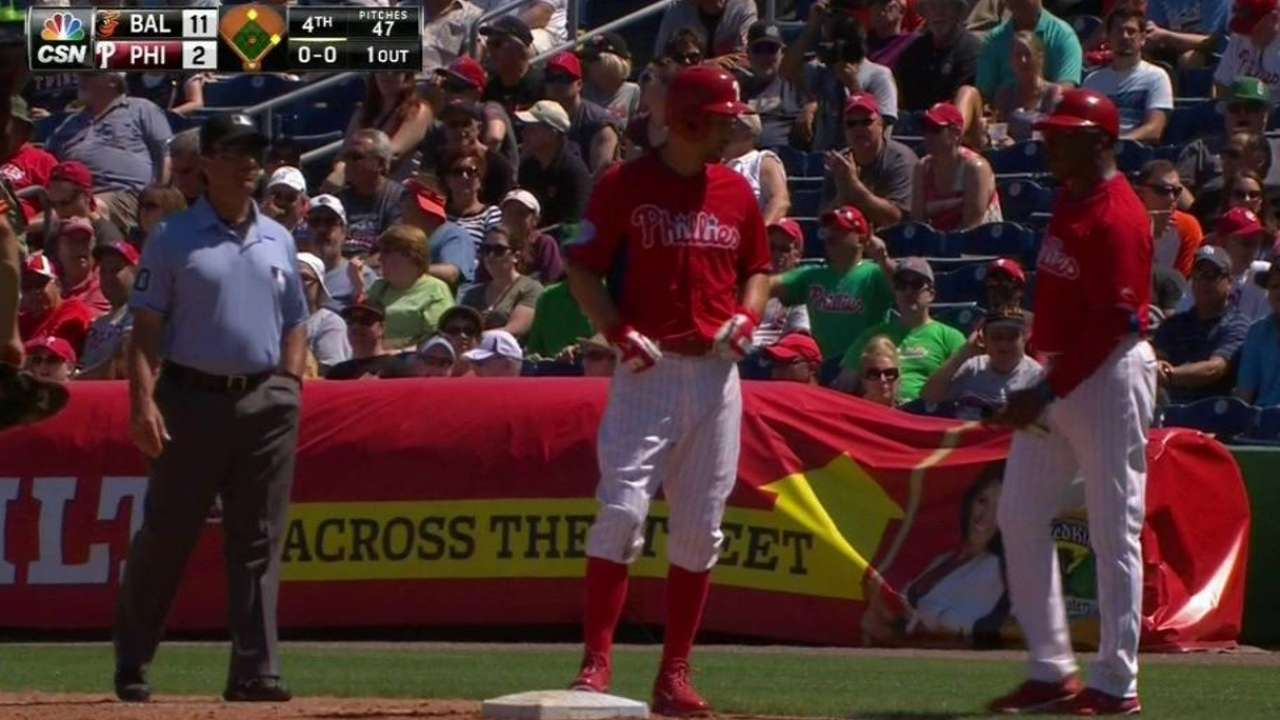 But the challenge is correctly weighing a player's spring performance with his track record. The Phillies raved last spring about right-hander Jeff Manship. He had an excellent camp and made the team, despite a 6.42 ERA in 52 big league appearances over the previous five seasons.
Manship posted a 6.65 ERA in 20 appearances last season with the Phillies, falling in line with his career numbers.
Beware the player with big Spring Training numbers and far less impressive numbers in the regular season.
"That's the danger of evaluating guys, and how you evaluate them, in Spring Training," Amaro said. "You have to kind of balance what the baseball card says and what their history is with how you think they are going to do and how you think they are going to react playing in the big leagues right now."
Todd Zolecki is a reporter for MLB.com. Read his Phillies blog The Zo Zone. Follow him on Twitter. This story was not subject to the approval of Major League Baseball or its clubs.