After impressive spring, Bryant sent down by Cubs
Top prospect reassigned to Minors camp with Russell; Baez optioned to Triple-A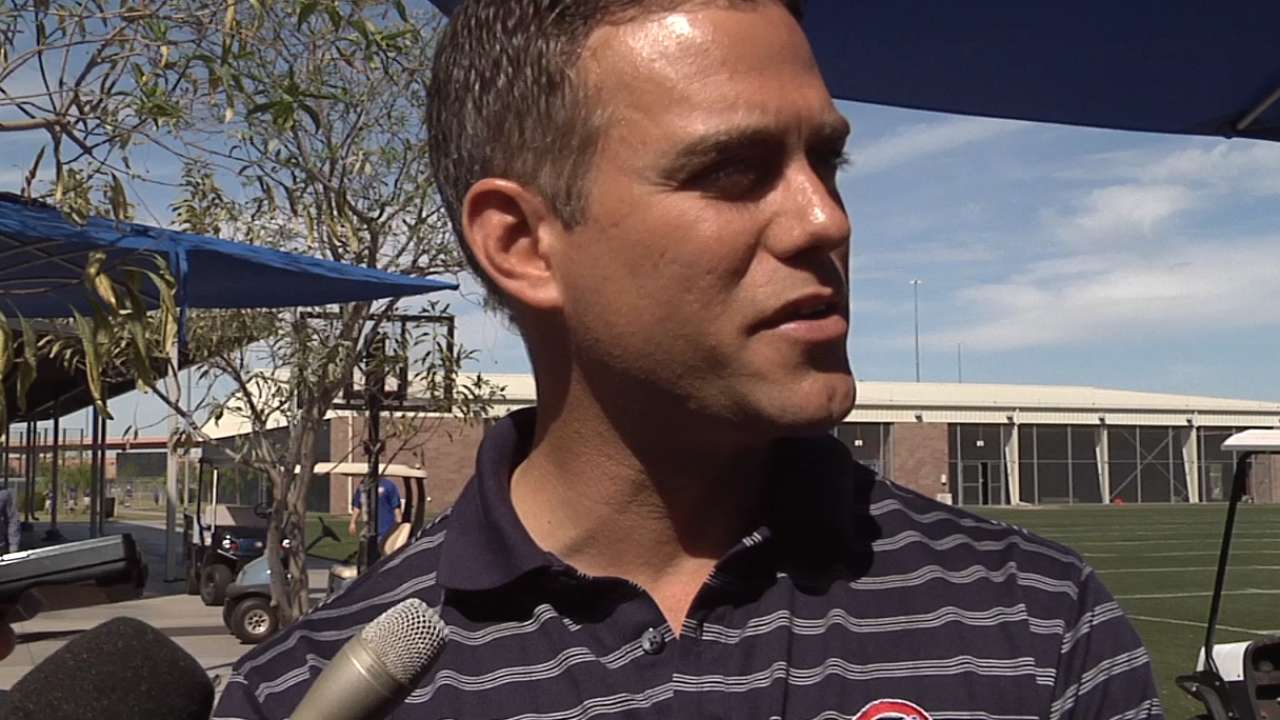 MESA, Ariz. -- Cubs manager Joe Maddon did not deny that he wants Kris Bryant in his lineup. Just not yet.
Bryant, the Cubs' top prospect, was assigned to Minor League camp on Monday along with shortstop Addison Russell, while Javier Baez was optioned to Triple-A Iowa. The Iowa team now may have one of the best infields in baseball.
"I could be in this game for a long time and not send down three players that talented on the same day ever again," Cubs president of baseball operations Theo Epstein said Monday. "Those three are pretty good."
Bryant has been the focus of attention. The third baseman leads the Major Leagues this spring with nine home runs -- and hit another in a "B" game that didn't count -- and was batting .425 in 14 games. That comes after leading the Minor Leagues with 43 home runs at Double-A Tennessee and Iowa last year.
"You know he's going to be there [in the big leagues] eventually," Maddon said about Bryant. "When you look at the entire picture of development, you're still looking for a couple other areas to improve a little bit.
"I'm not going to sit here and tell you that you wouldn't want him in your lineup -- there's no question you want him in your lineup," Maddon said. "He's also 23. I'm looking forward to working with this guy for the next 15 years. That'll make me 76. If I'm the next Jack McKeon, I'll be working with this guy when I'm 76 years of age."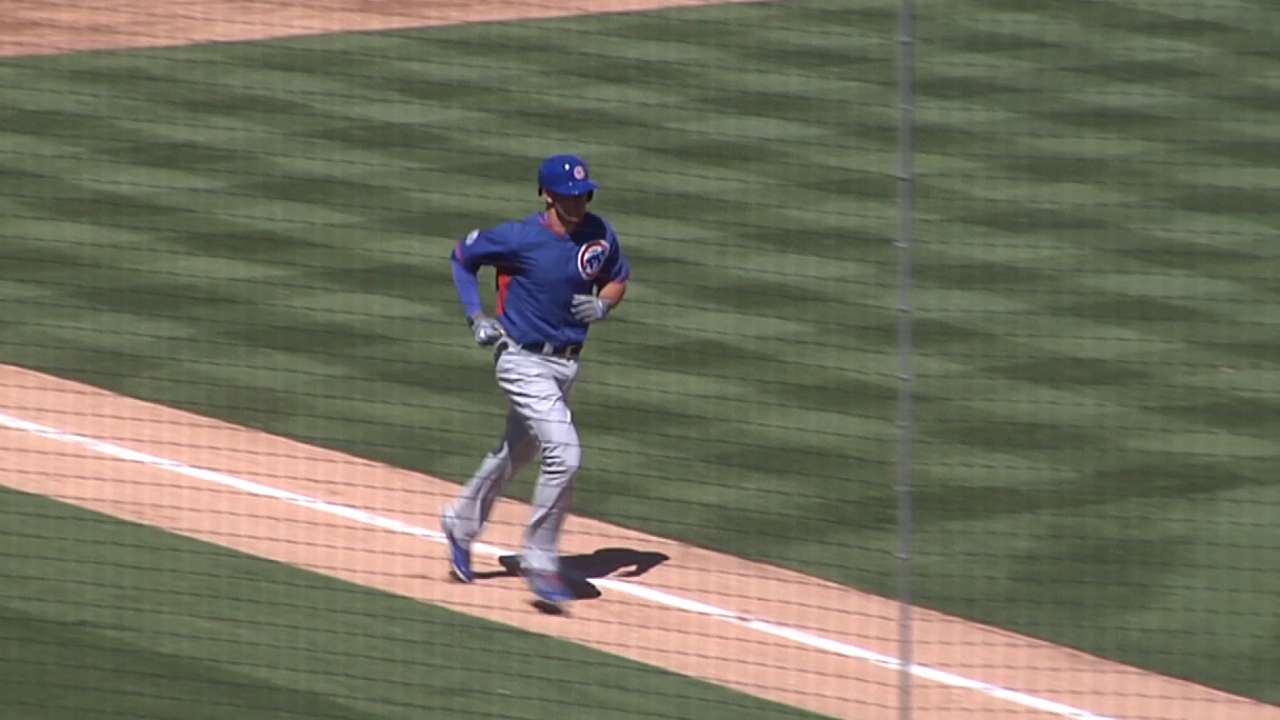 The Cubs have Mike Olt and Tommy La Stella as third-base options. Olt was in the Opening Day lineup last year.
Bryant's status became a hot topic because of the issue of service time. If his promotion is delayed 12 days, the Cubs will gain an additional year, but Epstein has maintained where Bryant plays will not be determined because of a business decision. Bryant's agent, Scott Boras, was vocal this spring about his client's status. Epstein said there are no hard feelings between him, Bryant or Boras.
"The only thing Kris did to contribute to the story was play really well, and that's what we want our players to do," Epstein said. "No hard feelings at all. Scott was doing his job for his player. He's an agent, so he has a right to choose how he wants to get his point across. I can just control what I can control."
The Major League Baseball Players Association issued a statement regarding the Cubs' decision to demote Bryant.
"Today is a bad day for baseball," the MLBPA said. "I think we all know that even if Kris Bryant were a combination of the greatest players to play our game, and perhaps he will be before it's all said and done, the Cubs still would have made the decision they made today. This decision, and other similar decisions made by clubs will be addressed in litigation, bargaining or both."
Epstein said they entered camp with the presumptive move to send Bryant to Triple-A to open the 2015 season, saying that is standard for young players. Bryant will play both third base and some left field at Iowa.
"His performance mattered and we told him that today," Epstein said. "He made a great first impression on Joe. It demonstrated clearly to everybody that he's really close to being not just in the big leagues but to playing an important role on the team. His camp mattered. We're more likely to get him sooner than later with how he's playing and how close he showed."
Carrie Muskat is a reporter for MLB.com. She writes a blog, Muskat Ramblings, and you can follow her on Twitter @CarrieMuskat. This story was not subject to the approval of Major League Baseball or its clubs.