Bucs confident Holdzkom will pitch meaningful games
Club has decisions to make while finalizing Opening Day bullpen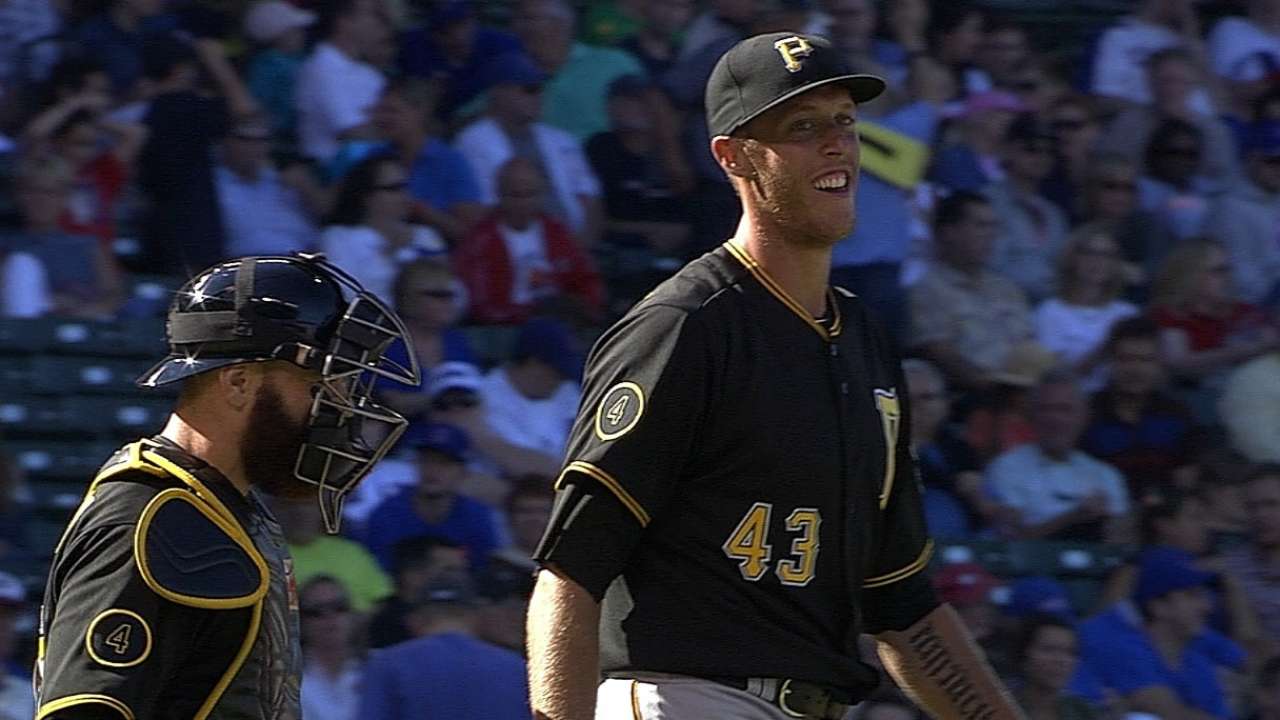 BRADENTON, Fla. -- If it was up to them, Triple-A hitters could petition the Pirates to keep John Holdzkom and his 98-mph cutter out of the International League.
That isn't an option. However, sending Holdzkom to Indianapolis is a Pirates option -- one they are likely to use when finalizing the makeup of their season-opening bullpen.
When general manager Neal Huntington says, "We have guys who ultimately deserve better fates," Holdzkom is one of the guys to whom he refers.
Holdzkom has made seven spring appearances and in eight innings has allowed three runs with nine strikeouts to three walks.
The runs off Holdzkom have come the two times manager Clint Hurdle tried to stretch him out. That is, the tall righty has been flawless in the one-inning role in which he was used exclusively in September.
That could be both good and bad news for him: He continues to prove dependable as a one-inning setup guy; the Bucs, however, may prefer a more versatile arm to partner with Radhames Liz, who effortlessly stretched out to three innings on Sunday.
"We're looking in the 'pen for another guy who can shoulder that responsibiity," Hurdle said. "Holdzkom is a possibility down the line, but now we'll ramp him down, have him focus on throwing one inning."
Huntington confirmed something he has already told the pitchers involved: In the event of "ties," Minor League options beome the tie-breaker.
Consigning bullpen seats to Liz and the out-man in the Jeff Locke /Vance Worley duel for a rotation spot, five men remain standing for two available seats: Jared Hughes, Rob Scahill and Holdzkom -- who have options -- and Stolmy Pimentel and non-roster righty Blake Wood, who do not.
"When things are relatively equal, things outside of a player's control become factors," Huntington said. "Yes, options … and we've been very transparent with our guys about that."
Those departing will be shown the door with "See you soon," not "Goodbye."
"That's a big part of this: It's not an irreversible position," Huntington said. "We've had guys pitch really well, and we'll need them to pitch meaningful innings for us this year -- especially guys sent down this late in the game."
Holdzkom famously survived years on the fringes of independent ball to find his way to the Major League clearing, and Huntington is confident that gives him the fortitude to remain focused and committed if sent out.
"He's a guy who was released out of an independent league a year ago and fought his way to pitching in meaningful games for a playoff-calibre team," the GM said. "We believe he can and will do that again -- if that's the case."
Tom Singer is a reporter for MLB.com and writes an MLBlog Change for a Nickel. Follow him on Twitter @Tom_Singer. This story was not subject to the approval of Major League Baseball or its clubs.