Light at end of tunnel for Rays' injured starters
Cobb, Smyly and Colome progressing towards return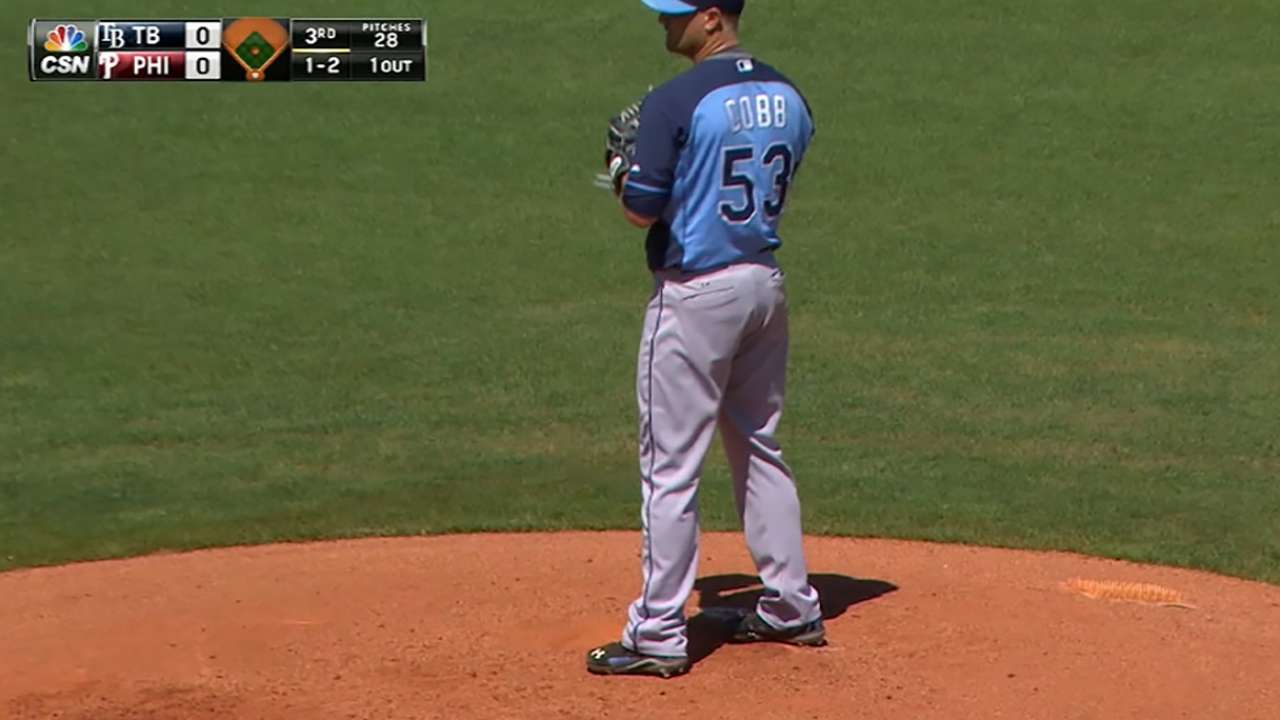 PORT CHARLOTTE, Fla. -- All of the Rays starters continue to make progress toward returning to the team, a fact that pleases manager Kevin Cash.
Heading into camp, Alex Cobb and Drew Smyly were givens to be in the rotation, and Alex Colome looked like a good bet to be the fifth starter. Then Smyly went down with tendinitis in his left shoulder, Colome had visa problems, then pneumonia, and Cobb encountered tendinitis in his right forearm.
Now there appears to be some light at the end of the tunnel.
All along, Cash has remained optimistic in the face of the injuries. The way the pitchers are progressing has validated that optimism.
"Especially [with] Colome," Cash said. "His wasn't an arm issue. Just putting weight back on. He just had a two-week delay there. But from all reports, when you ask them how's it going, there hasn't been anything given why we wouldn't be optimistic."
Smyly threw a bullpen on Sunday and will face hitters in his next time on the mound, a two-inning batting practice session on Wednesday. He will follow that with another two-inning session on Saturday.
"He threw well and he's scheduled to throw to hitters," Cash said.
After the two batting practice sessions, Smyly could progress to a Minor League game. From there he would get stretched out like he would have done during Spring Training, though he might not get built up as far.
"Depending on need," Cash said. "If he got up to 75 pitches, does that help us? Or do we want to build him up to 105? We'd have to talk to him about that."
Cash allowed that "there's definitely a chance" that Smyly could be back in the rotation by the end of April.
"And that's great for us," Cash said.
Colome, who was placed on the 15-day disabled list (retroactive to March 27) threw a 40-pitch bullpen on Saturday and will throw 50 pitches on Tuesday. He has said he's feeling much stronger and he's been throwing all of his pitches, though not at full effort.
Cobb played catch for the first time on Saturday. Monday he again played catch and all went well.
Matt Moore (Tommy John surgery) and Jake McGee (left-elbow surgery) will throw bullpens on Tuesday. Moore is expected back in June and McGee by early May.
Bill Chastain is a reporter for MLB.com. This story was not subject to the approval of Major League Baseball or its clubs.