Verlander to miss next spring start
Right-hander recovering from right triceps cramp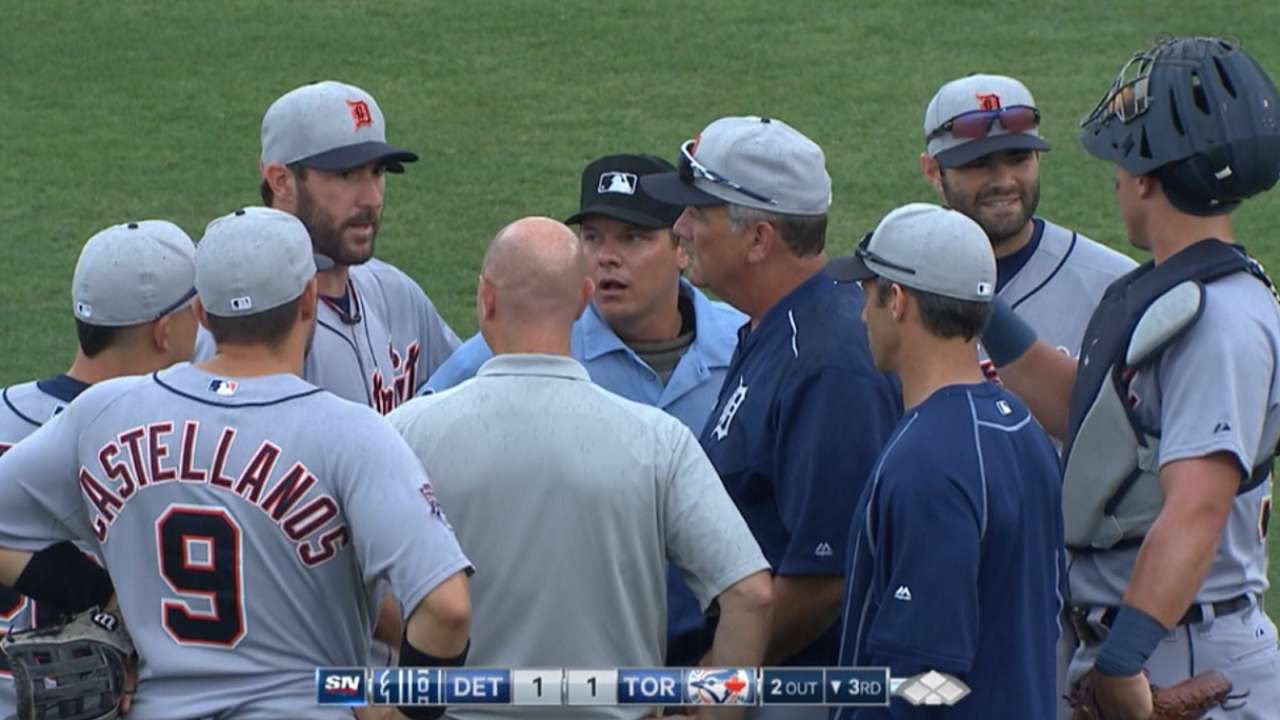 LAKELAND, Fla. -- Justin Verlander will miss his previously scheduled Spring Training start Thursday. When the Tigers right-hander does pitch again at this point is anyone's guess.
"Especially [since] I didn't throw today, I don't think it's very feasible that I can go out and pitch Thursday," Verlander said Monday morning. "I think it's a day-by-day thing."
Verlander, who left his start last Friday after the third inning with what was termed as a cramp in his right triceps, threw on Sunday. He had some soreness again Monday, which scuttled any thought of throwing in the morning. That, in turn, scuttled any plans for Thursday.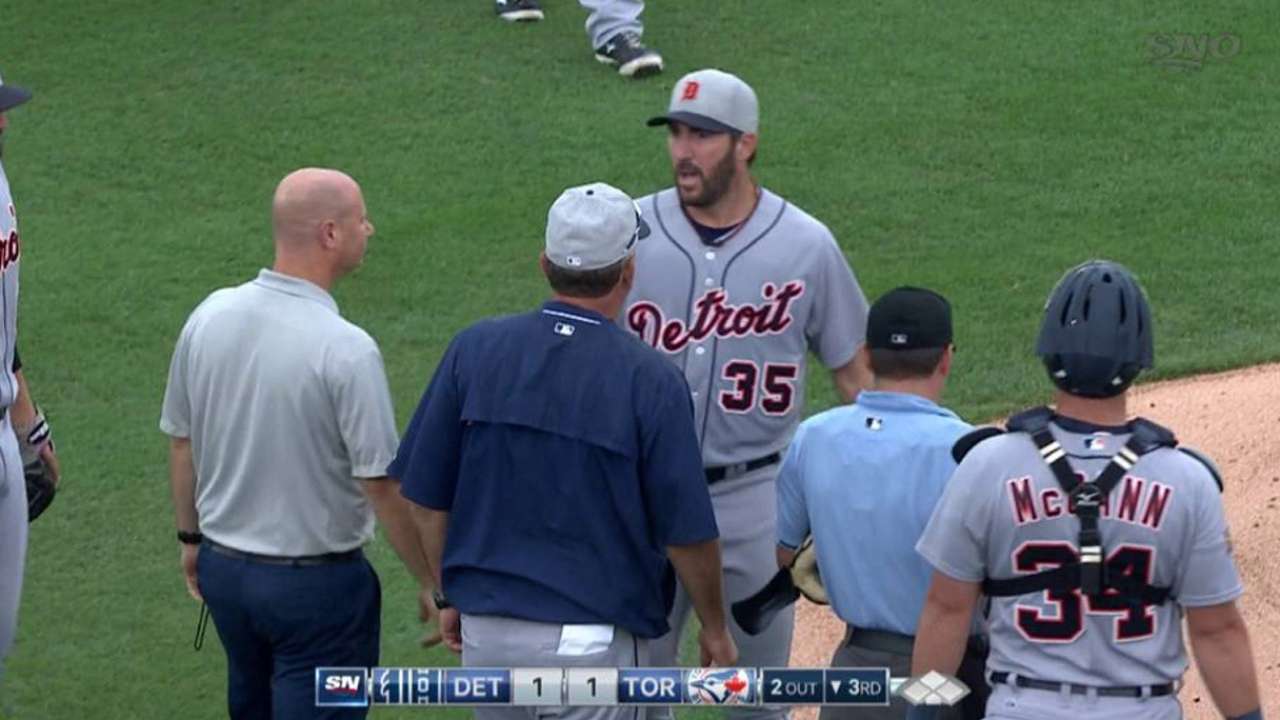 "Once the soreness gets out of there, I've got to throw without soreness and get back into my throwing routine," Verlander said. "These are all things we'll have to address as it goes along.
"I really feel like today's like the crest of the wave. It's gotten a little bit better every day and I feel like today the soreness is just kind of in one spot. It should start to work itself out pretty quickly."
Shane Greene is now scheduled to start for the Tigers on Thursday against the Yankees, facing his former team at Joker Marchant Stadium. Wednesday is listed on Tigers game notes as TBA, but it would appear likely to be a bullpen day, allowing a slew of relievers to get in work.
Verlander is scheduled to pitch the second game of the regular season against the Twins at Comerica Park. If he doesn't pitch by Friday of this week, then his schedule would seemingly have to be tweaked.
If Verlander doesn't start next Wednesday, manager Brad Ausmus said, Anibal Sanchez will move up a day to make the start. Both Ausmus and pitching coach Jeff Jones said they need to see Verlander make one more Spring Training appearance, either with the big club or on the Minor League side, before he pitches in the regular season.
"He's going to have to do something to find out whether it's going to be OK," Jones said.
Verlander did not want to set Friday as a deadline, given that he had stretched out his pitch count pretty well before last Friday. He also was cautious to call his situation frustrating, given the way he was throwing Friday before the injury.
"I'm frustrated that I can't get out there and throw," he said, "and yeah, I want to, especially with my personality. But a lot of the reason I'm optimistic -- and I don't want to say I'm happy about it -- but I think strangely, this kind of falls to what I was talking about. A lot of the adjustments I made, I'm getting back to being the person that I am, or throwing the way that I throw. I haven't done that in a while. It takes some adjustments.
"Honestly, I'm kind of using these few days as a jolt to the system to get refreshed, just let my body kind of recover as much as it can."
Since next Tuesday is an off-day following the April 6 opener, Detroit technically doesn't need a fifth starter until April 12. That would require David Price pitching on regular rest and starting April 11 in Cleveland.
Jason Beck is a reporter for MLB.com. Read Beck's Blog and follow him on Twitter @beckjason. This story was not subject to the approval of Major League Baseball or its clubs.