Danner's display at NHSI could be sign of things to come
UCLA commit and former Little League World Series star a top future Draft prospect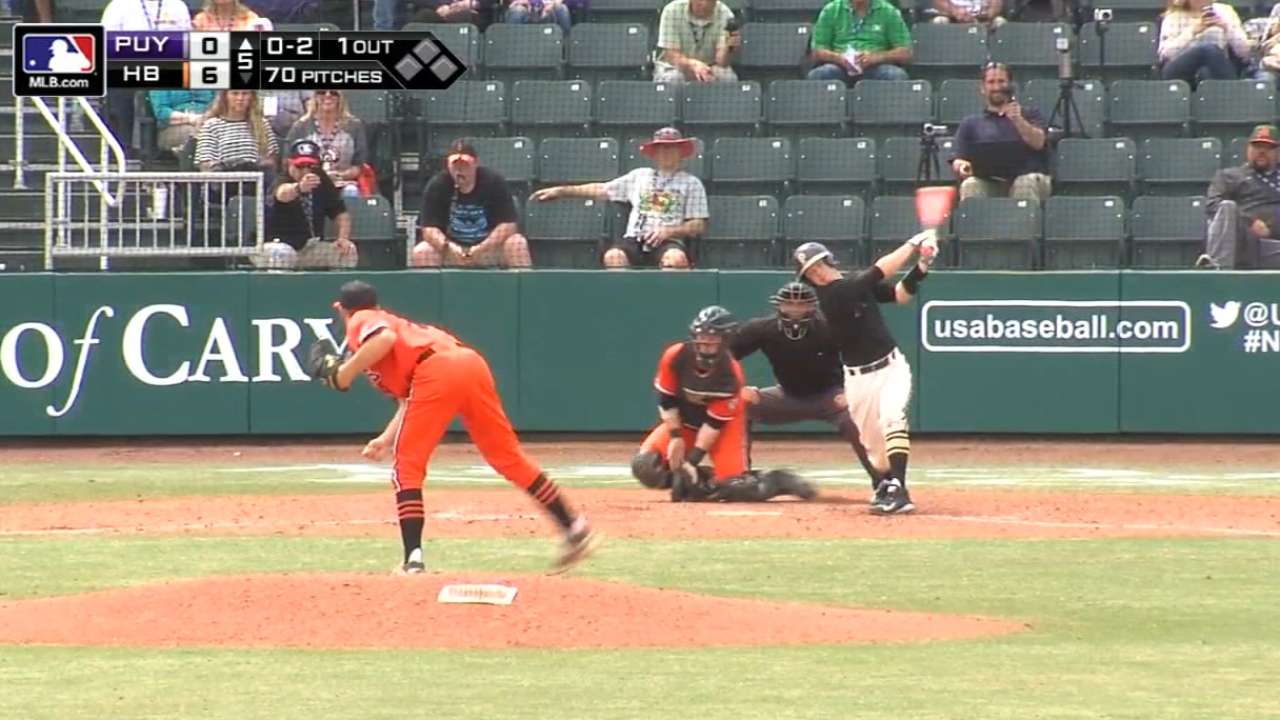 CARY, N.C. -- America's first introduction to Hagen Danner came nearly four years ago, in the 2011 Little League World Series. That summer, he starred for Huntington Beach's Ocean Valley Little League, helping the team win the championship in Williamsport, Pa.
In a game against the local favorites from Clinton County, Pa. -- with 31,000 fans in the stands and millions more watching on television -- Danner struck out 12 batters over 5 2/3 scoreless innings, and he also homered. He homered again in the title game against Japan.
Now, Danner is returning to the spotlight. At the 2015 USA Baseball National High School Invitational, the sophomore right-hander showed he can still handle big stages. He struck out 13 batters in a three-hit shutout Thursday against Puyallup (Wash.) High School in a game that was played on the big stage of Coleman Field and was broadcast on MLB.com.
While Danner wasn't able to deliver another championship to Huntington Beach -- the Oilers lost to eventual champion San Clemente (Calif.) High School the next day in the semifinals -- it was a taste of things to come. He has already committed to UCLA and is on track to become one of the top prospects in the 2017 First-Year Player Draft.
Danner said his experience at the Little League World Series has helped prepare him for the challenges he will face as his career continues.
"I can just block out the noise from the stands," he said. "I feel really confident. If something goes bad, I can just come back right away."
Huntington Beach coach Benji Medure said Danner learned that mentality in Williamsport.
"It taught him how to compete, stay within himself, because the situation could swallow him up," Medure said. "He learned at a young age to slow the game down, and he does that well. He slows the game down and he processes, and he really does go one pitch at a time."
Danner already has the kind of stuff scouts look for. His fastball peaked at 92 mph at the NHSI, and there's still some room for projection in his 6-foot-2, 185-pound frame. He created plenty of swings and misses with his curveball, and he also showed a quality changeup.
Professional scouts will be tracking Danner's progress over the next two years. For now though, he is happy to be committed to UCLA, where he has attended baseball games since he was younger. Bruins head coach John Savage has helped mold Major League pitchers such as Gerrit Cole and Trevor Bauer.
"I wanted to go to UCLA since I was a little kid," Danner said. "When they offered me, I waited a little bit, because I wanted to see other things. But it was always in my head that I wanted to go there."
Wherever he ends up pitching, Danner's knack for delivering on the biggest stages will help him succeed. His mother, Lisa Danner, said he stands out for his competitiveness.
"He tries to keep it quiet, but he's very competitive," she said.
As good as Danner already is, both he and Medure believe he still has room to grow, especially in the mental aspects of the game.
"We have to remember that he's a sophomore," Medure said. "He's 16 years old. He's still a kid. At times he'll show that he's 16. But we see this physically mature, unbelievable athlete that can do what you just saw.
"That is what's going to take him to the next level is him getting stronger mentally."
Teddy Cahill is a reporter for MLB.com. Follow him on Twitter at @tedcahill. This story was not subject to the approval of Major League Baseball or its clubs.