Tigers nearing completion of big league roster
Catcher Holaday, outfielder Collins among players optioned; Ausmus turning attention to bullpen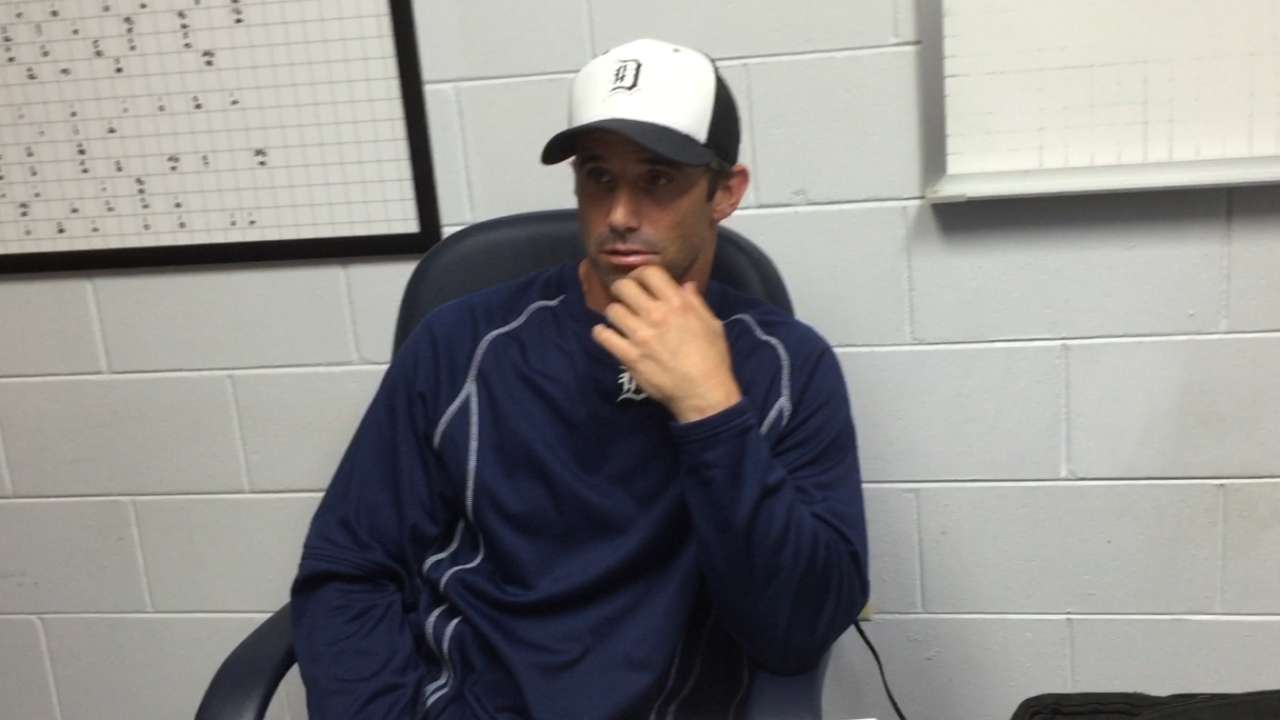 LAKELAND, Fla. -- The Tigers' positional roster is now all but set, including catcher James McCann and utility guys Andrew Romine and Hernan Perez.
The team made most of its final decisions on Monday, optioning catcher Bryan Holaday and outfielder Tyler Collins to Triple-A Toledo. Both made last season's Opening Day roster, and both were in competition to do the same this year.
Also sent to Minor League camp were non-roster invites Jordan Lennerton, Aaron Westlake, Jefry Marte, Xavier Avery, Jason Krizan and Manny Pina.
The moves leave veteran infielder Josh Wilson, also a non-roster invite, as the one extra position player in camp. Manager Brad Ausmus has talked about Wilson all spring as an insurance option.
The remaining decisions for Detroit's Opening Day roster are in the bullpen, where three relievers must be sent out. Among those in competition for what is believed to be the final two spots are Blaine Hardy, Ian Krol, Angel Nesbitt, Bruce Rondon and Kyle Ryan. Rondon and Nesbitt are scheduled to pitch in Monday's game against the Braves.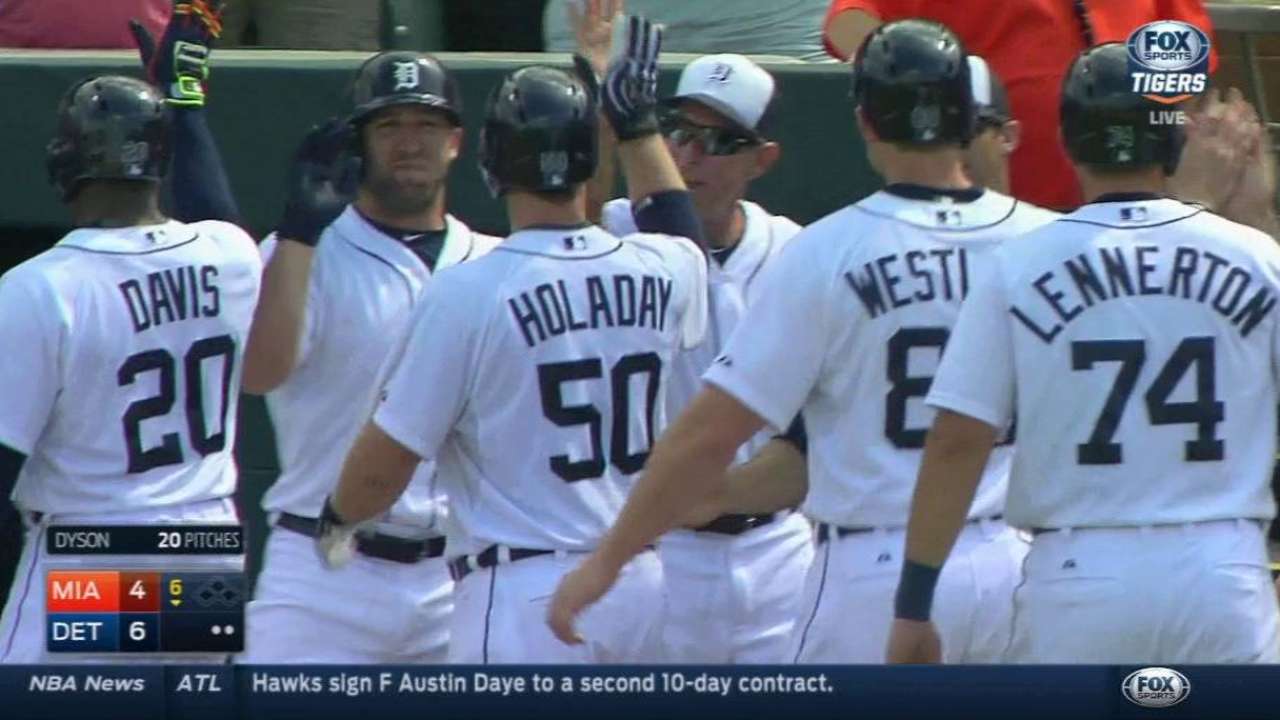 Holaday spent the entire 2014 season in Detroit, catching 62 games, but McCann is seen as having higher potential, particularly on offense. He displayed that this spring, batting .371 (13-for-35). The 24-year-old was a September callup last year and made an impression on team officials when he caught a well-pitched game from Justin Verlander on Sept. 19 in Kansas City.
"It was definitely a big confidence-building game," McCann said. "One, it was a huge game [in the division race] at the time. And being on the road, catching Verlander for the first time in a game -- I never even caught him in a Spring Training game -- and the success that we had together being able to get on the same page, that was definitely a confidence boost to build on this spring."
McCann is expected to get the bulk of his starts against left-handers in a platoon-type scenario with veteran Alex Avila.
"I would say Alex will probably get more playing time at this point going into the season," Ausmus said. "Now that could change, but certainly McCann will see some left-handed pitching, and he'd have to see some right-handed pitching just because he could be sitting on the bench."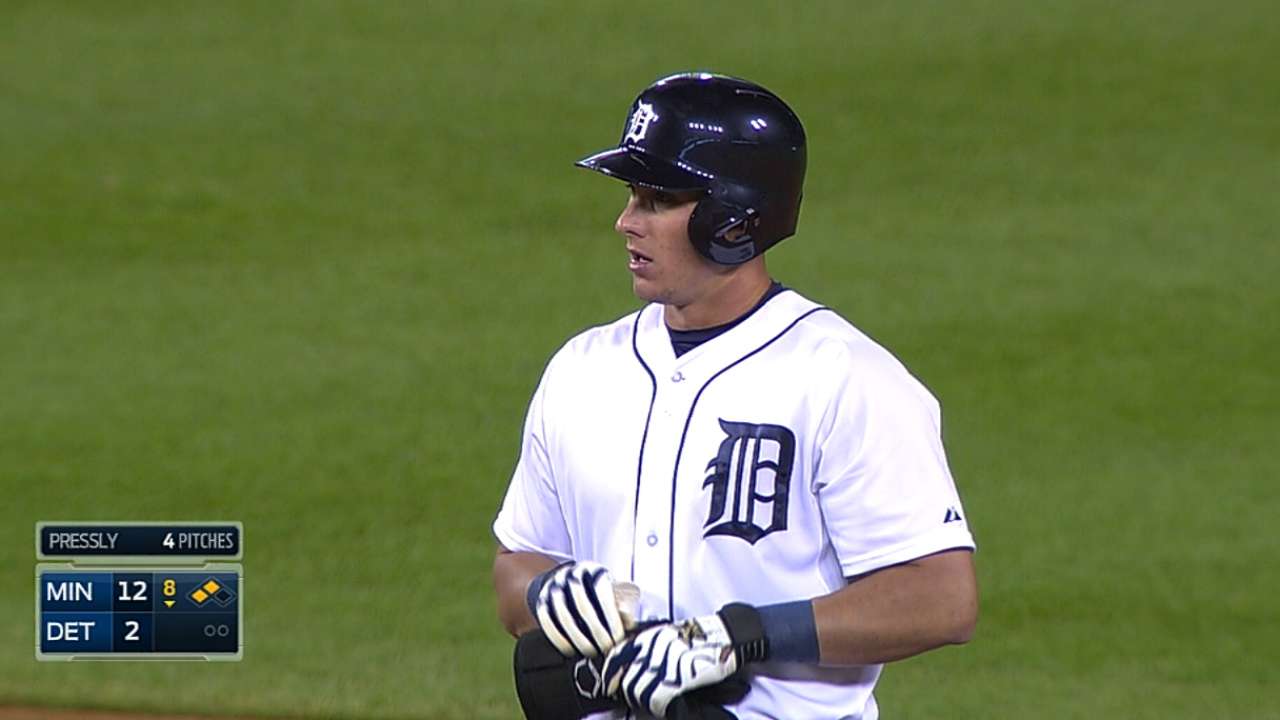 Both Perez and Romine are backups at this point. However, they're backups at several positions, having added first base and outfield work to their infield duties this spring. They're even seen as emergency catchers; Perez will get an inning or two behind the plate in a Minor League game Monday, Ausmus said, while Romine is expected to do the same Tuesday.
The two were viewed in competition when camp began. With Detroit's four-man outfield rotation largely set, however, Ausmus came around to the idea of keeping both at the expense of Collins, who struggled with limited playing time last April.
"He understood that just sitting on the bench, getting one or two at-bats a week, wouldn't be good for him," Ausmus said. "It would be better for him to be playing every day. Should something happen to one of our outfielders, he can come up and fill that spot."
Jason Beck is a reporter for MLB.com. Read Beck's Blog and follow him on Twitter @beckjason. This story was not subject to the approval of Major League Baseball or its clubs.