Marlins give unconditional release to veteran Johnson
Pinch-hit specialist a free agent; Claiborne optioned to Triple-A New Orleans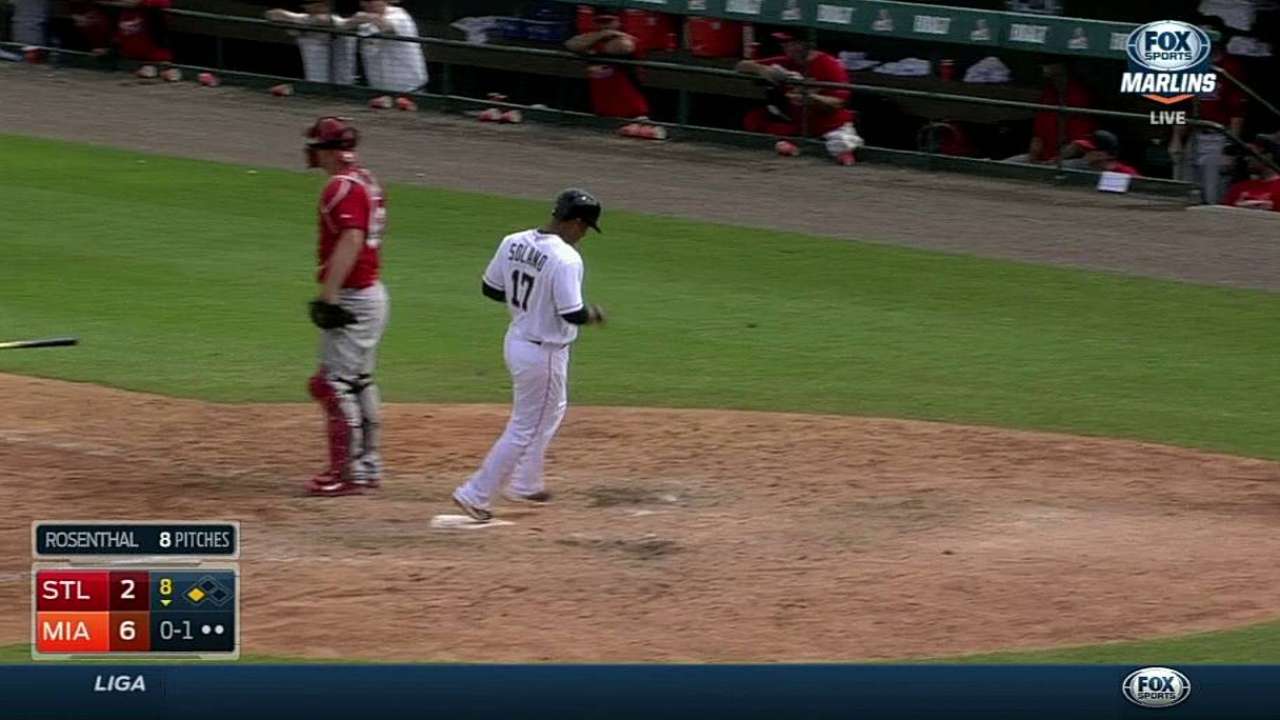 PORT ST. LUCIE, Fla. -- Reed Johnson, a veteran leader and valued pinch-hitter for the Marlins in 2014, was granted his unconditional release by the organization on Monday. The 38-year-old became a free agent a week before the regular season opens, and he immediately signed a Minor League deal with the Nationals.
The Marlins also optioned right-handed reliever Preston Claiborne to Triple-A New Orleans. The club now has 34 players in camp.
A non-roster invitee facing long odds to make the club in Spring Training, Johnson batted .205 in 19 Grapefruit League games. He had been in the mix for the final bench spot.
A year ago, Johnson made the club as a non-roster invitee as the fifth outfielder and a pinch-hit specialist. He had a standout Spring Training, batting .405 in 42 at-bats. Johnson added 16 pinch-hits during the regular season.
Marlins manager Mike Redmond feels Johnson can still hook up and help another team. But if the end of Johnson's career is near, the Marlins feel the outfielder has a future in the game as a coach.
"I feel like when I'm speaking to him, I'm talking to myself, in a lot of ways," Redmond said. "He's a guy who has truly earned everything he's been given in this game, and had to earn it as a player."
Claiborne, 27, found himself in a tightly contested bullpen competition. The right-hander posted a 1.23 ERA in 7 1/3 innings. He has big league experience with the Yankees in 2013 and '14. Claiborne now becomes an option to bring up during the season.
This Spring Training, roster spots are limited. With Ichiro Suzuki signed as the fourth outfielder, the Marlins may not carry a fifth outfielder, which hurt Johnson's chances. Instead, they may be leaning toward non-roster invitees like Jordany Valdespin and Don Kelly, who can play in the infield as well as the outfield.
Johnson has been a popular player within the organization since last Spring Training. A 12-year veteran who broke in with the Blue Jays in 2003, Johnson has offered advice to a number of the Marlins' young players. The 2014 Marlins improved by 15 wins over the previous season, and Johnson has been credited with being part of the organization's cultural change.
Johnson has 77 career pinch-hits, the 10th most of any player since 2000.
"I told him, 'You've done so much in our clubhouse and helped so many players prepare to come off the bench,'" Redmond said. "It was a tough one. We've talked about some tough decisions. I've lost a few nights' sleep on this one. It's tough to see him go."
Joe Frisaro is a reporter for MLB.com. He writes a blog, called The Fish Pond. Follow him on Twitter @JoeFrisaro. This story was not subject to the approval of Major League Baseball or its clubs.