MLB.com Columnist
Richard Justice
Stacked deck: Red Sox could be holding 5 aces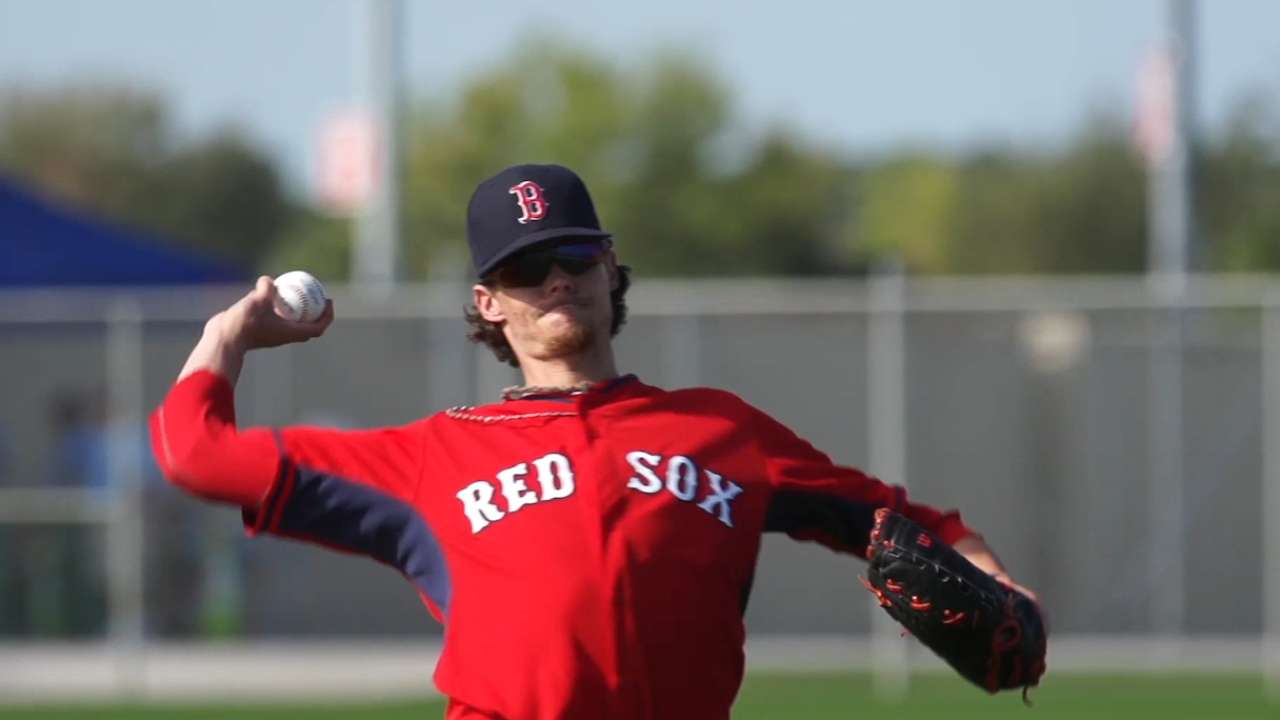 FORT MYERS, Fla. -- The Boston Red Sox do indeed have enough starting pitching to go back to the playoffs. In fact, the Red Sox may very well have enough starting pitching to win another World Series. Just because the opinion to the contrary has been repeated a thousand times, that doesn't make it fact.
First, a little background in the wake of Red Sox manager John Farrell announcing Sunday that right-hander Clay Buchholz will get the ball on Opening Day in Philadelphia.
The Red Sox once thought Buchholz might be their ace for about a decade. And at stretches, he has been that good. Problem is, Buchholz has had trouble staying healthy and is coming off a season in which he had a 5.34 ERA. That's the highest of the 78 pitchers who who threw at least 170 innings in 2014.
Buchholz was tormented by poor mechanics and diminished velocity. If he was injured, he wouldn't say so. Those problems led to a long offseason of work, including several sessions with University of Texas assistant coach Skip Johnson.
Johnson didn't tell Buchholz anything different from what the Red Sox told him, but a 5.34 ERA can serve as a wakeup call. Buchholz showed up at Spring Training with a smoother delivery, and almost from the first day, he has looked like a different guy.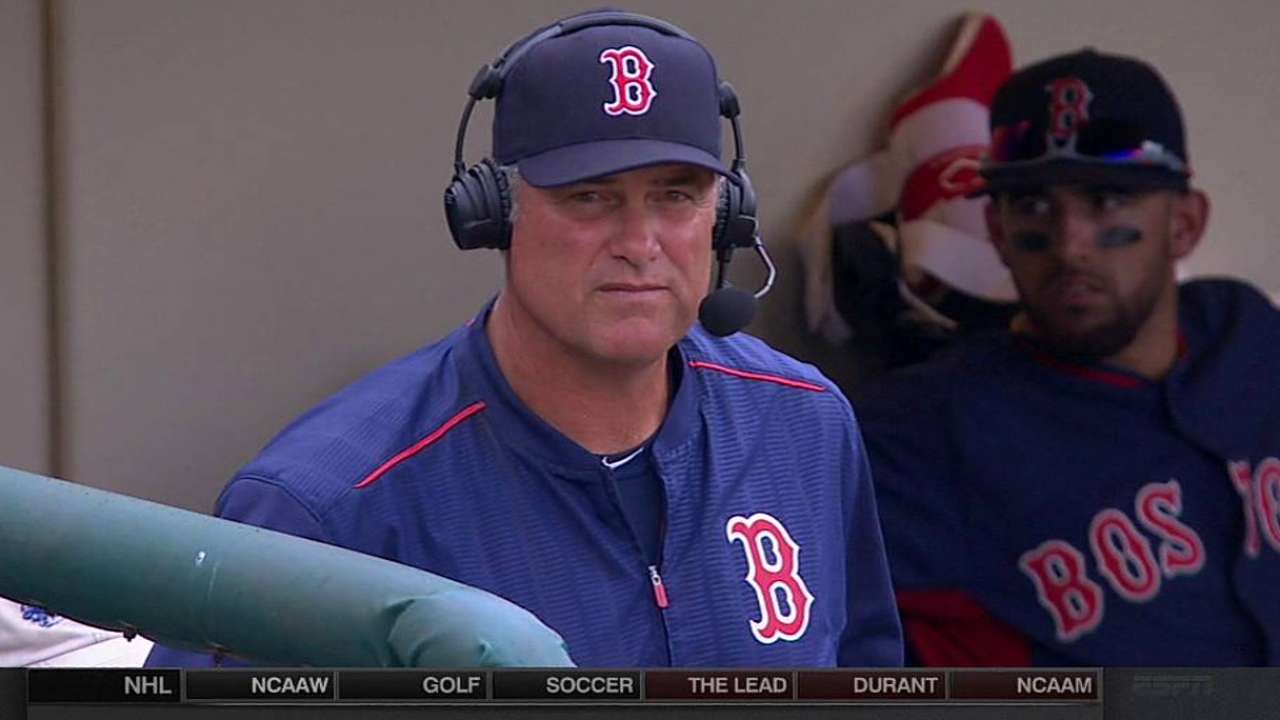 Actually, Buchholz has at times looked like the guy he used to be. He made 28 starts in 2010 and had a 2.33 ERA. Buchholz was 25 at the time. He was even better in '13, compiling a 1.74 ERA in 16 starts before right shoulder issues shut him down.
At this point, Boston is optimistic that Buchholz may yet be as good as the club once projected him to be. This Opening Day assignment ought to serve as a nice "we believe in you" pat on the back.
Back to the rotation. General manager Ben Cherington did a remarkable remake of his team this offseason. In a flurry of moves, he added Hanley Ramirez and Pablo Sandoval to the lineup and Rick Porcello, Wade Miley and Justin Masterson to the rotation.
When Cherington was done, it was easy enough to look at the Red Sox and think they were capable of another worst-to-first season. From those moves came a constant criticism: Boston had failed -- and failed seems a little harsh -- to add a No. 1 starter.
Cynics might point out that there are only a handful of true No. 1 starters in the game, and they don't get traded that often. Some of us figured Cherington would go for one of the proven aces and shore up the rotation with some of the high-end young arms coming through the system. He apparently did make a run at a couple of them, including Jon Lester and Cole Hamels. (He could still make a deal for Hamels -- stay tuned.) For the moment, though, Cherington seems content to let things play out and evaluate what he has.
Unable to add a No. 1, Cherington did something really smart. He added three veteran starters and penciled them into a rotation that already had Buchholz and Joe Kelly.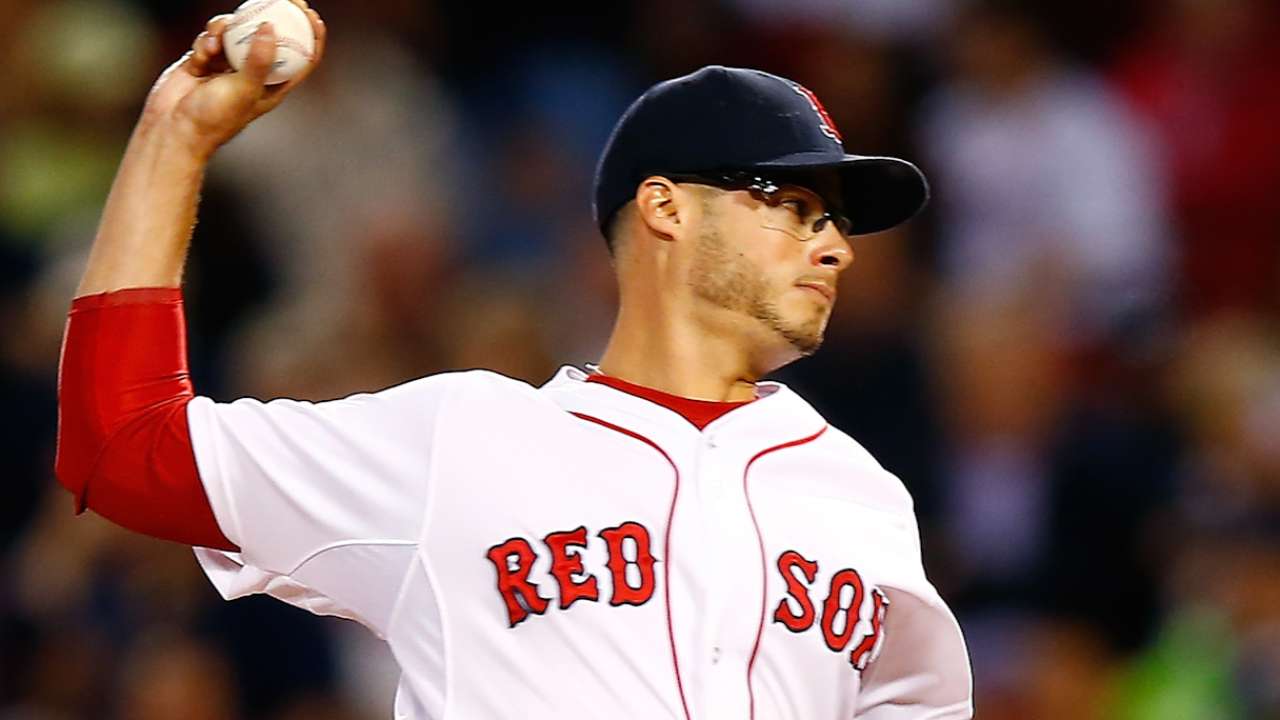 Good enough?
"I think we've got five No. 1s," Farrell said.
On the first day of Spring Training, Buchholz weighed in on the subject. Well, sort of. He gave a pair of T-shirts to the other four starters. One of the shirts announced "He's the ace" with the player's name on the back. The other had the words "I'm the ace" to be worn on the day that guy starts.
In Buchholz's own quiet way, that was his way of telling the media to, well, stop asking the question.
"There are only so many times you can answer it," he said.
Miley agreed, saying, "It's just overrated."
Buchholz made another point. All five Boston starters have at various times been projected as top-of-the-rotation guys or actually been top-of-the-rotation guys.
Masterson was once the unchallenged No. 1 in Cleveland. Two years ago, he made the American League All-Star team and compiled a 3.45 ERA in 193 innings. He's still only 30.
The Tigers long viewed Porcello, 26, as a future No. 1, as they slotted him behind Justin Verlander, Max Scherzer and others. He has averaged 185 innings over the past four seasons and is coming off a year in which he pitched 204 2/3 innings and had a 3.43 ERA. If those aren't No. 1 starter numbers, they're close. Porcello is still young enough that there might be some growth left.
Is this the AL's best rotation? Until the Rays get four starters back from the disabled list, it might be. Other teams -- Seattle (Felix Hernandez), Detroit (David Price), Cleveland (Corey Kluber) -- may have true No. 1s, but they don't have Boston's depth.
The Red Sox may have some unknowns in the rotation, but as Farrell said, "At some point, you have to give guys an opportunity to prove themselves."
Perhaps Cherington will change his mind as the season plays out. He certainly has enough extra outfielders in the big leagues and young pitching depth in the Minors to make a deal. But Cherington just might already have all he needs. Here's guessing he does.
Richard Justice is a columnist for MLB.com. Read his blog, Justice4U. This story was not subject to the approval of Major League Baseball or its clubs.