MLB.com Columnist
Bernie Pleskoff
Featherston brings solid bat, versatility to Angels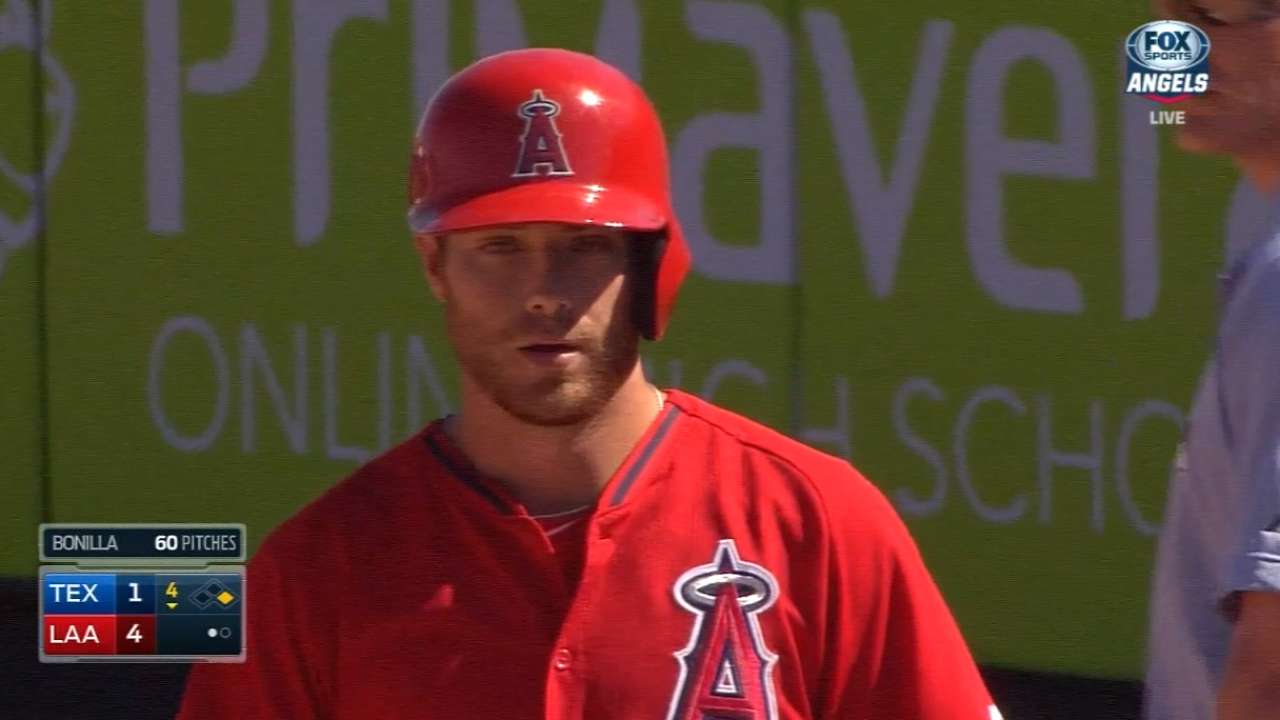 When the Los Angeles Angels traded second baseman Howie Kendrick to the Dodgers, it opened up a position that Kendrick had played since he appeared in 86 games in 2007. When I watched the Angels in Spring Training, the infield looked totally different without Kendrick playing second base.
At 6-foot-1, 185 pounds, right-handed-hitting Taylor Featherston is one of the candidates to replace Kendrick. While it's a huge order, Featherston has a nice mix of tools that could bode well for his new club.
Ranked No. 11 on the Angels' Top 30 Prospects list, Featherston has a strong, athletic frame that bolsters his power potential. He can hit, he can play dependable and consistent defense at three positions and he can run. Although he may be best suited for a utility role, Featherston can help fill a need for his new team.
Featherston was a three-year letter winner and won multiple awards and accolades at Taylor (Texas) High School. His success led him to TCU, where he started at second base and shortstop as a freshman, playing excellent defense. Featherston batted .322 in his first year and developed into a very consistent hitter, finishing his three-year career at TCU hitting .331 with 16 homers and 122 RBIs.
The Colorado Rockies selected Featherston in the fifth round of the 2011 First-Year Player Draft. He moved up a level each year after being selected. After compiling a .276 batting average in four years, Featherston was left unprotected by Colorado for the 2014 Rule 5 Draft. The Cubs selected the middle infielder and immediately traded him to the Halos for cash.
Featherston, 25, has the type of versatility that can add depth to the Angels' big league roster, but they must keep him at the Major League level all year or offer him back to Colorado. Based upon what I saw of him, Featherston has a very good chance to stick with the club.
Featherston brings a rather loud line-drive bat with an ability to hit the ball to the gaps. He makes good contact and has the power to reach double-digits in home runs. He makes quick decisions at the plate regarding pitches he feels he can drive. The speed Featherston possesses could carry him to a surprising number of extra-base hits. His swing is compact enough to get his hands through the ball quickly, and he punishes fastballs, while doing a very good job of hitting pitches where they are thrown.
Last season at Double-A Tulsa, Featherston hit .260 with 16 home runs and 57 RBIs. His average was down from .292 the previous season at Class A Advanced Modesto. While at Modesto, Featherston had 31 doubles and 10 triples along with 13 home runs, showing the type of power and speed that classified him as a dangerous middle infielder.
Featherston is very good defensively. He has good range with a quick first step. Featherston's arm is very strong -- and accurate -- and should allow him to play third base, shortstop or second. Because he is such a good athlete, he may even be able to try his hand in the outfield.
Even though Featherston has had a solid spring, former Colorado Rockies infielder Josh Rutledge or veteran Grant Green may win the everyday job at second base. If that happens, Featherston is a good candidate to win a utility-infield role. His offensive ability, dependable defense and overall versatility can be tremendous assets in a role where he plays when needed.
Bernie Pleskoff has served as a professional scout for the Houston Astros and Seattle Mariners. Follow @BerniePleskoff on Twitter. This story was not subject to the approval of Major League Baseball or its clubs.