Yanks believe good health will lead to good offense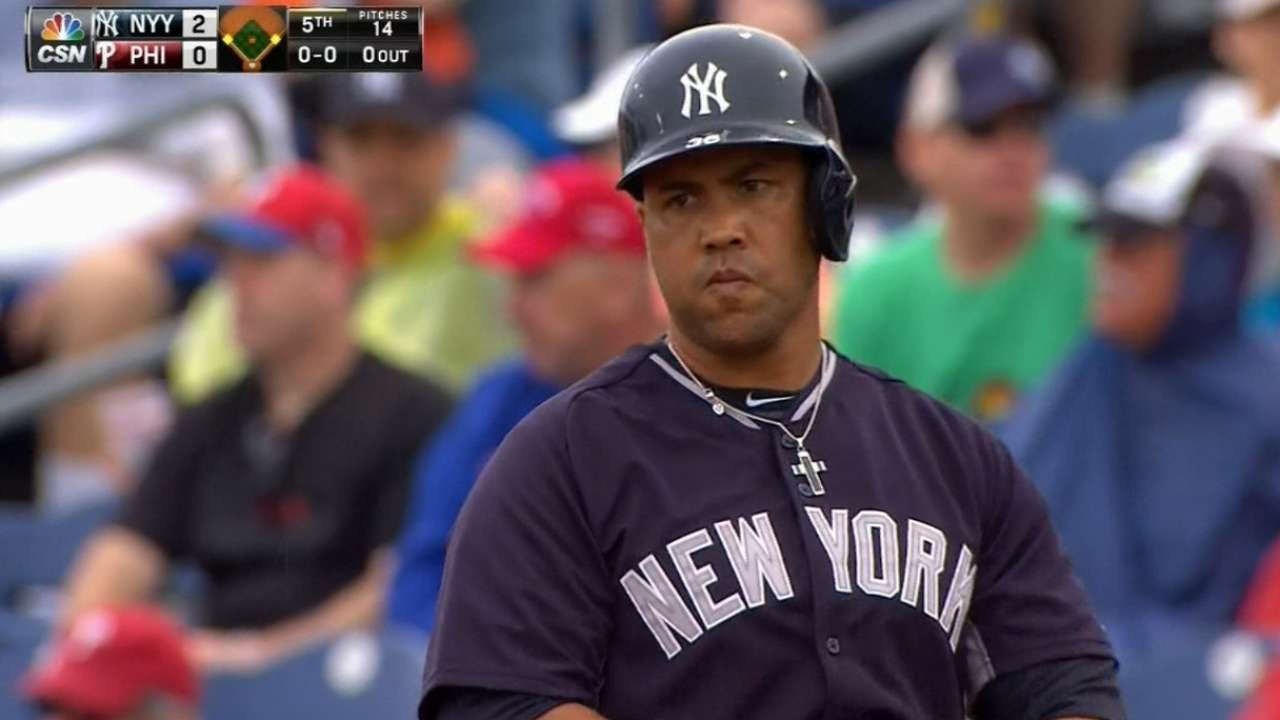 TAMPA, Fla. -- If you sit down and crunch the Yankees' math, the most important number to remember may be 633. That's the number of runs they scored last season, ranking near the bottom of the American League, and they must exceed it to achieve their goal of championship-caliber ball in 2015.
Despite significant offseason investments prior to last season, the Yankees didn't see what they expected out of Brian McCann and Carlos Beltran. Jacoby Ellsbury enjoyed a solid season, as did Brett Gardner, but the Yanks sorely missed Mark Teixeira's switch-hitting production in the second half. They also could have used whatever Alex Rodriguez had to offer.
"Let's face it, the key to any order, a lot of times, is the middle of the order and how they produce, and that's where we need to keep those guys healthy and get the production we expect out of them," manager Joe Girardi said.
There was an internal ripple effect after the Yankees ranked 13th in the 15-team American League in runs scored, their weakest offensive output since 1990. Only the Rays (612) and Astros (629) scored less in the Junior Circuit, lousy company for a Yankees' lineup that was ravaged by injuries and underperformance.
In response to missing the playoffs for a second consecutive year, the Yankees installed Jeff Pentland to replace Kevin Long as hitting coach. They also hired an assistant, Alan Cockrell, as a nod to the growing demands of the position, but Pentland accepted the job with no illusions of grandeur. For the Yankees to win, they must keep their best athletes on the field.
"I'm only a good hitting coach if we have good players," Pentland said. "I'm not a fool thinking I'm better than the players. It takes talent. I can give them a little bit of direction, and a lot of times you stay out of their way. My biggest job is trying to keep the slumps and the bad times to a minimal, and sometimes you don't always have the answers."
The Yankees did not field a .300-hitting regular last season, with Ellsbury's .271 mark leading the team. That was the lowest leading batting average for the team since Roy White hit .267 in 1968, and marked the first time since 2004 (Hideki Matsui, .298) that the Bombers did not have a qualified player over .300.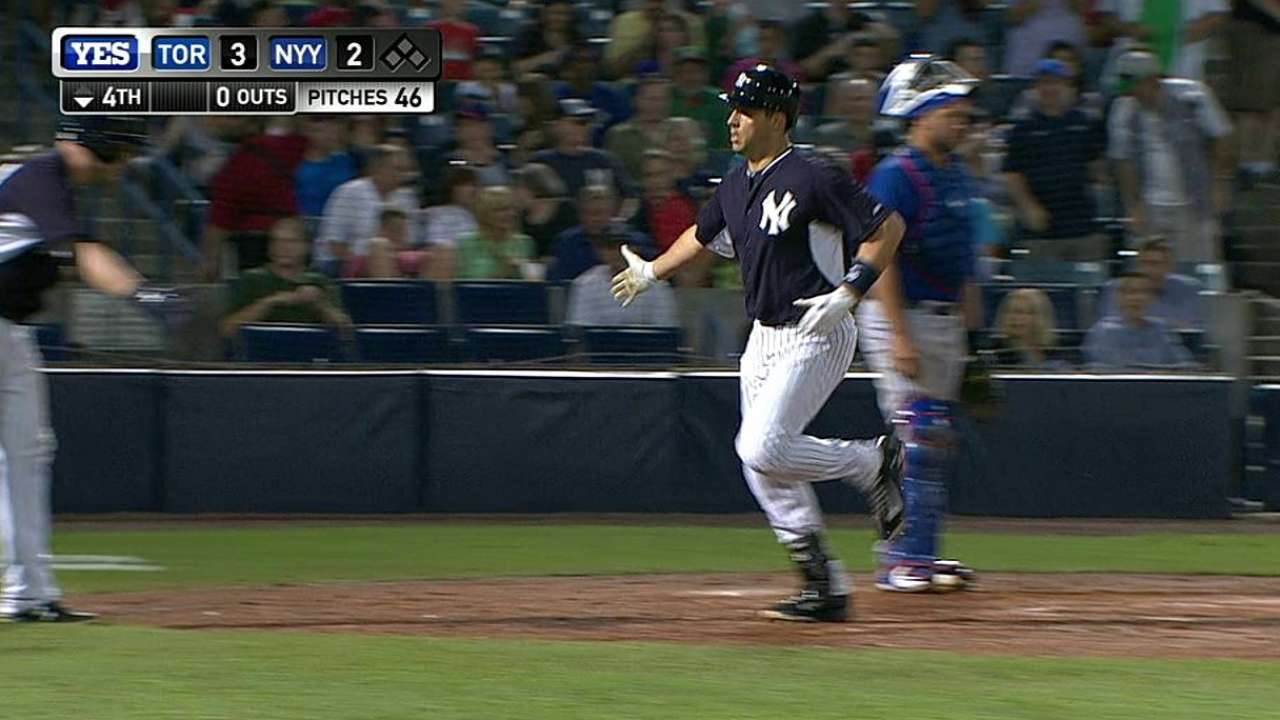 Girardi is hanging his hopes on the belief that Beltran, McCann and Teixeira can all come back with productive seasons, while the Yanks have been encouraged by the life in Rodriguez's body coming off his season-long suspension, suggesting that he can help in a designated hitter role.
They will also be helped by installing Ellsbury and Gardner atop the lineup as table-setters; Ellsbury said he didn't fret with runners in scoring position, but he often seemed miscast as a No. 3 hitter.
"We have the talent in here. There's a lot of teams that would love to have our roster right now," Teixeira said. "It takes talent, it takes health, it takes execution. We have the talent, so it's the health and execution that are the ones we're going to work on this year. I think we all believe in each other here."
There are bullet points for that optimism. In Beltran's case, he has been swinging without pain following surgery to remove a bone spur in his right elbow and said that he is motivated to prove that 2014 was an aberration.
McCann should be more comfortable on both sides of the ball, coming off what he called a "learning experience" year in the AL, and Teixeira has responded to a new gluten-free diet by voicing his old goals of 30 homers and 100 RBIs.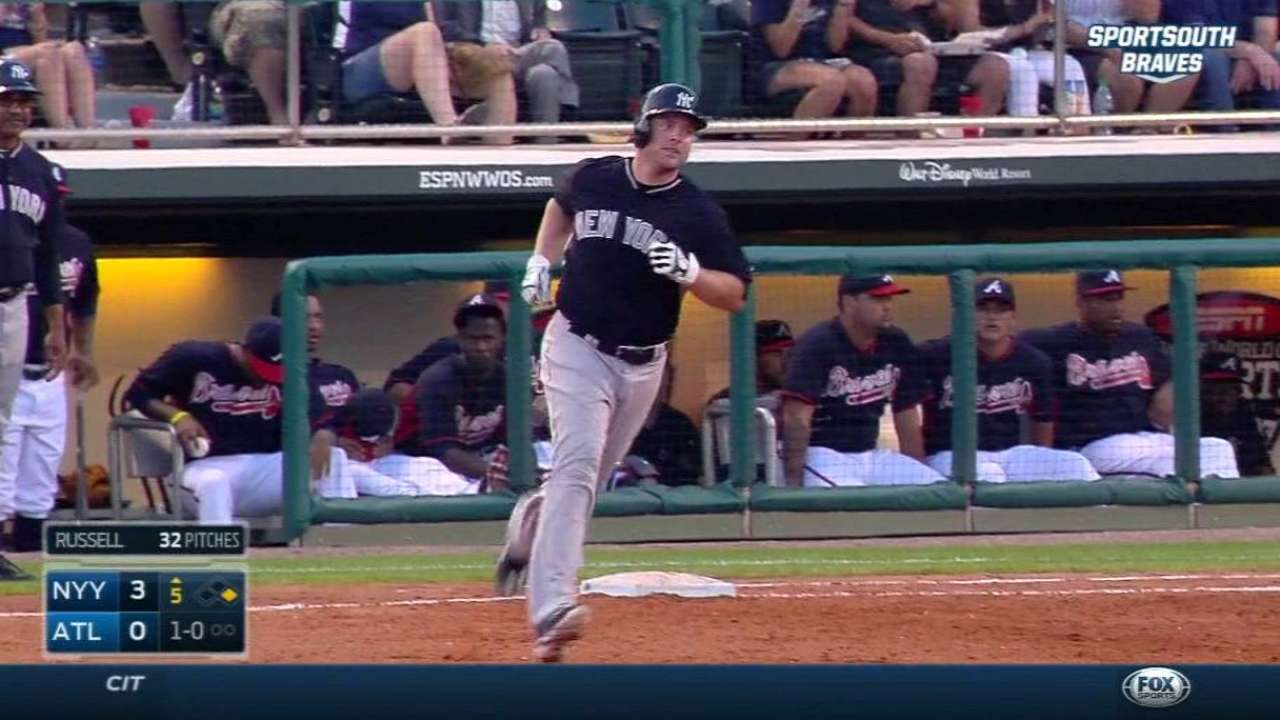 "I think we're going to be better than last year, no doubt about it," Beltran said. "What happened to me, Tex was dealing with his wrist still last year, McCann's first year in the league; he'll be more comfortable, second year. I think it's going to be better. There's no reason why it shouldn't be better if the health is there."
The Yankees would sign up for that in a second, but they would accept far less from Teixeira, especially if other pieces like Chase Headley, Didi Gregorius and Stephen Drew can pick up the slack. General manager Brian Cashman said on Sunday that he has enjoyed seeing more production from the bats.
"There's no reason to believe, for instance, Carlos Beltran's not going to hit all of a sudden," Cashman said. "I have seen a lot of Stephen Drew in the last week to 10 days, and it's encouraging. And then Tex, I haven't had any worries about Tex coming back, or even Beltran. Just stay healthy and we'll be fine."
It makes sense on paper, but now we'll see if the Yanks can actually get past 633 -- or bust.
"I think this team has a chance to be really good," Girardi said. "We need to do a better job of staying healthy than we've done the last two years, but I think we have a chance to be really good."
Bryan Hoch is a reporter for MLB.com. Follow him on Twitter @bryanhoch and read his MLBlog, Bombers Beat. This story was not subject to the approval of Major League Baseball or its clubs.