'That was for him': Henry dedicates special day to Sanchez
Mariners prospect gets last-minute call, hits HR against Padres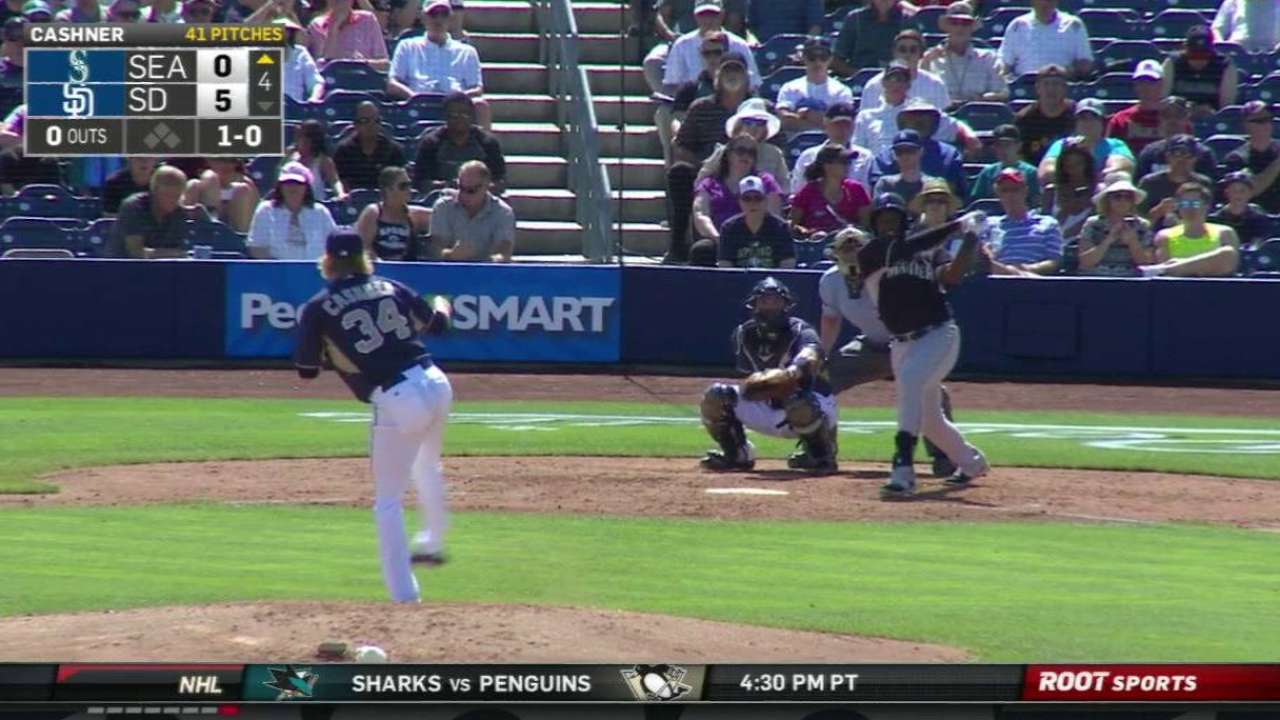 PEORIA, Ariz. -- Jabari Henry could have simply relished his own moment in the sun, an amazing story on its own after being called off a Minor League field at the last moment and told by general manager Jack Zduriencik that he was needed to start as an injury fill-in for the Mariners' Cactus League game against the Padres ... and then proceeded to smack a home run in his second at-bat in Seattle's 8-5 loss at Peoria Stadium.
But the 24-year-old outfielder wasn't performing just for himself Sunday. His good friend and Minor League teammate Victor Sanchez died in Venezuela on Saturday and Henry was playing this one for the big right-hander.
"It's hurting all of us right now," Henry said in the Minor League clubhouse, where he returned after his three hours alongside the big league club. "It's been tough throughout the whole day because he was the one that was always all joyful and cheering us all on. Even though he was bigger than me, he was like a little brother to me.
"One hundred percent, that was for him," he said of his home run. "All of today was all for him."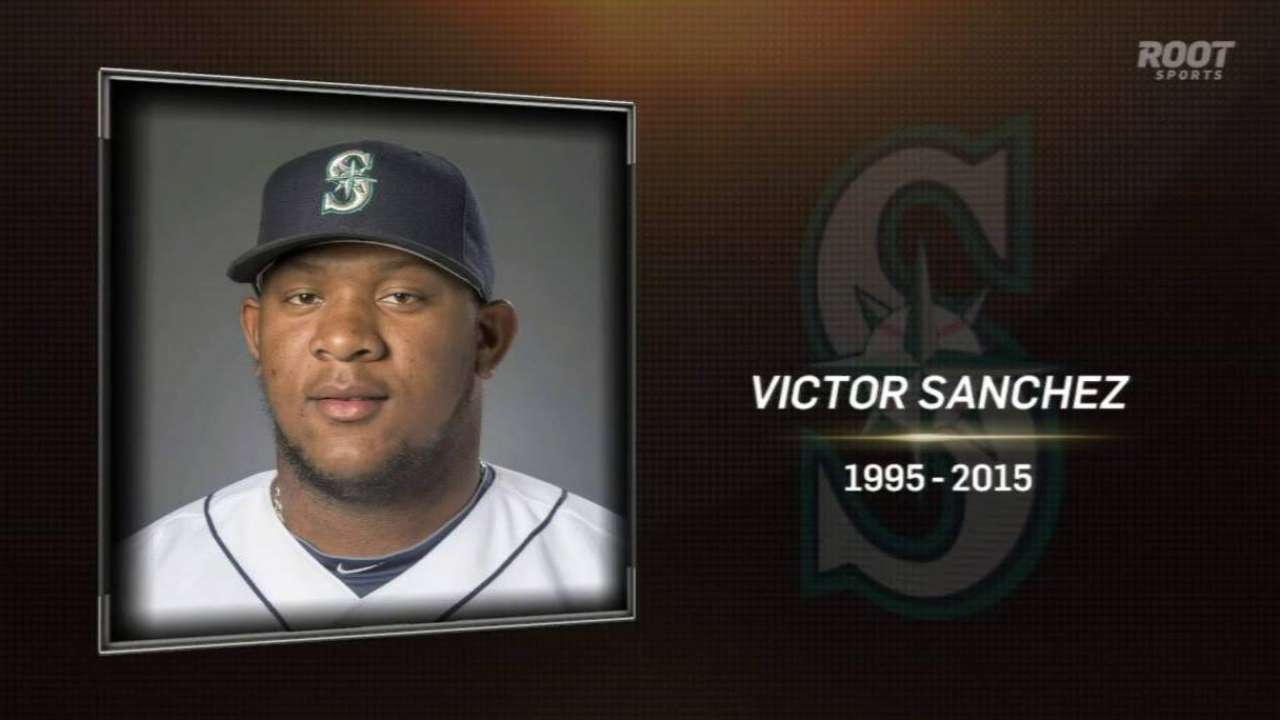 Henry played two seasons with Sanchez, in Class-A ball in Everett and Clinton. He was there when Sanchez spun his no-hitter for Clinton. He was there when Sanchez showed everyone what being a good teammate and leader was about, even as a quiet teenager from Venezuela. And like the rest of the youngsters who played with Sanchez, he found out Saturday that the 255-pound pitcher had died after being hit in the head by a boat propeller while swimming in Venezuela in an accident that hospitalized him for 42 days.
"He was just a very nice guy," Henry said. "He was one of those people that understood English and would talk to the Americans, too. He was like everybody's favorite, pretty much. It's tough."
That was weighing on Henry when he heard Zduriencik calling his name as he was warming up in the outfield for the Mariners' Double-A game on a backfield at the Peoria complex. Starting right fielder Seth Smith had been scratched earlier in the day by Seattle with a sore ankle. And shortly before game time, his replacement -- top prospect Alex Jackson -- told trainers his shoulder was still hurting from a diving catch on Saturday.
"I was actually in the outfield and Jack was calling my name. 'Hey Jabari, come here,'" said Henry, who has never played above Class-A ball. "And I had to run in there and he said, 'Hey, you're going to be in the Major League game. And you're going to be starting.' I was so excited."
Henry had time to text his parents, who taped the televised game, before he hustled to the stadium and going 2-for-5 with two RBIs and a home run off Padres starter Andrew Cashner. Sure, there were two errors in the outfield as well, but this was a day to remember for all the right reasons. Even if most of it was still a blur.
"I don't even know what pitch it was," he said of his home run. "I just saw it and took a hard swing. I'm speechless right now. When I first hit it, I didn't know it was gone. But I heard everybody cheering, so I just kept running. Everybody was all, 'Heeyyyy!' in the dugout, so it was pretty exciting."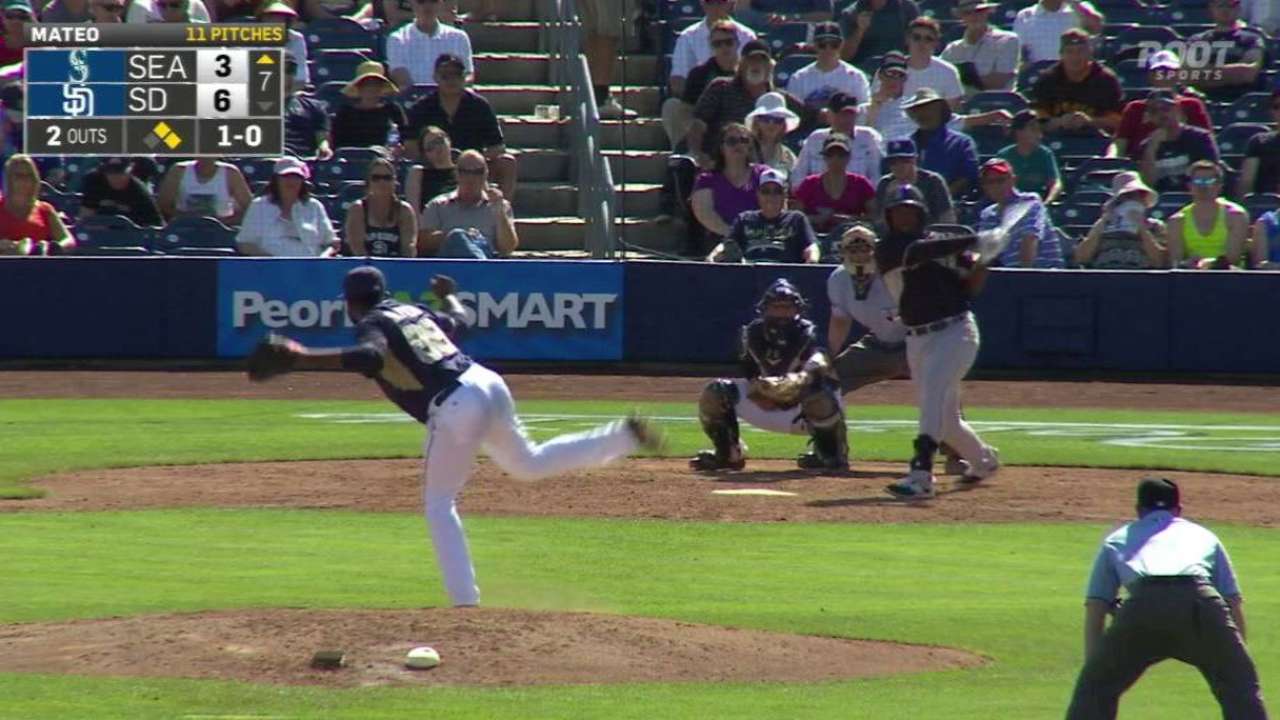 Henry has his own big league connection in Mariners shortstop Brad Miller, who was a year ahead of him at Olympia High School in Orlando, Fla. The two played Little League together at age 10 and were on the same AAU and high school teams.
"I'm trying to get where he's at right now," said Henry, who hit .291 with 30 home runs and 95 RBIs for High-A High Desert last year. "He was cheering me on the entire day."
Which is another reason Henry didn't consider himself all on his own in his first start with a Major League club. On this day, he had extra help.
"I was feeling good out there," Henry said. "I guess Sanchez was looking over me. I know he would have been happy about it."
Greg Johns is a reporter for MLB.com. Follow him on Twitter @GregJohnsMLB as well as his Mariners Musings blog. This story was not subject to the approval of Major League Baseball or its clubs.