Danks complimented by comparison with old pal Buehrle
After rehab, starter realizes he has to do more with lower velocity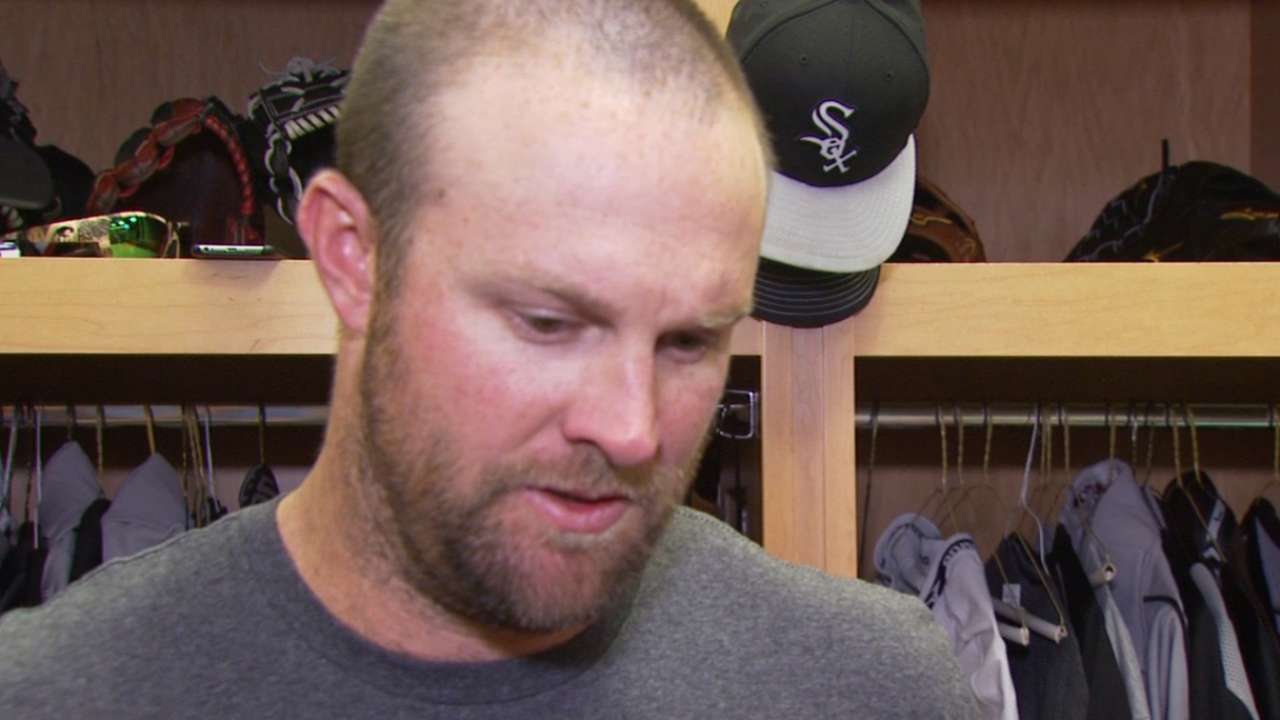 GLENDALE, Ariz. -- John Danks wants to make one point perfectly clear. It's an honor when people talk about the White Sox hurler needing to pitch like Mark Buehrle, meaning he should make much more with less -- velocity, in particular.
The White Sox southpaw wants to make a second point equally clear about his former teammate and good friend: His stuff will always be better than that of Buehrle, the 15-year veteran who sits one victory away from 200 for his career.
"Still better. Still is," said Danks with a broad smile. "Yeah, in my rehab days, I still had better stuff than Mark."
Danks' rehab sits behind him now, with those days stemming from season-ending arthroscopic shoulder surgery in August 2012.
He threw 98 pitches over 6 1/3 innings in a Minor League game Sunday at Camelback Ranch in preparation to start the third game of the season, against Kansas City. Danks carries a 7-0 career record and 2.43 ERA against the Royals and a 4-0 record and 1.73 ERA at Kauffman Stadium.
The longest-tenured current White Sox player feels as if his changeup has come a long way this spring and that his fastball command has been good.
Changes made by lowering his arm angle and altering his leg kick -- put into action last September, to keep the ball in the ballpark more -- have become almost second nature. He's ready for the season and doesn't mind being lumped in the "other two starters" category with Hector Noesi, behind the big three of Chris Sale, Jeff Samardzija and Jose Quintana. Danks knows his capabilities and those of Noesi.
"I mean, it is what it is. Those guys deserve the recognition they are getting," Danks said. "Hector gets overlooked. He had a great run with us when we got him.
"We know we have to do our jobs. You can't win with three guys. We need all five of us to pitch well. I think we are in a good position to do that."
Danks went from a 91.7 mph average with his fastball in 2010 to 88.6 last season, per Fangraphs. Of course, Buehrle averaged 83.9 mph last year and still put together his 14th straight season with double-digit wins, at least 30 starts and at least 200 innings pitched.
"Yeah, that's a huge compliment. He's had a heck of a career," said Danks of the Buehrle comparison. "He's been a great friend to me. He's as good a teammate as I've ever had.
"He's fun to watch. He's going out there with less-than-average stuff and having a lot of success doing it. It's very impressive in my eyes. I'd take that as a major compliment."
Scott Merkin is a reporter for MLB.com. Read his blog, Merk's Works, and follow him on Twitter @scottmerkin. This story was not subject to the approval of Major League Baseball or its clubs.