MLB.com Columnist
Tracy Ringolsby
Giants pleased with Cain rounding into form
Right-hander enjoys another successful, healthy outing vs. Dodgers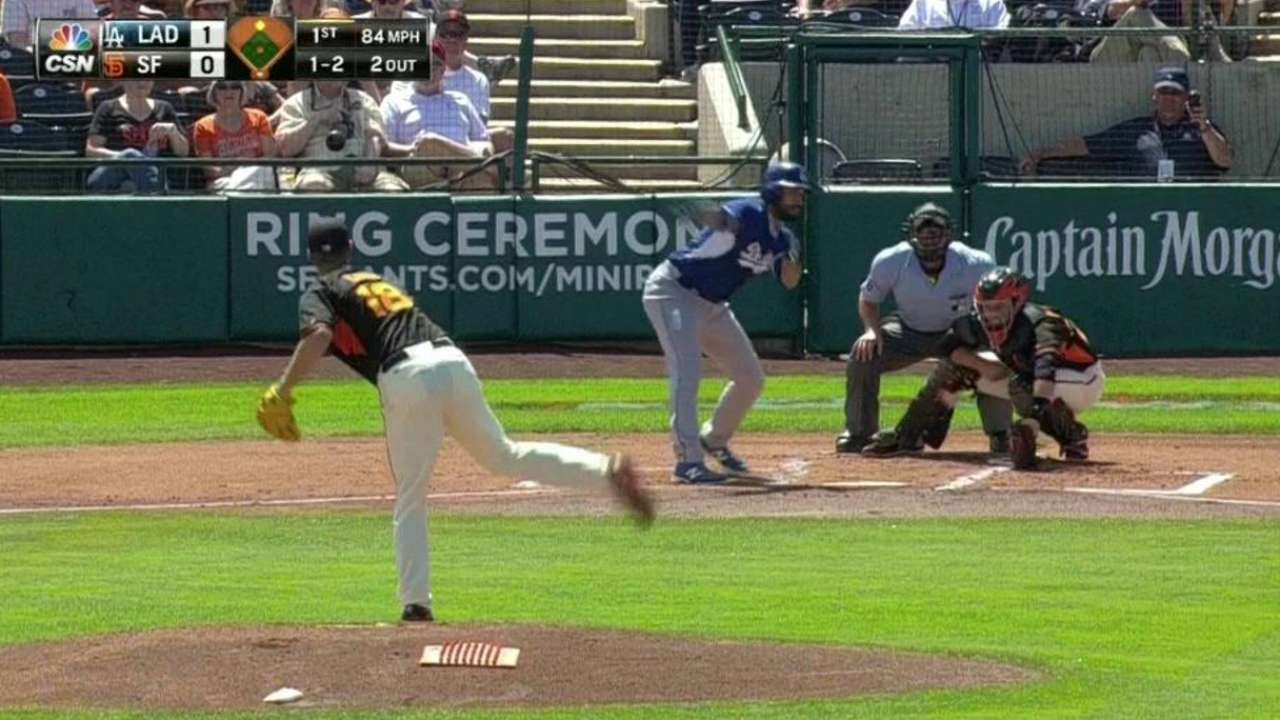 SCOTTSDALE, Ariz. -- Finally, good news for the defending World Series champion Giants.
Matt Cain can be declared healthy. While he may not be quite ready for the season to start, he is close enough to give the Giants and Cain every reason to feel he'll be just fine after he makes that one more exhibition appearance in next weekend's Bay Bridge Series against the A's.
The spring began for the Giants without the presence of Pablo Sandoval, who made the offseason decision to wear Red Sox. In the opening days of the spring season, Hunter Pence sustained a fractured left forearm that will sideline him in the opening month.
In the waning days, however, Cain has given San Francisco a reason to exhale. Coming off surgery last August to remove bone chips from his right elbow, he returned to a Cactus League game on Sunday after back-to-back appearances at the Minor League complex, and he came through it pain free.
OK, the numbers weren't everything Cain and Co., would like them to be, but the focus on this afternoon wasn't on the three runs on six hits and a walk that he allowed in four innings, including that first-pitch home run to Joc Pederson in the third inning of the Giants' 11-9 victory against the Dodgers.
It was all about Cain and pain -- or rather a lack thereof. It was about getting his work in and having reason to look forward to that next trip to the mound. And in that aspect, it was just about as good as San Francisco could have hoped.
"Everything felt good," Cain said. "It was definitely a positive."
Hey, it hasn't been a lights out spring for any of the Giants' starting five, but these aren't a bunch of kids trying to earn a spot in the big leagues. This is a group that has played a part in being the first National League team in roughly 70 years to win three World Series in five seasons. This is about being physically ready when the regular season opens in Arizona on April 6. That's when the numbers matter.
Yes, Cain has an 8.22 ERA in his three big league appearances. Madison Bumgarner is checking in at 5.65. Tim Lincecum is sitting on 6.92. Jake Peavy is carrying an 8.22. Tim Hudson has set the pace at 3.00.
They, however, are all healthy, although Peavy admits a bit of a "tired arm" right now. Healthy enough that Ryan Vogelsong is facing the challenge of adapting to the bullpen where he will share the long-relief work with Yusmeiro Petit.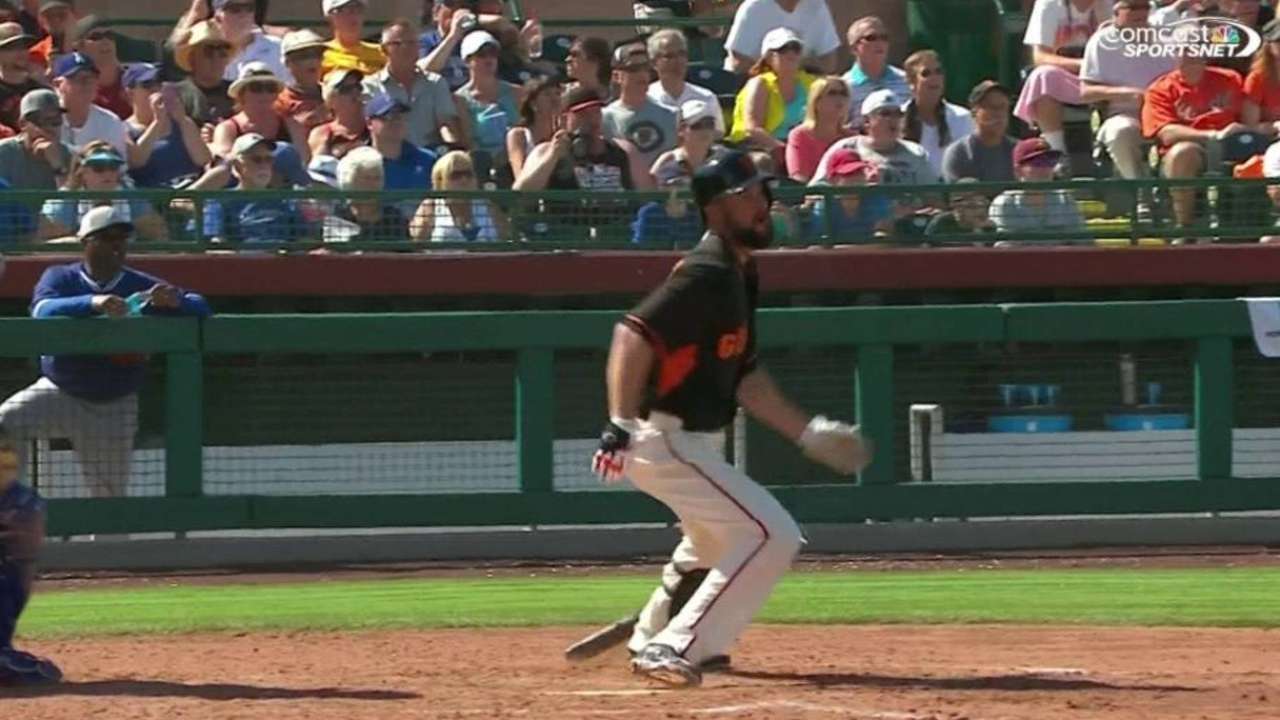 "I am not going to lie and say I don't think about it," Vogelsong said. "I try to change my thought process quick. I just think about throwing the ball well and enjoying being on the mound again. I'm going to do what they ask me to do."
Right now, Vogelsong is going to be asked to keep himself ready for that in-game call to the bullpen with the possibility of an in-season move into the rotation
Because right now, Cain is showing signs of being ready to go, and he has the track record that says if he's healthy, he's one of the game's elite. Yes, he had the bone chips, but he did just turn 30 last October. And from 2009-12, Cain put together a resume where San Francisco was 79-52 when he started, and Cain was 55-35 with a 2.93 ERA, working more than 200 innings each season and making three All-Star appearances.
That's why Sunday was such a relief for the Giants.
"He's real close," manager Bruce Bochy said. "He's not feeling anything."
It's what Bochy was thinking after taking time the other afternoon to go to the Minor League complex and watch Cain throw five innings, which "convinced me he was over the hump. He was not hesitant to throw every pitch. He went [to the mound] five times and felt fine the next day. He's not as sharp as he's going to be. He's a little behind, but he's coming on."
Scouts had Cain's four-seam fastball at 91 to 93 mph and his two-seam fastball at 89 and 90. Nobody saw any kinks in the arm action.
"The fastball command wasn't that great, but the breaking ball and changeup had bite on them," Cain said.
And Cain never had a grimace on his face.
"I was definitely wondering," he admitted about a possible ache or pain. "I've never been through this. I have to learn on the run. I just let the trainers to do their job. They weren't worried about things. The big thing was to calm down and get over that hump."
Cain cleared that hurdle on Sunday afternoon.
Tracy Ringolsby is a columnist for MLB.com. This story was not subject to the approval of Major League Baseball or its clubs.