Q&A: Francona assesses Tribe on the eve of the season
Skipper discusses rotation, lineup, bullpen and club's youngsters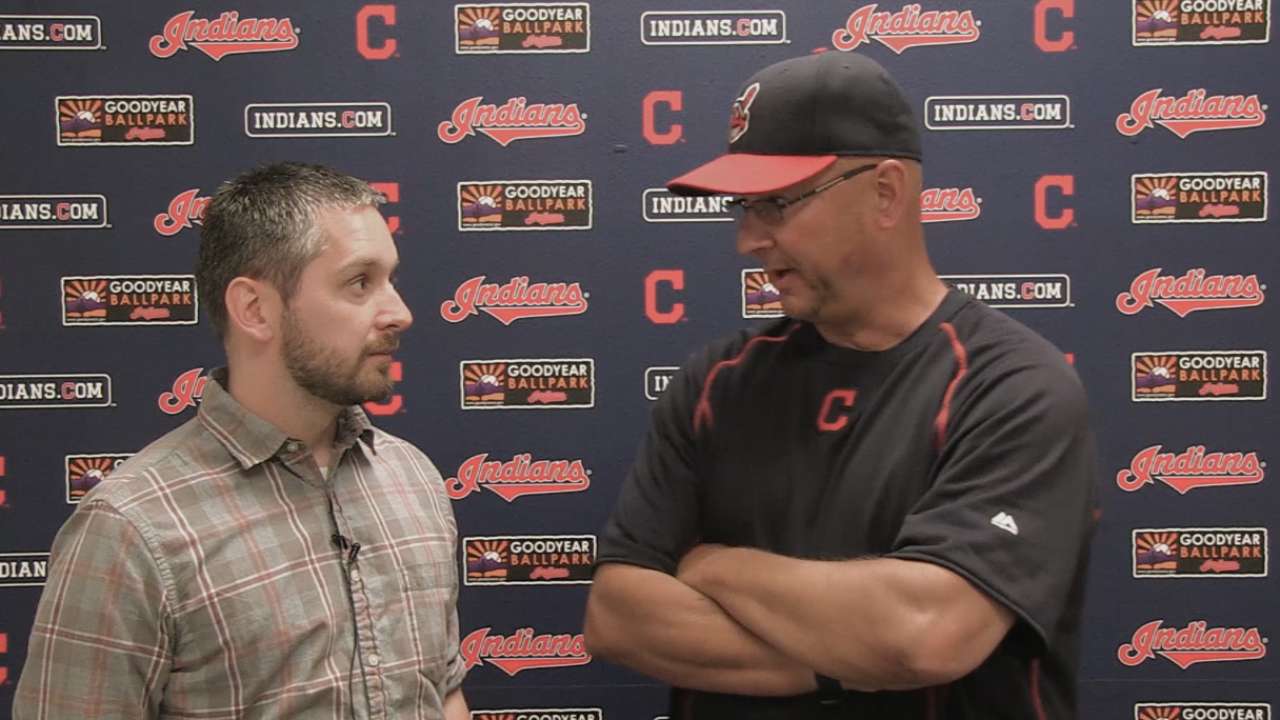 GOODYEAR, Ariz. -- With Opening Day looming, MLB.com caught up with Indians manager Terry Francona to discuss the potential of his starting rotation, key players for the Tribe's lineup, the importance of closely monitoring the bullpen's workload and young players who impressed in camp during the spring.
MLB.com: There's been a lot of talk about the starting rotation -- for good reason -- with Corey Kluber, the American League Cy Young winner, at the top, and Carlos Carrasco. What are your thoughts on the potential of this group and the depth that you have there?
Francona: Well, when you say "potential," that's a big word. I think we all feel that it'll be nice when the potential turns into factual -- and year after year. In Kluber's case, he went out and did it, and did it better than anyone last year, and I don't see any reason why he's not going to be the leader of the staff for years to come. Carlos Carrasco, that's exciting what he did. Now, watching him do it for a full year is going to be interesting. To see Trevor Bauer's growth, we're looking forward to that. ... We feel good about our pitching, and we better feel good, because that's what keeps you in games day in and day out.
MLB.com: Over the offseason, you guys added Brandon Moss to the heart of your lineup -- that was the big addition. Putting him in the heart behind Carlos Santana and, obviously, we saw what Michael Brantley did last year. Jason Kipnis is healthy. Michael Bourn has looked good in the spring. How do you think that lineup could be this year?
Francona: When you add one hitter, it's amazing what it does to your lineup. It kind of thickens is out a little bit. Mossy, with that legit power sitting right there in the middle, will really be big. But then, you can kind of say we're adding Kipnis, too, because he was beat up last year and he didn't have the production that Kip can have. So, you get him back healthy -- now all of a sudden you've got a guy that can run, hit for some power, hit maybe second. And then, you add a five-hole hitter. That's a big help to our lineup.
MLB.com: Last year, you set AL records with your bullpen usage: four guys with 70-plus appearances, most relief appearances combined in AL history. What kind of measures do you take to make sure these guys are protected with that high useage, but also to maximize what you can get out of them?
Francona: It's a pretty special group. Our goal was not to use them as much as we did. It never has been. That's not one record that I'm very proud of. Saying that, that group works so hard and they complement each other so well that, even though they were used that much, they were still a big weapon for us. That doesn't happen very often. So, coming into camp, [pitching coach Mickey Callaway] and I and everybody, we tried to map out a plan where they could get ready for the season, but not get ready too soon, because they are going to get used a lot. That's part of how we're going to win. So, we tried to ramp them up a little slower than we have in the past.
MLB.com: This spring, we got to see Francisco Lindor, Erik Gonzalez and a lot of the young guys that were in camp. Were there a couple of guys that stood out for you?
Francona: Well, the two names you just said, I think stood out for everybody. But even taking it a step further, even on some of the days when we had Clint Frazier and [Brad] Zimmer, some of that younger group over, too, it was really fun to get to know some of the younger guys in camp. And, to a man, they'd come over and behave themselves. They were respectful.
Jordan Bastian is a reporter for MLB.com. Read his blog, Major League Bastian, and follow him on Twitter @MLBastian. This story was not subject to the approval of Major League Baseball or its clubs.