Fully revamped Mets ready to take on NL, rise above 79 wins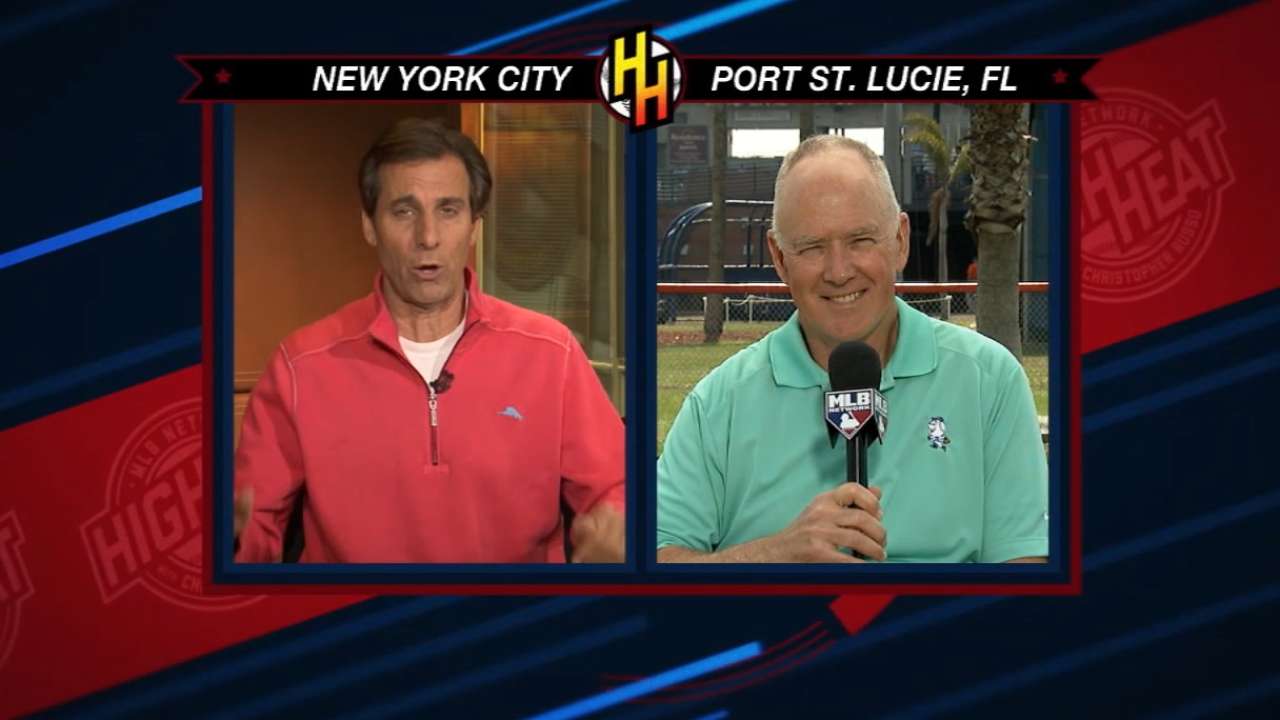 In part one of MLB.com's team-by-team season preview, we explore one number critical to each club's success. For the Mets, it's simple: 79.
PORT ST. LUCIE, Fla. -- When Sandy Alderson took over as general manager in October 2010, the Mets were coming off a 79-win season. With two straight losing seasons in their past and an aging roster causing all sorts of issues, it was clear that their window of contention had closed.
Over the next four seasons, Alderson gutted the roster, waited for unwieldy contracts to expire, dropped the payroll, and otherwise created a new team from the ashes of the old. In many ways, Alderson's new creation took the field for the first time last summer, with all of Omar Minaya's big-money contracts finally off the books.
Once again, the Mets won 79 games.
That's not to say that, entering his fifth year as GM, Alderson has accomplished nothing. At the start of his tenure, the Mets were clearly a team in decline. These days, they are clearly a team on the rise. But if the Mets want to prove that they are not only better than their forebears, but also better than their National League contemporaries, they will need to do much better than 79 wins.
"Five years is a pretty good length of time," Alderson said. "I think what I've said is, 'Is the team capable of winning 89, 90 games?' Yeah, I think the team is capable. I think it has that capacity. I think it has that potential. What's more important to me is not what I think, or what I estimate, or think is our capacity. It's what the players are thinking. And what I've been impressed with is the way our players are approaching the season, and the confidence level that they apparently have."
It was a little more than one year ago that Alderson herded his coaching staff into a back clubhouse room, insisting to all of them that 90 wins was feasible. Yet over the course of the summer, Alderson tended to bristle when the topic resurfaced, snapping in late August that 90 "wasn't a goal."
"It wasn't an expectation," he said. "It was a reminder to all of us, including myself, that we need to think about that level of performance, that level of success, that level of excellence. So the statement is no less relevant today than it was then."
More than ever, the 2015 Mets on paper are capable of improving -- and certainly of winning more than 79 games. Though Zack Wheeler has taken Matt Harvey's place in a Tommy John rehab program, the rest of the roster feels it can absorb that blow. David Wright is healthy. Michael Cuddyer gives the outfield legitimacy. Juan Lagares, Wilmer Flores and Travis d'Arnaud are all a year older. Top prospects Noah Syndergaard and Steven Matz are almost ready to contribute.
"At the end of the year, at the end of the season, you sat down that last few days and you thought about what we accomplished last year," manager Terry Collins said, lauding his club's growth despite Harvey's absence, Wright's lingering shoulder injury and several other issues. "There were a lot of positives going into the offseason so I said, 'Hey, it's time.' We've been sitting around for four years, asking everybody to be patient -- even the players, saying, 'Hey, it's not going to happen overnight.' Well, it's time."
It's time, in other words, to win more than 79 games -- way more.
"The team, as a whole, individually, players feel good about where they are, what they have here collectively," Alderson said. "I think there's a high level of excitement. I think there's a real enthusiasm."
Anthony DiComo is a reporter for MLB.com. Follow him on Twitter @AnthonyDicomo. This story was not subject to the approval of Major League Baseball or its clubs.