Robertson throws sharp inning in return to mound
White Sox taking cautious approach with reliever Petricka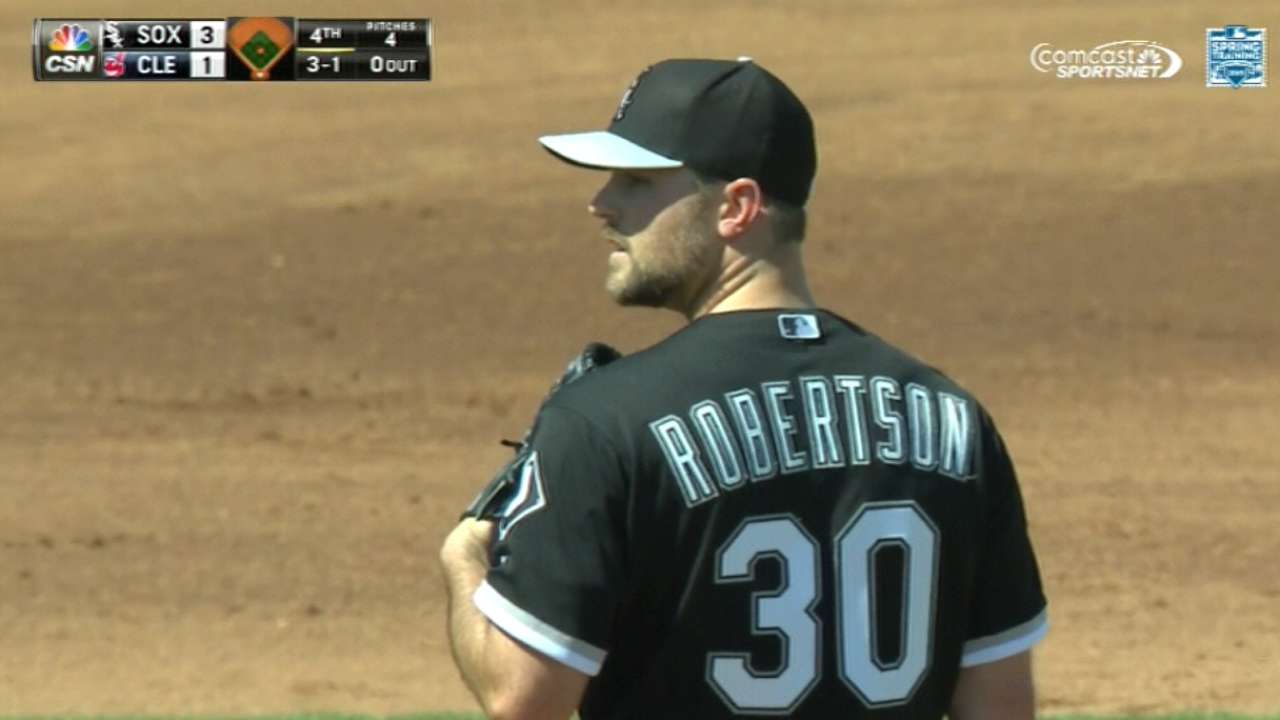 GOODYEAR, Ariz. -- David Robertson threw a scoreless inning of relief during the White Sox 4-1 victory over the Indians Sunday at Goodyear Ballpark. It was the first game for Robertson since March 21 against the Royals, as he has been working through soreness near his right forearm.
Robertson threw 10 of his 17 pitches for strikes in the fourth, inducing three ground balls to second baseman Micah Johnson, sandwiched around a Brandon Moss double. The White Sox closer is not scheduled yet for back-to-back games during this final week of Spring Training, but said Sunday that he could pitch one day and face one batter or throw a bullpen session the next.
"I felt good. Obviously I got into a couple of deep counts. I would have liked to have shortened those at-bats, but I felt really good and in the end I put up a zero," said Robertson, who went to full counts against Carlos Santana and Moss. "I feel like I'm throwing the ball better than I was earlier in camp. I just needed a little time to get the soreness out, have my body recoup and get ready for the next outing.
"I'm a pitcher, so you feel soreness all the time. You get used to it. It's nothing I haven't had happen before, so for me, it was just a matter of having a little time to get my body right."
Jake Petricka, who also has been bothered by right forearm soreness, played catch from 90 feet Sunday. He has not been in a game since March 23 and, with a game not being a certainty in the near future, the right-hander could start the season on the disabled list.
"We want to make sure from a health standpoint that everyone is truly good to go without restriction," said White Sox general manager Rick Hahn, speaking more in generalities than about Petricka. "And if we need to, especially with the pitching, err on the side of caution. We still have to play out the next few days."
Petricka is not thinking about the disabled list at this point. He also doesn't want to push things early that could lead to long-lasting problems.
"Just thinking, let's get healthy before we get out there," Petricka said. "If we're not healthy out there at the start, later in the year it could come back as something way worse than what it is now. Right now it's a minor ailment and let's figure it out now.
"I'm irritated. I feel like I'm letting everyone down just not being able to go out there and do my job. I came in in great shape. Maybe I got a little too amped up in those live [bullpen sessions], getting a taste of the season again, and threw too hard."
Scott Merkin is a reporter for MLB.com. Read his blog, Merk's Works, and follow him on Twitter @scottmerkin. This story was not subject to the approval of Major League Baseball or its clubs.