Heaney once again felled by bad inning
Angels top prospect disappointed by spring performances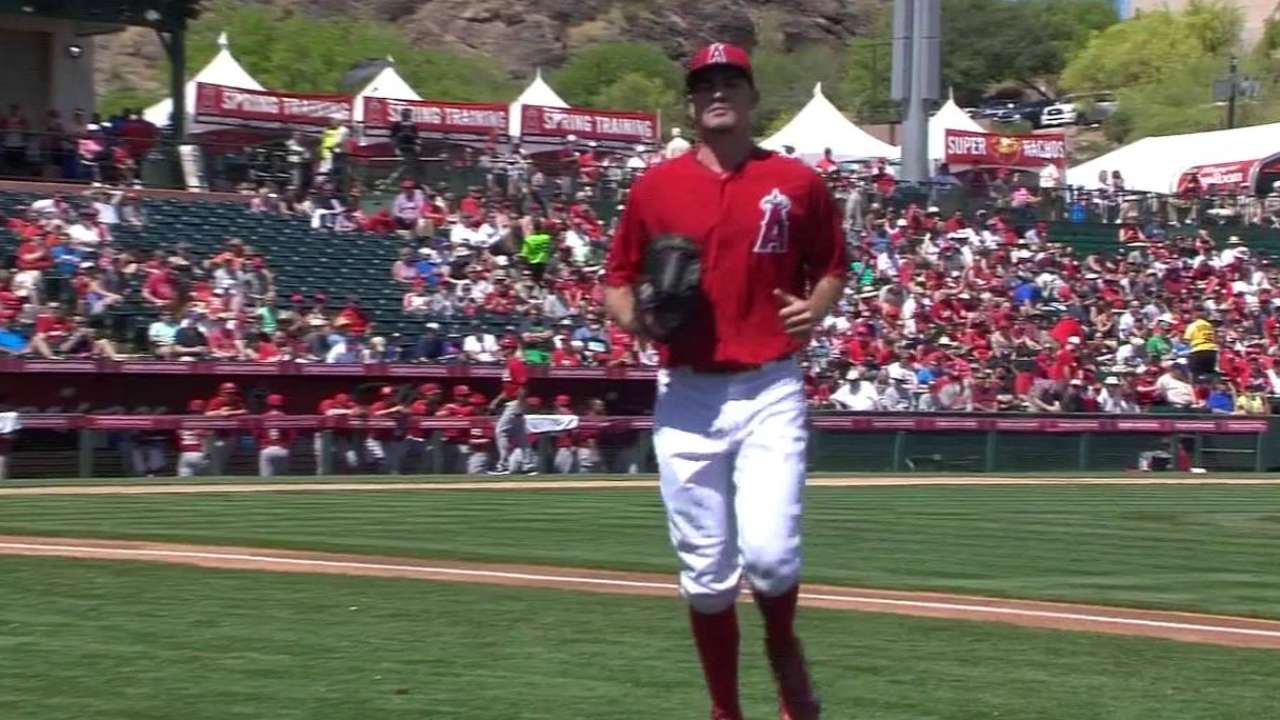 TEMPE, Ariz. -- Andrew Heaney doesn't consider his first Spring Training with the Angels a success.
The left-hander and club's top prospect, according to MLB.com, struggled again in Sunday's 8-6 loss to the Reds at Tempe Diablo Stadium. He allowed six runs on eight hits in five-plus innings.
And he once again ran into a big inning, getting touched for a four-run third.
"The results weren't great, weren't what I wanted, didn't make some pitches when I needed to," Heaney said. "Had some late counts, and when I was up in the count I didn't put guys away as well as I'd like to."
It was the latest in a spring full of rough outings for Heaney, who was acquired for Howie Kendrick this offseason. The 23-year-old lefty has a 9.00 ERA in five Cactus League starts, giving up 19 runs and 29 hits in 19 innings.
"For the most part I've been getting ahead, just being able to stay out of falling behind in counts," Heaney said of his troubles.
Angels manager Mike Scioscia shared the same assessment.
"There are too many 0-2 counts and a 3-2. He got ahead but wasn't able to make pitches that put hitters away," Scioscia said. "As the counts got back into hitters' favor, they're seeing more and more pitches and they hit the ball hard."
Scioscia said Sunday the club likely will begin the season with a four-man rotation because of early-season off-days. That means Heaney likely will start the season at Triple-A Salt Lake to continue developing as a starter.
That wasn't his goal when he reported to Spring Training.
"It is disappointing. I came into camp wanting to make the team, didn't come into camp trying to break with Triple-A," Heaney said. "I don't know, I just go out there and pitch. It's not up to me to make decisions. I want to make decisions easy for them, and I don't feel like I've performed well enough to have that."
Cash Kruth is a reporter for MLB.com. Follow him on Twitter at @cashkruth. This story was not subject to the approval of Major League Baseball or its clubs.