Veteran catcher Castro brimming with optimism for 2015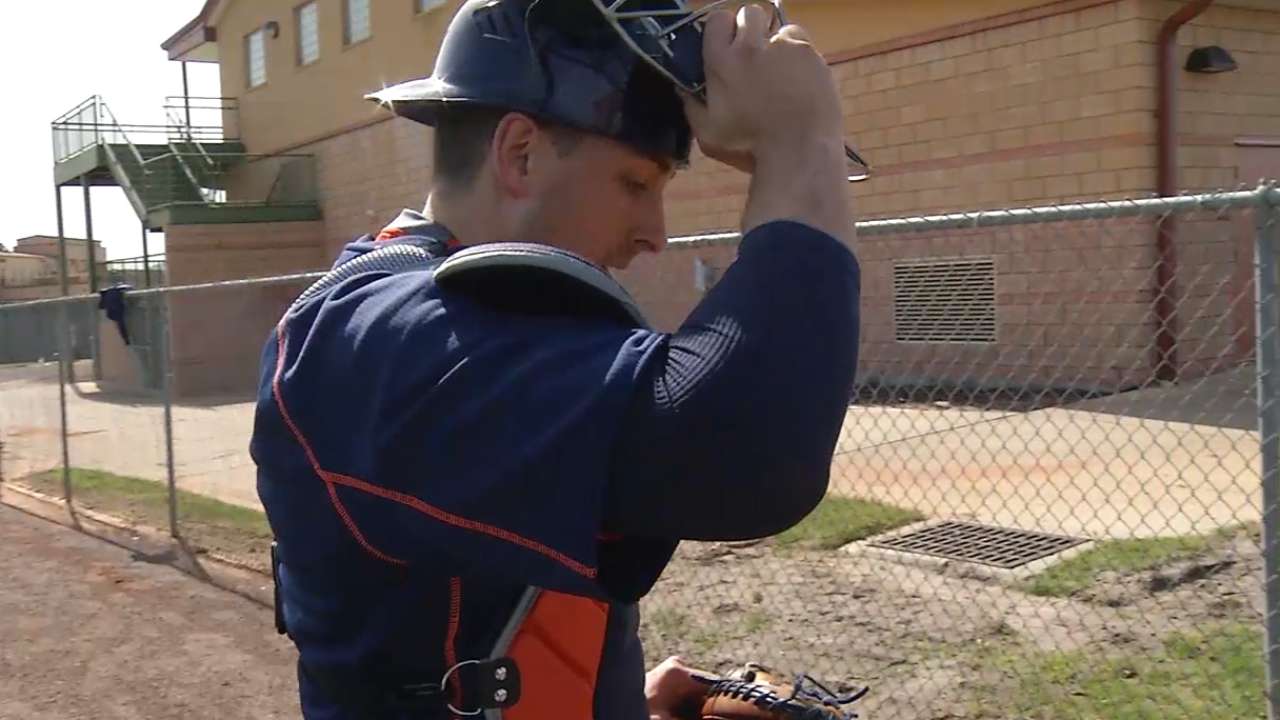 KISSIMMEE, Fla. -- If anybody is ready for the Astros to start winning, it's Jason Castro. The veteran catcher made his Major League debut in 2010 -- a month before the Astros traded franchise icons Lance Berkman and Roy Oswalt, which was the beginning of a dramatic rebuilding process that resulted in at least 100 losses for three consecutive seasons.
Castro, who missed the entire 2011 season after tearing a knee ligament, endured the franchise's dark ages and saw countless teammates come and go in the last five years. Now, as the longest current tenured Astros player and a team leader, Castro is brimming with optimism about being part of a team on the rise.
"It's a great time for this organization," Castro said. "It's exciting to have been here and weathered the storm a little bit through the middle of that and see it through to the other side. It's exciting and hopefully we can play up to the type of baseball we're capable of playing. We have some guys in here who can do some pretty special things on the baseball field."
Castro, 27, was one of the team's up-and-coming prospects and now finds himself as one of the key members of the club. He had an All-Star season in 2013 when he hit .276 with 18 homers and 56 RBIs, but dropped off last year to .222 with 14 homers and 56 RBIs, though his defense improved.
"If Jason had an offensive season similar to two years ago and a defensive season similar to what he had last year, we're talking about, not only an All-Star, but a player who could separate himself as one of the top catchers in the game, and that would be a tremendous outcome for us," general manager Jeff Luhnow said.
There isn't a harder worker in the Astros clubhouse. Castro takes a great deal of pride in both areas of his game. He focused last year on his defense, making advances in framing and blocking. His offense slipped, but he's trying to bring it all together now.
"For me to be able to put both sides of that together, kind of what I learned over the last couple of years offensively and defensively, that's pretty big," Castro said.
Astros manager A.J. Hinch, a former catcher and, like Castro, a Stanford alumnus, knows how critical it is to have a top-notch catcher when it comes to working with young pitchers and controlling the running game, which has been a focal point for the Astros this spring.
"Jason's a well-rounded player," Hinch said. "There's a reason he's an All-Star, there's a reason he can contribute in every facet of the game. For us, being a left-handed bat, we have some right-handed bats that we're going to rely upon… and he'll offer us something different than those that hit in front of him.
"I like his balance, his composure, his steadiness of how he approaches the game. I look forward to his leadership. As he's entering these years of his career, he's got a track record under his belt to provide some steady leadership and have a good year for us."
The Astros added some thump to their lineup with the additions of Colby Rasmus, Evan Gattis and Luis Valbuena, who join Chris Carter, and have a solid 1-2 punch at the top of the lineup in Jose Altuve and George Springer, so there's not as much pressure on Castro to carry as big of a load as he was asked in years past when he hit in prime spots in the order.
"I have a plan of attack going on, what I think is going to happen to start the season, and once you start making adjustments and reacting to that there's more adjustments to be made," Castro said. "I think I'm capable of shortening that learning curve now and just letting my swing happen like I did a few years ago."
Brian McTaggart is a reporter for MLB.com and writes an MLBlog, Tag's Lines. Follow @brianmctaggart on Twitter. This story was not subject to the approval of Major League Baseball or its clubs.