Levering excited to make big league broadcasting debut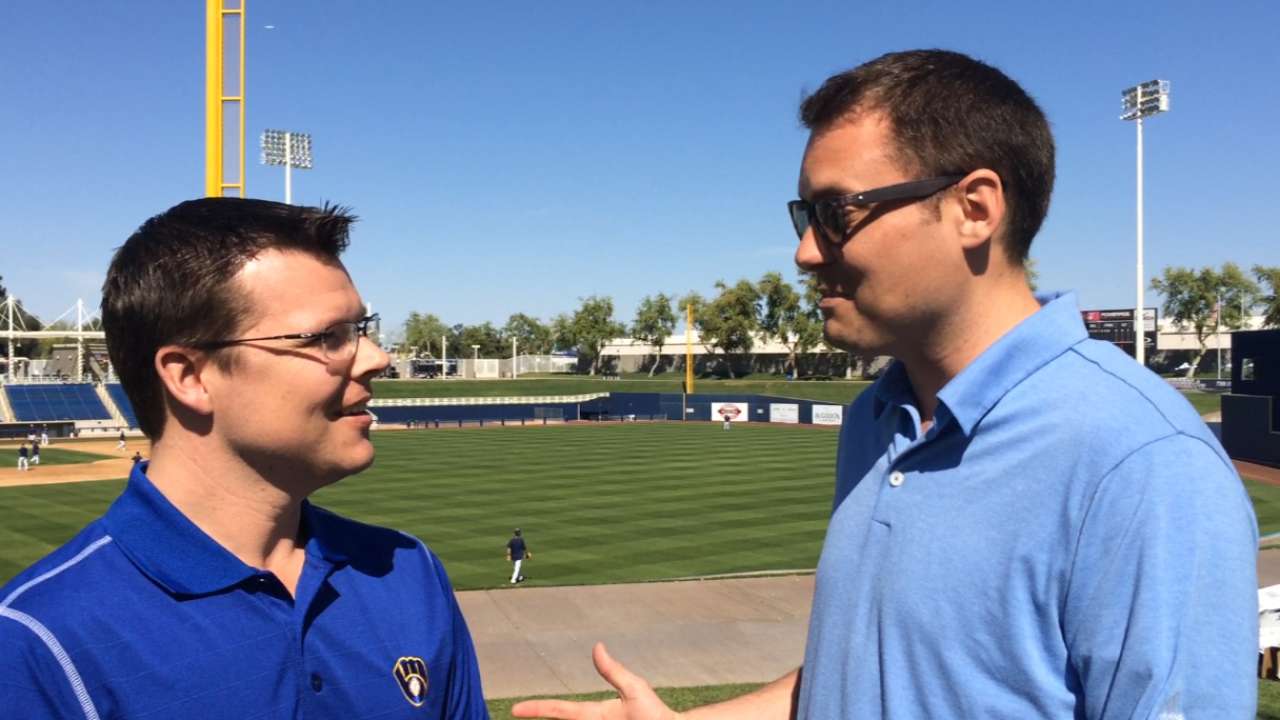 PHOENIX -- After spending Spring Training calling Brewers games on radio and MLB.com's webcasts, Jeff Levering is ready for his official Major League debut.
The Chapman University graduate is entering his first season on Milwaukee's broadcast team, and he will call games with Joe Block when Bob Uecker skips select road trips. Levering spent the past two seasons as the lead broadcaster for the Triple-A Pawtucket Red Sox, and he got a taste of the big leagues in 2005 as a field reporter and associate producer for Fox Sports West covering the Dodgers and Angels.
Here's a sampling of Levering's introductory interview with MLB.com:
On the final step of his job interview, dinner with Uecker:
"It was really surreal, to be honest with you. The whole process was surreal. We had the dinner at his table at Don and Charlie's right before Christmas Eve, and I didn't have the job yet, but Bob was treating it like I did. It was fantastic. That was my cue to say, 'All right, it's going to work out.'"
On his first impressions of the 2015 Brewers:
"In terms of the team, I've never seen a looser bunch. These guys are all friends with each other, they like hanging out with each other, and everyone's smiling in the clubhouse. Just because they get along so well, I think they're going to be OK. If you look at what happened last year at the end of 2014, everybody talks about it, but they don't really think about it. They've moved on, they've learned from it, and I think they're going to take those experiences from last year and turn it into a positive thing here in 2015. They're coming back with renewed enthusiasm, and they can compete in the [National League] Central."
On the prospects he's seen appear in Spring Training games:
"I do see some very talented guys coming through, especially with the arms that they've seen in Cactus League play. [No. 9 Brewers prospect] Taylor Williams is really a guy to watch, and he was in [Class A Advanced] last year. He could really be a big key, either as a starter or reliever. He has such good stuff and really opened a lot of eyes. [No. 13 Brewers prospect] Taylor Jungmann was really good in camp, too. He's an upper-echelon type of prospect and a guy who could be with the Brewers sometime in 2015."
On his first regular-season broadcast:
"I don't know when it's going to be. I'm just waiting for Bob to say, 'OK, I'm not doing these trips.' We can kind of figure it out with the schedule. He doesn't necessarily like going west and south and east, so the division games will probably be his. The first trip, really, is New York. That'll be the first time, in May, that we really get out of the division. Doing games here in spring is great, [but] it doesn't really feel like the big leagues yet, because you're in the smaller stadium. If I end up making my debut at Citi Field in New York, it'll feel real then."
Adam McCalvy is a reporter for MLB.com. Read his blog, Brew Beat, and follow him on Twitter at @AdamMcCalvy. This story was not subject to the approval of Major League Baseball or its clubs.