Kang proving himself after time in Pirate City
Bucs impressed with infielder's last eight at-bats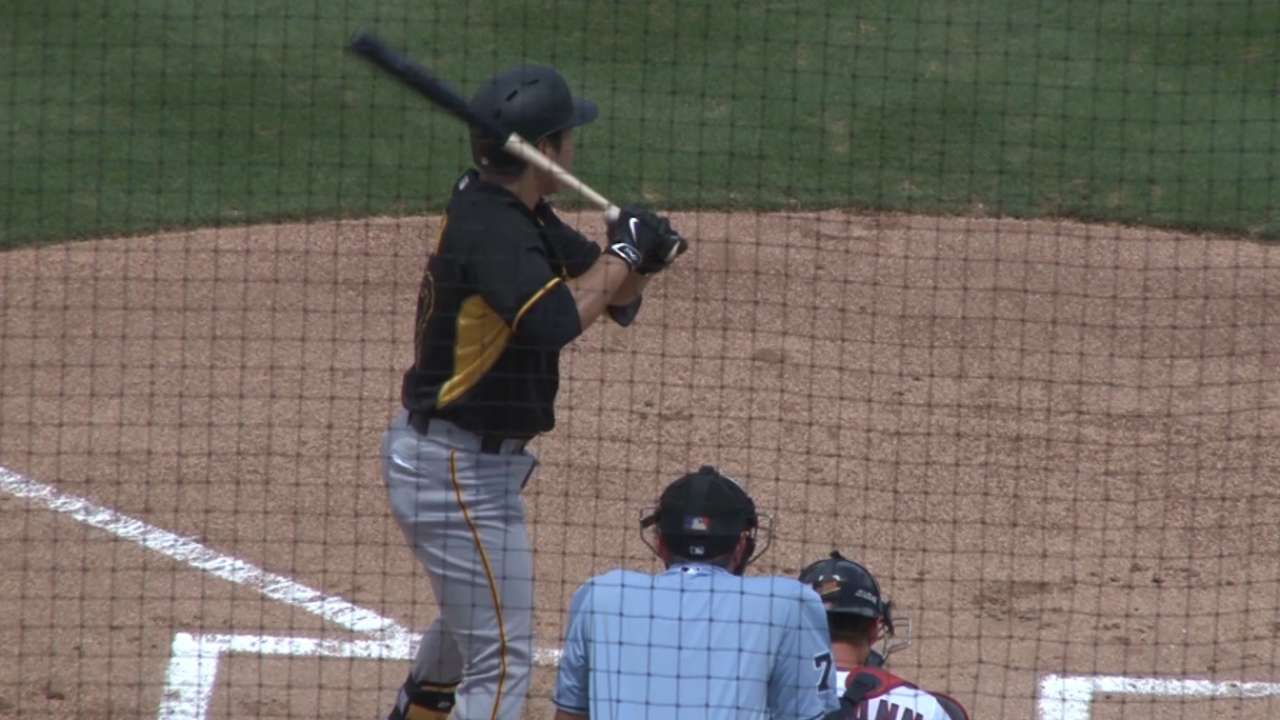 LAKE BUENA VISTA, Fla. -- Whether contractually or just congenially, the Pirates have been committed from Day 1 to having Jung Ho Kang on their season-opening 25-man roster. Korean Baseball Organization position players, as a whole, may be on trial through him. But Kang himself hasn't been on trial in Spring Training.
However, the Bucs have to be both delighted and relieved to have Kang dot some I's and cross some T's of their arrangement. And Kang put a big-time dot on a Michael Kohn pitch in the ninth inning Sunday, sending it far over Champion Stadium's left field fence for a two-run homer that gave the Bucs a 4-2 win.
Kang had also singled for the seventh-inning run that gave Pittsburgh a brief 2-1 lead.
"He's gonna be OK," manager Clint Hurdle, mustering the type of understatement baseball folks specialize in, said of Kang, who played the whole game at second base. "We'll keep running him out there, give him at-bats.
"He has limited his [normally exaggerated] leg kick with two strikes, something he's done in the past. A very, very good day at the plate for him."
The 2-for-4 gave Kang three hits in his last eight at-bats, after three in his first 27 at-bats.
Those last eight at-bats have come since Kang took a big league timeout at Pirate City, the place that seems to refresh all slumping Pirates.
"It hasn't been magic for everybody. Some guys we've sent over haven't had the same snap-back results," Hurdle said. "I do think, with certain guys, it helps to get out of the magnifying glass [of Major League camp and Grapefruit League action], get away from game situations.
"They still want to compete -- but it's a different opportunity knowing you can stack six to eight at-bats without anything really counting. And they show immediate improvement."
The enthusiasm with which Pirates decision-makers have analyzed Kang does become more credible with some long proof.
"We love the bat speed, the power, what he has been able to do defensively at short and second," general manager Neal Huntington said.
Touching all the bases
• First: Jaff Decker crumpled to the ground a few steps into running out a sixth-inning grounder to short and had to be helped off the field with "discomfort in his left calf."
• Second: Sunday's win improved the Bucs' road record to 9-3; they are 4-7-3 in Grapefruit League action at McKechnie Field entering Monday's home finale.
• Third: The exhibition reunion with his former teammates and manager appeared to unnerve Jason Grilli. The 38-year-old 12-season veteran who has never committed a balk in regular-season play had two of them in the seventh inning.
• Home: Radhames Liz gave up his first homer (to Chris Johnson) but continues to be very impressive, with three runs allowed in 13 innings.
Tom Singer is a reporter for MLB.com and writes an MLBlog Change for a Nickel. Follow him on Twitter @Tom_Singer. This story was not subject to the approval of Major League Baseball or its clubs.