Duda may be starting to solve lefties at plate
New approach paying dividends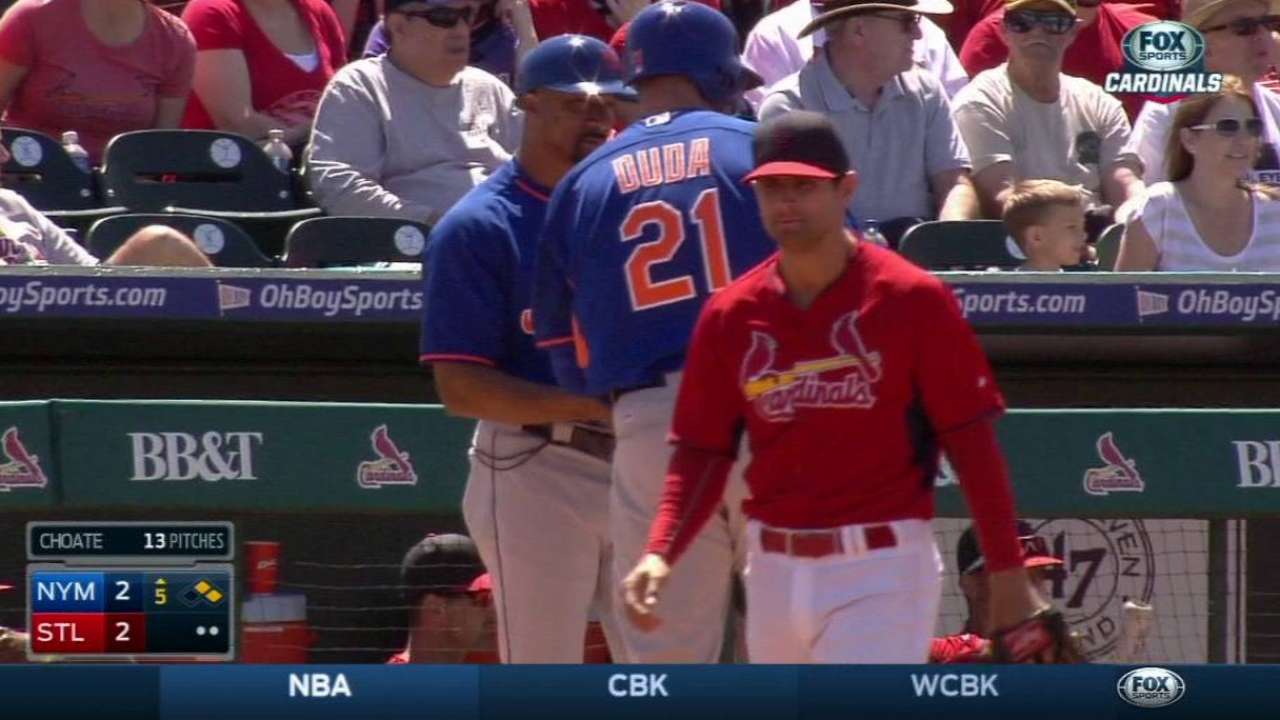 JUPITER, Fla. -- The one knock on Lucas Duda's breakout season -- and certainly something giving the Mets pause as they consider handing Duda a long-term contract extension -- is his history against left-handed pitchers. Simply put, Duda has done next to nothing against them over the past three years. Worse, his same-sided production has waned even as his overall results have improved.
So it was refreshing for the Mets to see Duda rap out three hits against lefties in Sunday's win over the Cardinals, brandishing a new approach at the plate. Rather than try to crush home runs as he normally does against right-handed pitchers, Duda shortened up his swing enough to punch three singles through the infield -- two of them to the opposite field.
"I'm just trying to shorten up a bit, use the whole field," Duda said. "But it's just one day so it's not a big deal."
Shooting for singles rather than homers, Mets manager Terry Collins said, is what made Duda adequate against left-handed pitching early in his career -- and the numbers back that up. In 2011, Duda batted .274 against lefties without a single homer. The next three seasons saw him hit 17 percent of his homers versus same-sided pitchers, while his average against them fell to .204.
It was concerning enough for new hitting coach Kevin Long -- a lefty batting practice pitcher -- to work extensively with him on the issue this spring, firing pitches from almost behind Duda as a way to adjust the slugger's eye level. Though three Grapefruit League at-bats are not nearly enough to tell whether Duda is improving, his approach at the plate on Sunday was telling.
"If you saw him in the Minor Leagues, he got 100 of those hits to left-center field, left field off lefties," Collins said. "What he ends up doing because of that is he ends up seeing the ball a little longer, so when he ends up seeing something he can drive, he can do something with it instead of worrying about hitting everything over the fence in right field."
If Duda can continue producing like he did Sunday, opposing teams may even grow warier to employ the extreme defensive shifts that robbed him of hits last season. Not that it's any secret that hitting lefties will make Duda a better overall player -- perhaps even the type the Mets will commit to beyond the next three seasons, giving Duda a measure of security with the only big league team he has known.
"New York gave me the shot to play in the big leagues," Duda said. "It's definitely a first-class organization -- unbelievable players, unbelievable staff. I'm blessed to be in the position that I am."
Anthony DiComo is a reporter for MLB.com. Follow him on Twitter @AnthonyDicomo. This story was not subject to the approval of Major League Baseball or its clubs.