Sanchez gets strikeout pitch working in latest spring tuneup
Right-hander fans 10 over 6 1/3 innings vs. Phillies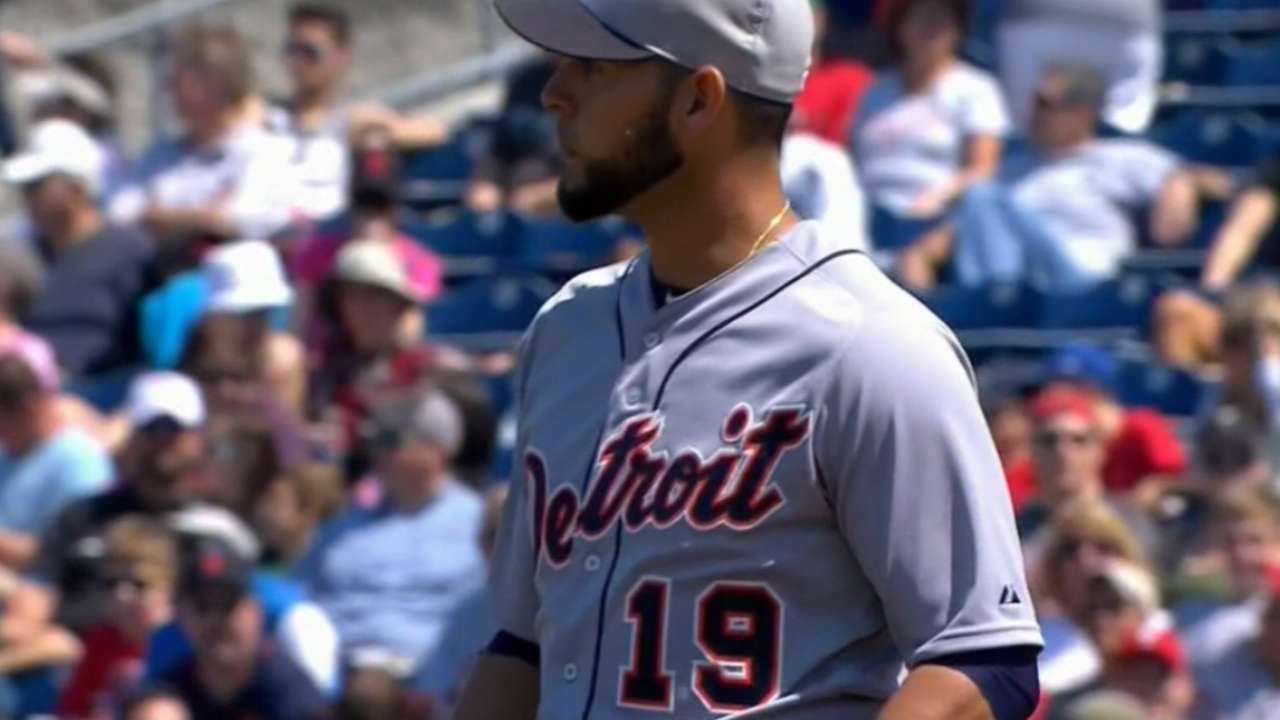 CLEARWATER, Fla. -- There's been a lot of talk this spring about what a bounce-back year from Justin Verlander can do for the Tigers. There's been plenty of consideration given to the impact of a full year of David Price, and to a year without Max Scherzer.
But ultimately, Anibal Sanchez might be the key to the Tigers' rotation this season.
"If we get 200 innings out of Sanchy, I'll be extremely happy. I think we'll be in a very good spot," Tigers manager Brad Ausmus said Sunday morning. "We talk about a lot of things, but if Sanchy can stay healthy, that would be an enormous plus for us."
Time will tell if Sanchez can stay healthy and rack up 200 innings. But he looked ready for the regular season Sunday afternoon at Bright House Field, striking out 10 Phillies hitters over 6 1/3 innings in a 4-4 tie.
"He looked very good," Ausmus said.
Sanchez served up three home runs, two of them on curveballs to second baseman Chase Utley, but said he was "not at all" concerned about giving up homers.
His focus Sunday was on his fastball command, painting the corners with his sinker and cutter. So he wasn't too worked up about a few offspeed pitches getting sent over the fence.
"I feel really good, especially with my fastball command. I showed today that I can use it a lot this season," Sanchez said. "Physically, everything is fine."
Sanchez got deep into Sunday's game in a hurry. He entered the fifth inning having thrown only 57 pitches and threw 84 overall.
He managed to be efficient despite piling up strikeouts, and he only walked one batter. Half of his 10 strikeouts came on called third strikes, an indication that his fastball command was as good as he said it felt.
"That means he's hitting his spots. It means he's locating," Ausmus said. "When a guy takes a pitch, he thinks it's a ball or just off the corner and they end up getting the call. ... So he must have been locating. It looked like he was locating his fastball."
Sanchez has never thrown 200 innings in a season, though he came close in 2010, '11 and '12. He threw 126 innings and made 21 starts last year.
The 31-year-old right-hander led the American League with a 2.57 ERA in 2013. He might have the best "pure stuff" on the team, Ausmus said.
A 200-inning campaign would make Sanchez even more valuable, even if he doesn't find himself under the same spotlight typically directed toward Price and Verlander.
"It's good. If they've got more attention than me, it's perfect," Sanchez said. "I feel good about that. I'm never concerned with that."
Adam Berry is a reporter for MLB.com. Follow him on Twitter at @adamdberry. This story was not subject to the approval of Major League Baseball or its clubs.