Blue Jays expect improved outfield defense in 2015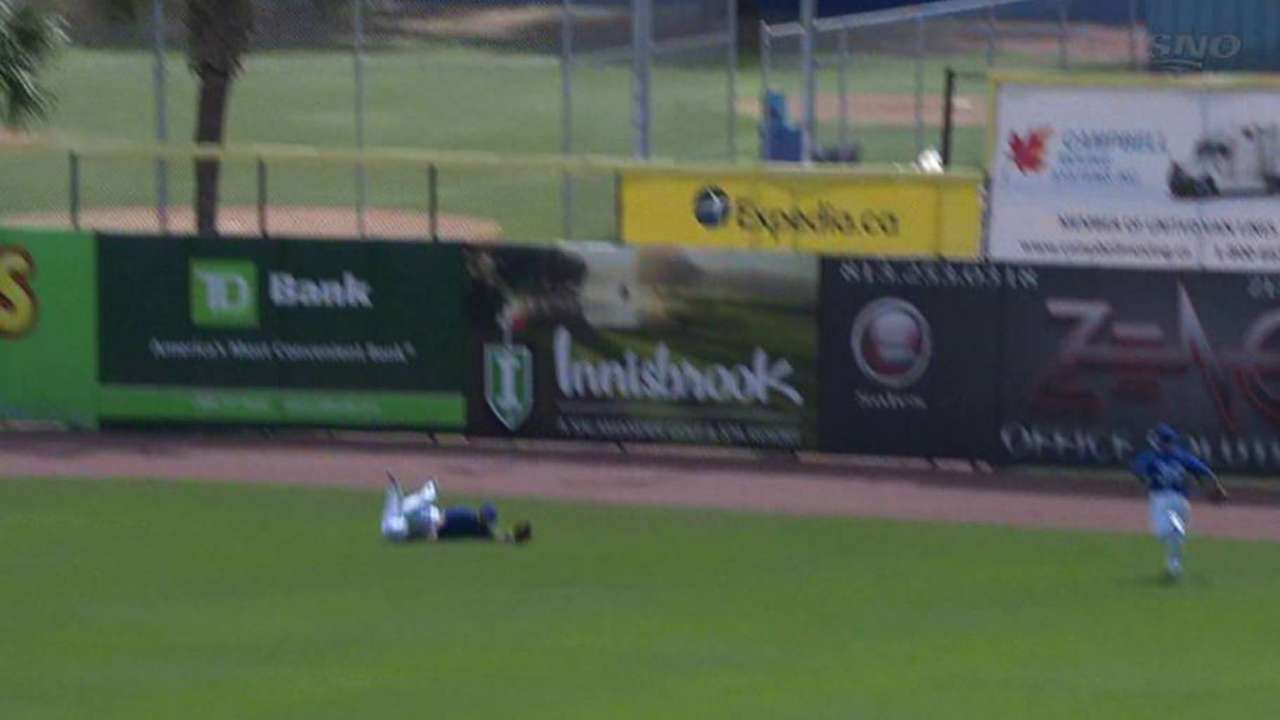 DUNEDIN, Fla. -- The Blue Jays' fielding left a lot to be desired over the last couple of years, and one area in particular in which the club hopes for an improvement this season can be found in the outfield.
Toronto's outfielders ranked near the bottom of the league in almost every defensive metric last year, but since that time, there has been a lot of turnover. Colby Rasmus and Melky Cabrera are gone, and while their departures will be felt in different ways, the overall fielding efficiency should drastically improve.
Michael Saunders (left field) and Dalton Pompey (center field) are the new starters, while Kevin Pillar also is expected to see a lot of time, especially early in the year while Saunders recovers from left knee surgery. The end result may be fewer extra-base hits, which would be welcomed with open arms by the pitching staff.
"I think it's going to be much better," Blue Jays manager John Gibbons said of his club's outfield defense. "I thought Melky did a great job last year, but he's getting a little older and his mobility was a little bit limited. Colby was up and down with injuries."
A closer look at last year's numbers don't reflect favorably on the club. The Blue Jays allowed 331 doubles, which was the most in the big leagues. The 32 triples allowed were the ninth-most in the Majors. Part of that is on the pitching staff, but equally responsible were the number of balls that should have been caught or at least cut down before hitting the gaps.
Rasmus saw one of the biggest drops last season in his ability to roam center field. According to FanGraphs, Rasmus posted a -9.1 UZR (ultimate zone rating), and for those not familiar with the sabermetric stat, 0 is average, -5 is below average and -10 is poor. By comparison, +5 is above average, +10 is great and +15 is Gold Glove-caliber defense.
Rasmus also ranked poorly in defensive runs saved, with a -7. In 2013, Rasmus' numbers were much better, with an 11.2 UZR and a +11 in DRS.
Cabrera didn't fare much better. He had a -3.5 UZR with a -4 DRS in 2014 to go along with a -7.3 UZR and -5 DRS the year before. The only remaining member of last year's outfield is Jose Bautista, who had a 4.8 UZR in right field with a -4 DRS.
Toronto's new outfielders should be much better. Pompey's sample size in the Majors is too small to measure, but the club's No. 2 prospect, per MLB.com, is considered an above-average center fielder who has a quick first step and covers a lot of ground. In parts of two seasons at the big league level, Pillar has a +8 DRS in the outfield.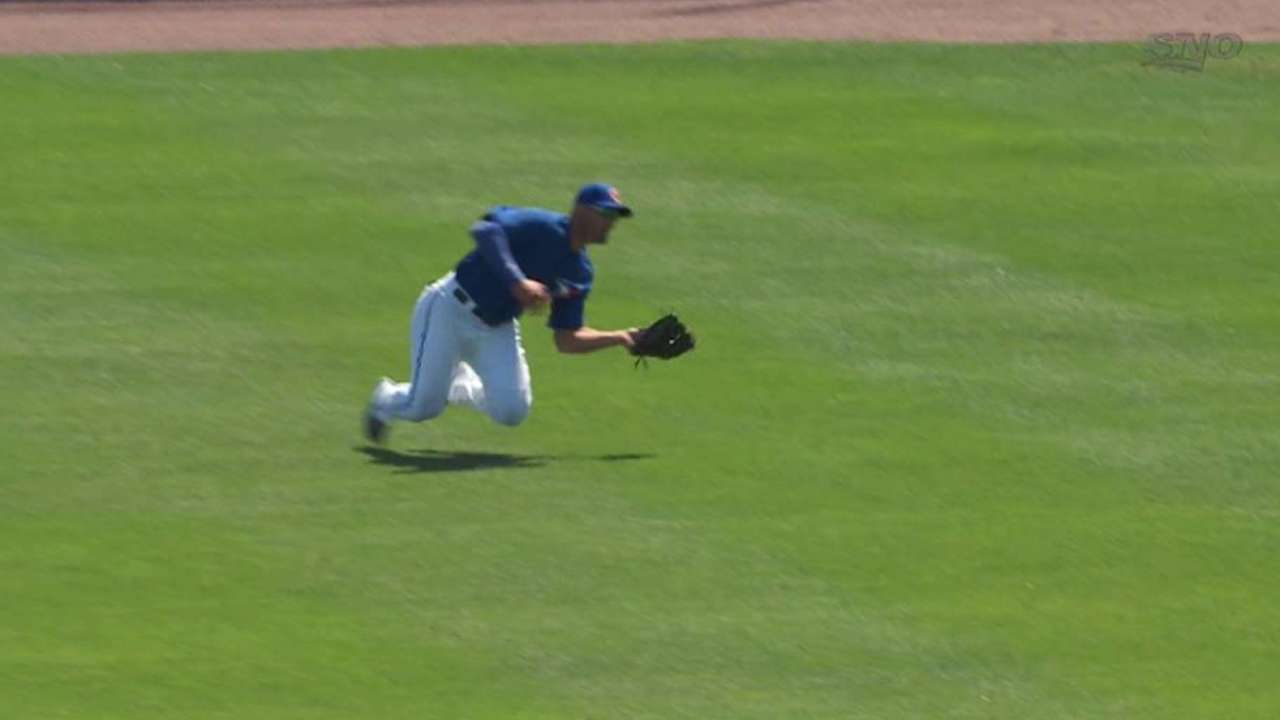 Saunders spent most of his time while with the Mariners playing center field, where the metrics weren't all that favorable, but his numbers at the corners are strong. He barely played in left field last year, but he had a 4.7 UZR with a +7 DRS saved in right. The Blue Jays feel he's even better in left, where he'll play almost exclusively in Toronto.
"He's a good outfielder," Gibbons said. "He can roll it out there pretty good. You look at him, he's a gazelle, really. A big guy, long legs, and he's got a good reputation defensively."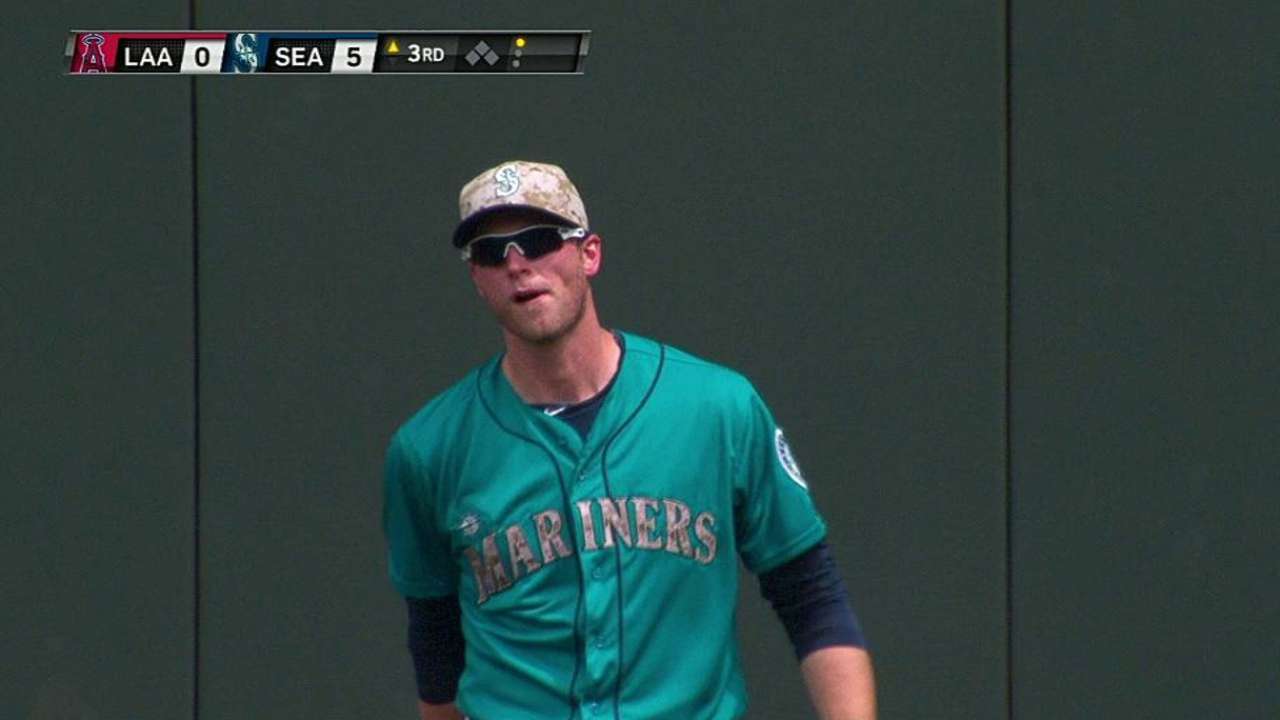 Then, of course, there's the ability to hit the cutoff man. Rasmus was notoriously poor at that, and while Cabrera's arm strength helped compensate for his lack of range, he sometimes missed the mark with aggressive throws. Pillar, Pompey and Saunders should all possess the better fundamentals.
"It helps you stay away from a big inning; you know guys don't advance on the bases on a wild throw," Gibbons said. "If you can hold guys on base hits to first base, or if you're not going to get the guy out at the lead base, whether it's home or third or something like that, that's big, because then you can roll that ground ball [for a double play] and get out of it."
Gregor Chisholm is a reporter for MLB.com. Read his blog, North of the Border, and follow him on Twitter @gregorMLB. This story was not subject to the approval of Major League Baseball or its clubs.