A-Rod makes debut at first in Yanks' victory
Appearance goes smoothly; Girardi will consider alignment during season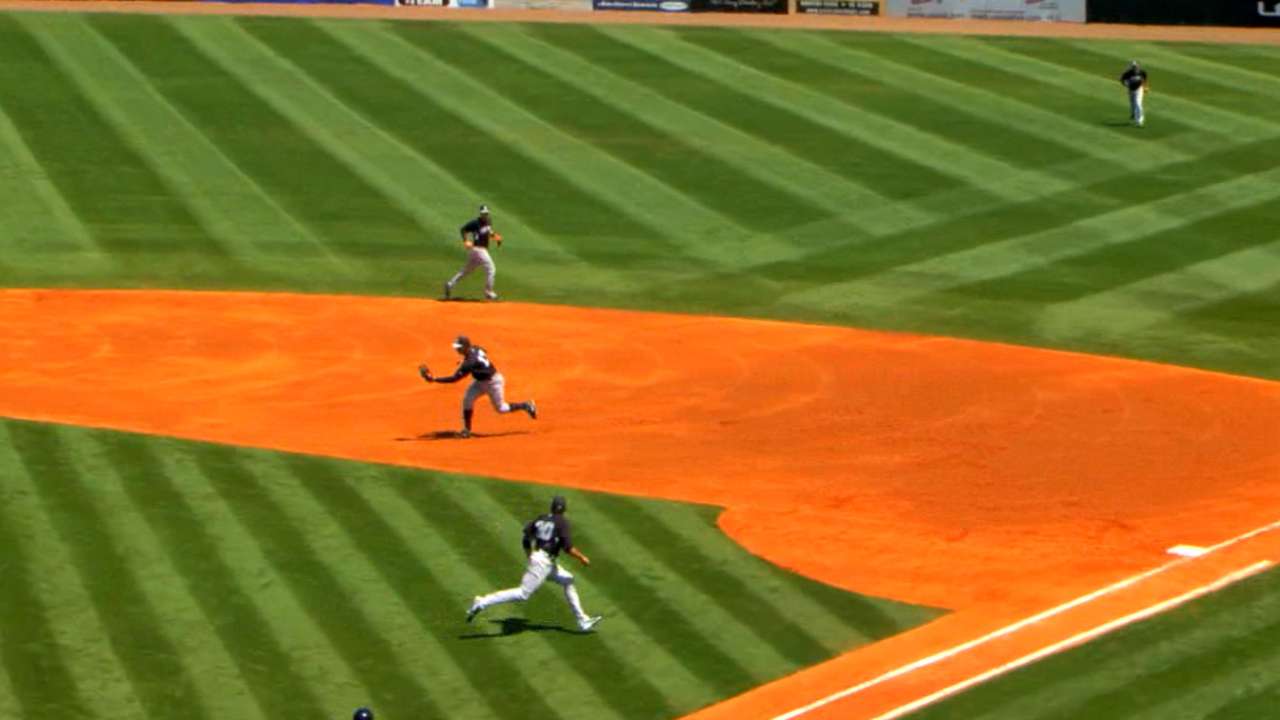 KISSIMMEE, Fla. -- At this stage of Alex Rodriguez's career, there are not many new experiences to be found between the white lines. Standing at first base, charging a ground ball and feeding it to a moving target qualified as one of them.
Making his first career appearance at first base, Rodriguez handled three chances in three innings at the position, grabbing that grounder and accepting two throws in the Yankees' 7-0 Grapefruit League victory over the Astros at Osceola County Stadium.
"It was fun," Rodriguez said. "It was quite interesting after 20 years in the league to see the game from a totally different lens. It was pretty cool."
Yankees manager Joe Girardi was encouraged by Rodriguez's cameo at first, saying that he could envision a scenario in which Rodriguez is asked to handle the position in the regular season.
"The toughest things are when you get into cuts, relays, and bunts, and we didn't get into any of that today," Girardi said. "Fielding ground balls, I'm not worried about that. Really, I'm not. Catching the ball, I'm not worried about that. I'd think he'd be pretty good around the bag, even scooping, because you get a lot of those hot shots at first base."
Rodriguez, who singled and walked in two plate appearances to raise his spring average to .324, would likely be used as a third line of defense behind Mark Teixeira and Garrett Jones. In that event, he said that he would try to summon the glovework of an old favorite from the 1980s.
"I came up watching and admiring Keith Hernandez," Rodriguez said. "I'll try to emulate one of my heroes growing up."
Rodriguez has been taking a first-base crash course on the back diamonds of the Yankees' complex for weeks, including a longer workout on Saturday with infield coach Joe Espada, but handling chances at game speed represented a large step forward.
Moving to his right on Evan Gattis' second-inning grounder, Rodriguez briefly bobbled the ball in his glove before tossing it to pitcher Nathan Eovaldi covering first for the putout. Rodriguez said that being right-handed made it a "very uncomfortable" play.
"I don't know if it was easy; I'm just glad we got a guy out," Rodriguez said. "I've never made that play. I felt like a quarterback hitting my tight end on the run. I've never done that before, I don't think."
Eovaldi said that Rodriguez's range and feed were fine.
"He got to it pretty quick and I was still trying to find the bag, so I had time to find the bag and get the out," Eovaldi said.
Rodriguez also handled throws from third baseman Chase Headley and second baseman Stephen Drew without incident. He reiterated his spring mantra of being willing to do whatever Girardi and the Yankees ask.
"I think the most inconvenient part is just getting used to the glove," Rodriguez said. "That will take a little getting used to. Everything else is baseball."
Bryan Hoch is a reporter for MLB.com. Follow him on Twitter @bryanhoch and read his MLBlog, Bombers Beat. This story was not subject to the approval of Major League Baseball or its clubs.