Reynolds has inside track on Opening Day start at second
Regular starter Murphy's lingering hamstring strain likely to keep him out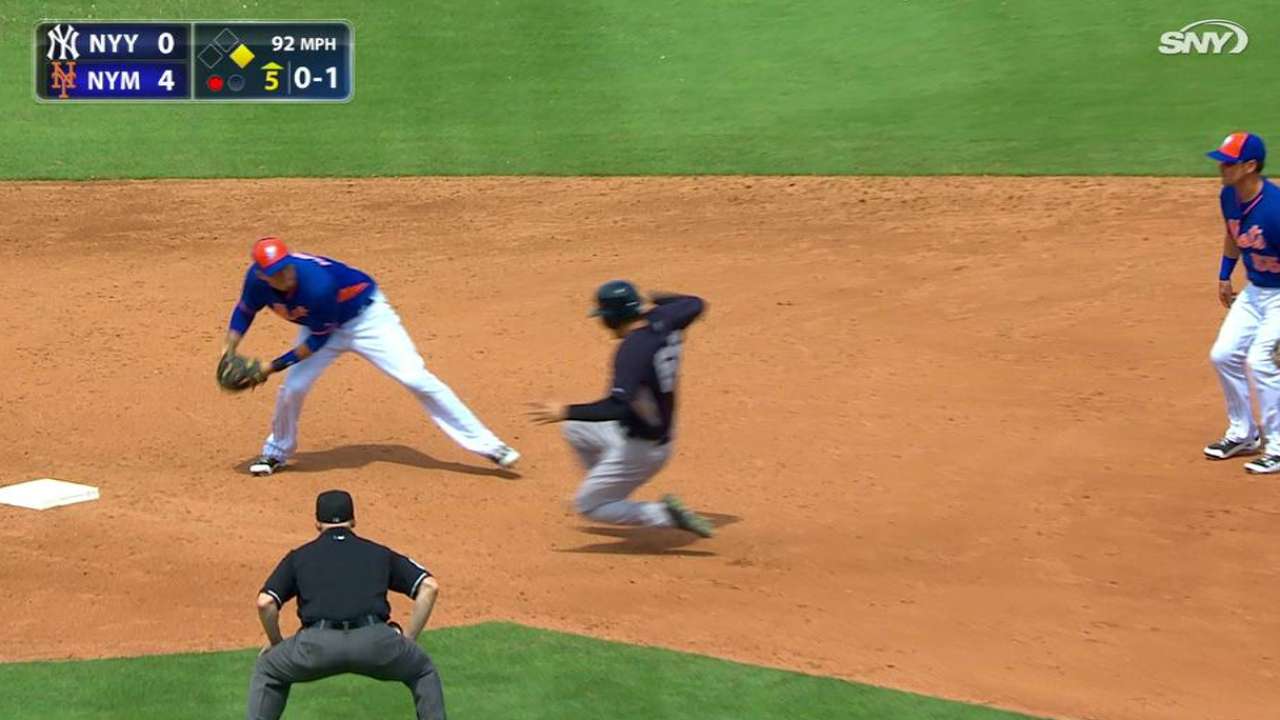 JUPITER, Fla. -- At the dawn of Spring Training, it seemed near-impossible that Matt Reynolds would make the Mets. Though Reynolds broke out a year ago at Triple-A Las Vegas, the Mets already had their starting middle infield set with Wilmer Flores and Daniel Murphy. Giving Reynolds a bit more seasoning in the desert seemed apt.
But Reynolds' strong spring, combined with Murphy's lingering right hamstring strain, has cast uncertainty over the situation. With each passing day, it appears less and less likely that Murphy will heal in time for Opening Day, meaning the Mets must choose amongst Reynolds, Danny Muno or Ruben Tejada at second base.
A week shy of Opening Day, Reynolds' track record gives him the apparent edge.
"It definitely sets in a little bit, but nothing changes how I go about my business," he said. "I feel like I've been working really hard this camp. I came in working hard. It doesn't change just because I suddenly get thrown into the mix."
Finishing 1-for-4 Sunday against the Cardinals, Reynolds saw his Grapefruit League average drop to .381, with two home runs in 42 at-bats. Muno is also at .381, with one home run in an identical number of at-bats. Tejada is at .277 with no homers in 47 at-bats.
Defensively, Tejada profiles best out of the three. Offensively, both Reynolds and Muno pack far greater punch. So with little distinguishing the latter two players from each other this spring, the Mets seem likely to default to Reynolds, a higher-rated prospect coming off a stronger Minor League season.
"He's a baseball player -- everybody keeps saying that about him, but that's what he is," manager Terry Collins said. "He handles the bat, he runs the bases, he does a lot of little things right. But Danny Muno's a dangerous bat -- I'll tell you what, he can get a hit. And the other kid, Ruben, he's played there. He's played there under the bright lights and been very successful. So we've got a lot of options."
That decision will come later this week, when the Mets determine for certain whether Murphy -- who took at-bats in a Minor League game for the second straight day on Sunday, but did not play the field -- has any chance of being ready by April 6. Most likely, Murphy will land on the disabled list for the season's first five games, giving one of three other players a chance.
"What we've got to do is give ourselves the best option," Collins said. "How are we going to get out of the gate and be the most successful?"
Anthony DiComo is a reporter for MLB.com. Follow him on Twitter @AnthonyDicomo. This story was not subject to the approval of Major League Baseball or its clubs.