D-backs aim to enhance fan base in Mexico
Club continues to build relationships in Hermosillo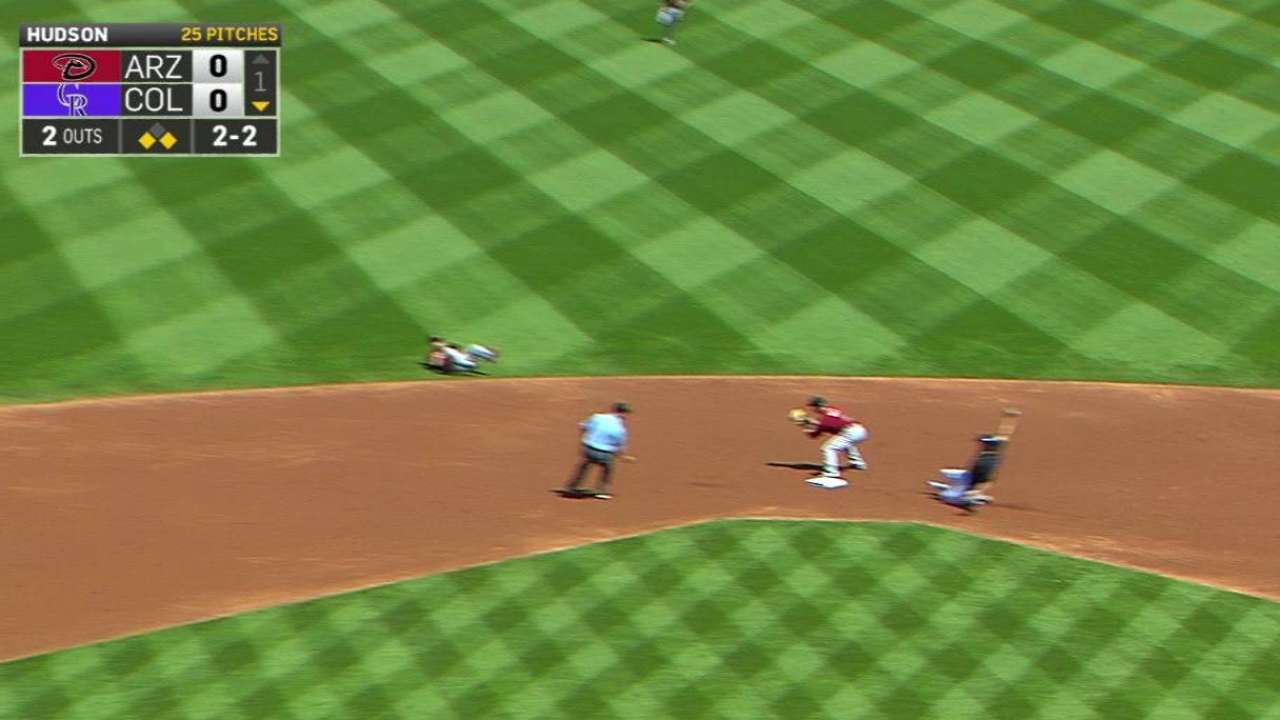 HERMOSILLO, Mexico -- The familiar glint was in Tony La Russa's eyes as the D-backs' chief baseball officer talked about why his team was playing an exhibition game against the Rockies in Hermosillo on Sunday.
"I love the idea of competing," La Russa said before his club dropped an 11-10, 10-inning decision. "That's really what gets your heart pumping and your gut going. Usually, it's us against another team, but I thoroughly embrace our organization competing for the loyalty and support of the fans of Mexico."
La Russa impressed the locals when he conducted his pregame press conference almost completely in Spanish.
Tony La Russa takes his turn. His ability to speak Spanish comes in handy with the Mexican media. #VamosDbacks pic.twitter.com/HZfAbuJlAQ

- Arizona Diamondbacks (@Dbacks) March 29, 2015
As he left the press room he passed Rockies manager Walt Weiss, who was on his way in.
"You better do it in Spanish," La Russa said to his former player.
"I know," Weiss replied with a smile. "I heard you set the bar pretty high."
Sunday marked the 10th time in franchise history that the D-backs have visited Hermosillo to play a game, and to them it is regarded as a home away from home.
It's a homecoming for Ibarra and Pérez, and they're excited to play in front of their home crowd. #VamosDbacks pic.twitter.com/5yTzRmA8ev

- Arizona Diamondbacks (@Dbacks) March 29, 2015
"The most important thing for the team is to get the at-bats and play, but the bigger picture for us as an organization is to be seen down here," D-backs manager Chip Hale said. "This is our area. We're Arizona, so we feel like Sonora and Hermosillo should be important to us. We want them to be Diamondbacks fans. We love it down here. I know we've got a good relationship down here and we want to keep it going. We're hoping we're Hermosillo's team in the Major Leagues.
The D-backs flew via chartered aircraft early Sunday morning and arrived at Estadio Sonora, which holds approximately 16,000, in time to take batting practice.
The stadium was built just a few years ago, and the citizens are quick to point to it as the nicest one in Mexico.
"It's Salt River Fields Mexican style," Hale said comparing it to the D-backs' Spring Training facility.
After taking some grounders, D-backs first baseman Paul Goldschmidt came away impressed with the condition of the field.
"You look at this stadium, it's so nice," he said. "They really did a good job. The playing surface looks great. There's going to be a big crowd, so hopefully we play well for them."
Lined up before first pitch. #VamosDbacks pic.twitter.com/hiCkIYAl02

- Arizona Diamondbacks (@Dbacks) March 29, 2015
The game drew a large crowd and the atmosphere was festive, with music playing in between pitches.
There was quite a few red shirts and jerseys in the stands and the D-backs set up a temporary ticket station on the concourse to provide fans with information about regular-season tickets.
With about a week to go until their April 6 opener and having been in the rut of camp for around 35 days, D-backs players welcomed a quick getaway.
"It's fun," Goldschmidt said. "Just driving in, you see D-backs jerseys and fans here already, so it's exciting. First off, it's nice for us to do a little something different during Spring Training, but also to play somewhere where the fans don't get to go to many Major League games and to come down and be part of that is a lot of fun."
Steve Gilbert is a reporter for MLB.com. Read his blog, Inside the D-backs, and follow him on Twitter @SteveGilbertMLB. This story was not subject to the approval of Major League Baseball or its clubs.