Quantifying Trout's importance to Halos no easy task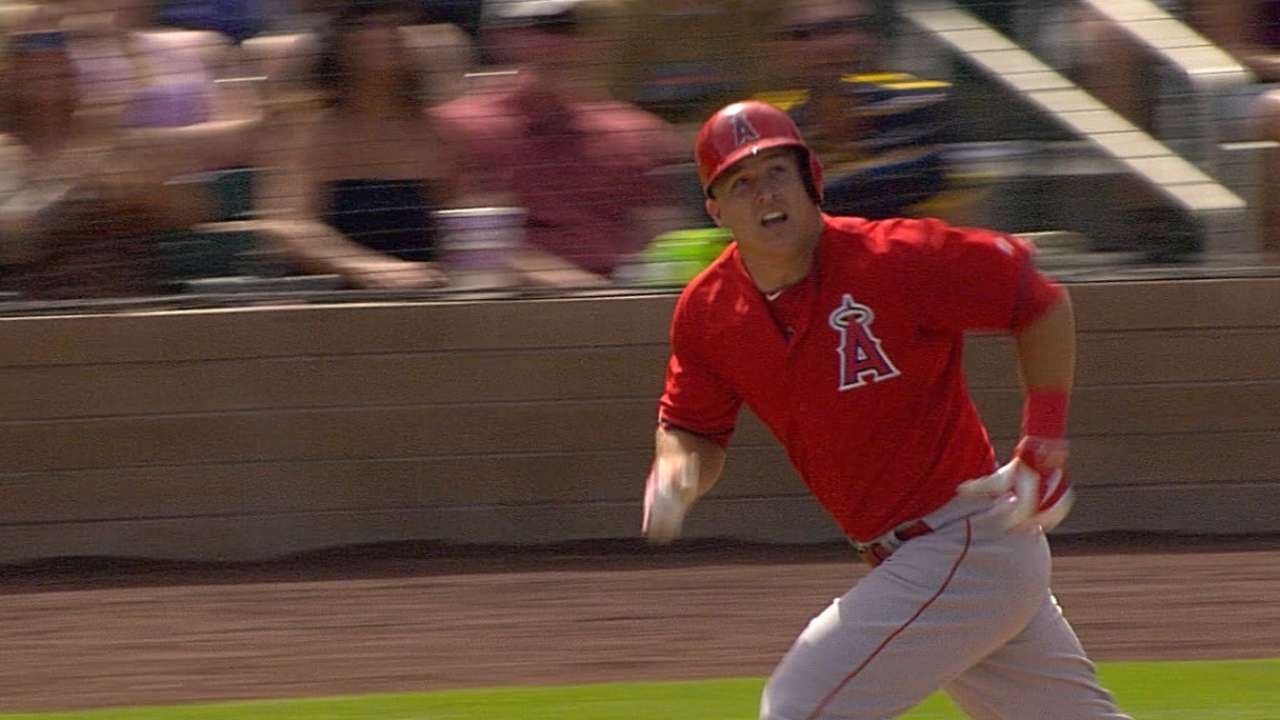 TEMPE, Ariz. -- It's a simple question, without a simple answer: What does Mike Trout mean to the Angels?
Jerry Dipoto, the club's general manager, laughed at the thought.
"I don't even know if I have enough words for that," Dipoto said. "And I don't run out of words very easily."
C.J. Wilson, one of the starting pitchers, was unusually puzzled.
"You have anything broader you want to ask?" Wilson said. "Like, what do you think about politics?"
Huston Street, the closer, got all flustered.
"Golly," Street said, glancing around the room. "What does he mean to baseball? That's a tough one to quantify, really, to be completely honest. He embodies everything you want a superstar to embody. Humility, passion about the game, has fun on the field, it's authentic, leader in the clubhouse. He embodies everything as a professional. For somebody like me, who's been in the league a while now, he's everything that I want out of a superstar on my team. That's how a superstar should be."
In three years, Trout has gone from a hyped prospect to a sabermetrics poster boy to an MVP to -- at 23 and entering his fourth full season -- a guy Angels catcher Chris Iannetta simply said "means everything."
On the field, Trout is a three-time American League All-Star, a unanimous choice for the AL Rookie of the Year Award, a unanimous choice for the AL Most Valuable Player Award and a two-time MVP runner-up. Off the field, he's a walking icon, a marketer's dream, a man with his own signature shoe and the proverbial face of baseball.
In the clubhouse, he's just a guy.
"Mike's never changed, and that's the beauty of Mike," Trout's good friend and in-season roommate, Garrett Richards, said. "He's never changed, he's never skipped a beat; he's been the same guy since I've known him, since Day One. And that's rare. You'd think it would go the other way."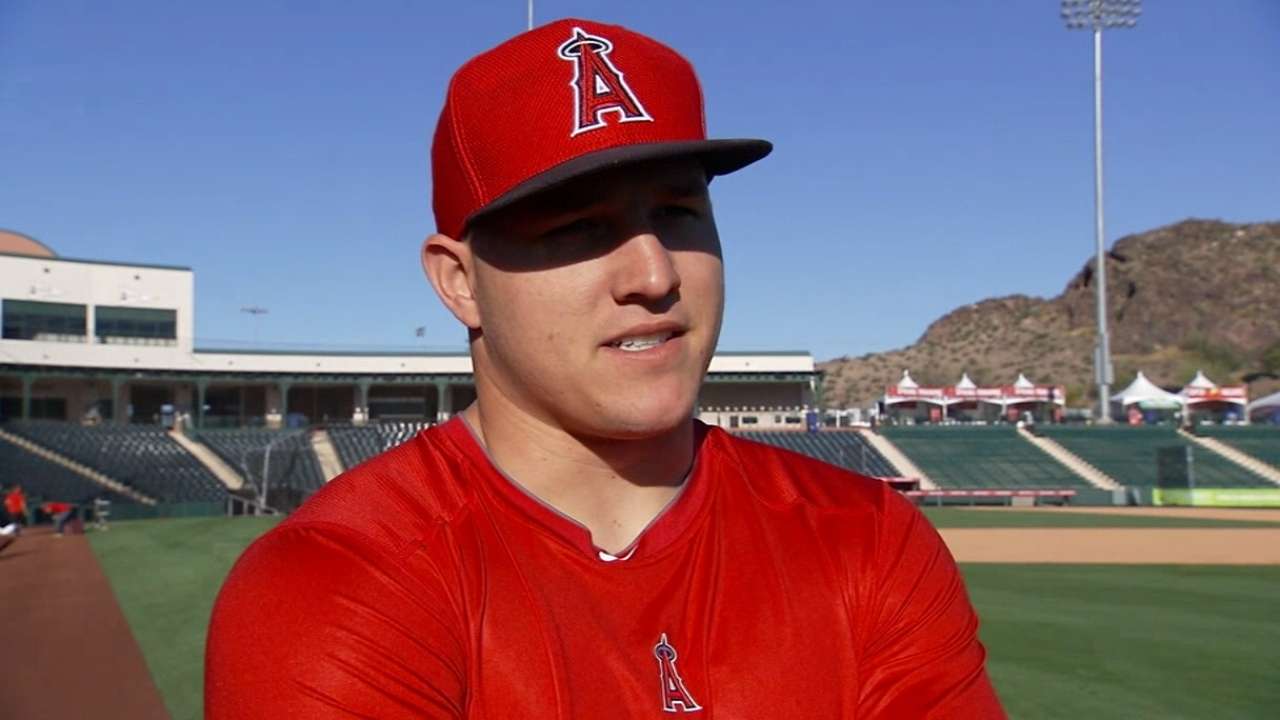 Trout's teammates genuinely admire his abilities -- the mix of power and speed, the way it all comes together -- and they appreciate how he handles superstardom.
He's confident, but not arrogant. He's conscious of his place in the game, but he isn't defined by it. He greets everyone, never turns down an interview request, signs autographs when he can, perpetually messes with people and still plays the game with unbridled joy.
Sometimes Joe Smith will make a really good pitch, and he'll hear Trout hollering from center field.
"It's so refreshing," the Angels' setup man said.
"He's very much like the absolute best kid in Little League, who knows he's the best but is still trying to get to the big leagues," Street added. "No one ever talks about the 12-year-old kid feeling pressure. That's kind of how I see Trout. It just seems like he's still trying to get somewhere."
It's evident again this spring.
Trout captured that elusive MVP last year, while belting a career-high 36 homers and driving in an AL-leading 111 runs. But he struck out 184 times, the most ever by an MVP, and so his on-base percentage fell to. 372, 55 points lower than in 2013. His stolen-base total continued to drop, too, from 49 in 2012 to 33 in 2013 to 16 in 2014.
Trout has spent the entire Cactus League schedule trying to correct that. In hopes of avoiding the deep counts that led to an escalating strikeout total, he's been "locked and loaded on the first pitch." In hopes of swiping a few more bags, he's been "looking to go" every time he reaches first base.
The overall belief -- inside and outside the Angels -- is that Trout's swing is too short and his approach is too disciplined for his strikeout total to approach 200.
But then there's the notion that Trout shouldn't concern himself with stolen bases, because it's a lot of wear and tear on the body and because some of the game's great all-around talents -- players like Willie Mays and Andre Dawson -- weaned off steals when their power became more pronounced.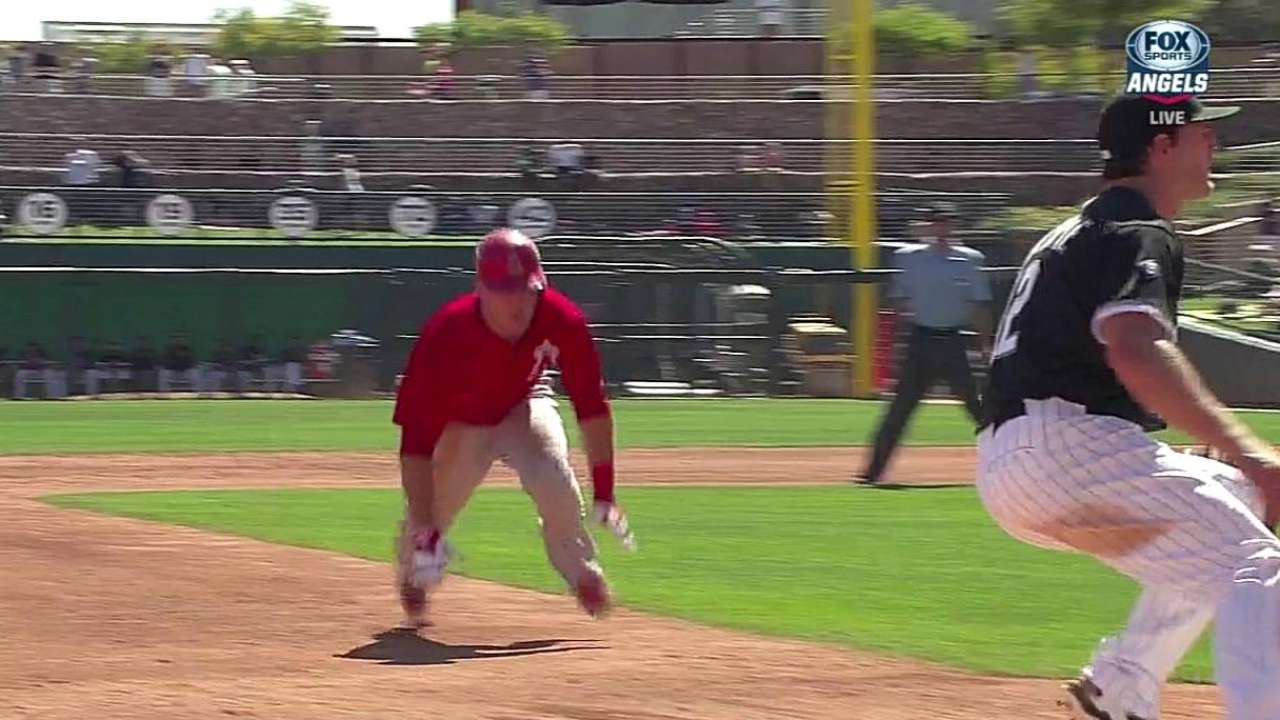 "He's a run producer," Dipoto said of Trout, whose slash line was .324/.416/.560 from 2012-13 and .287/.377/.561 in 2014. "It's hard to do that and then be like, 'Oh, by the way, we also want you to steal 50 bags because you're superhuman.' It's not fair."
But it also wouldn't be surprising. And that's why it's so hard to quantify what Trout actually means to the Angels, even for the players themselves.
"How do you even answer that?" third baseman David Freese asked.
"He's an MVP walking in our clubhouse, that's what he means to the Angels," right fielder Kole Calhoun said. "He can do it all."
Simple enough.
Alden Gonzalez is a reporter for MLB.com. Read his blog, Gonzo and "The Show", and follow him on Twitter @Alden_Gonzalez. This story was not subject to the approval of Major League Baseball or its clubs.