Johnson encouraged by results of altered stance
Third baseman hits two home runs in span of four days after adjustments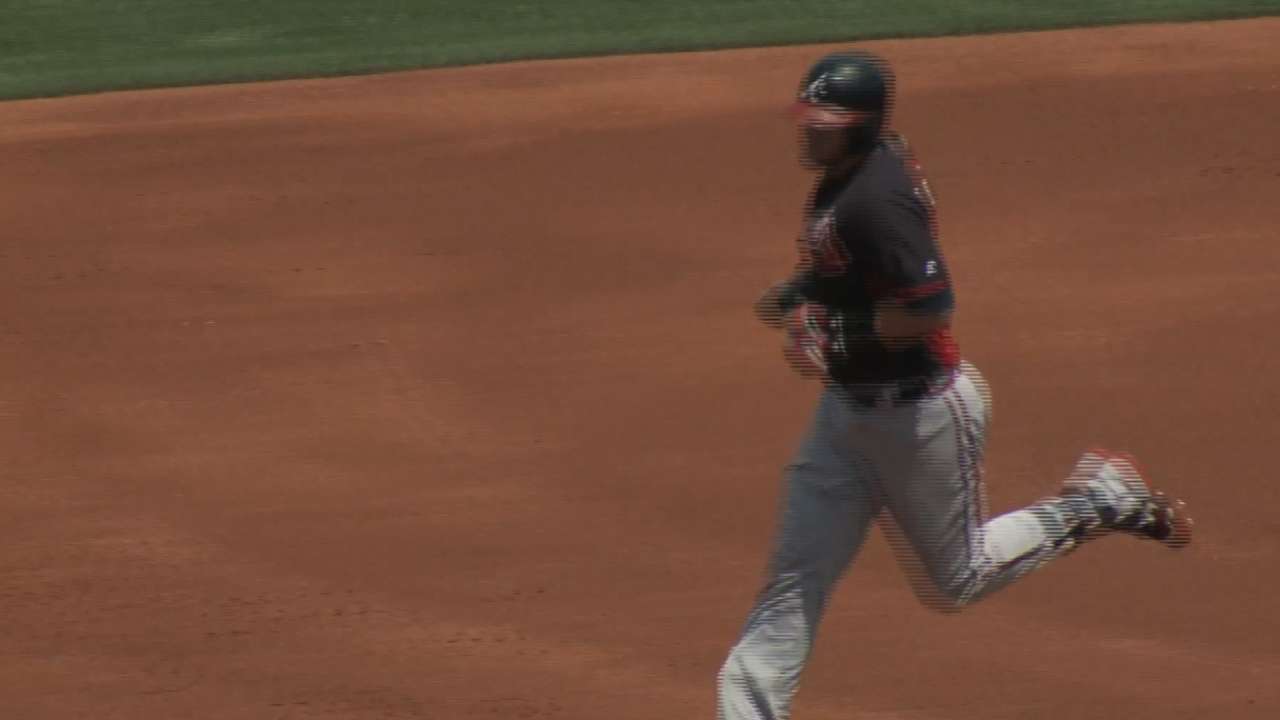 LAKE BUENA VISTA, Fla. -- Those who have seen Chris Johnson display his frustrations with a few outbursts in the dugout over the past few years had reason to wonder if he had the patience necessary to deal with the early struggles he was destined to experience after altering his batting stance during the first day of Spring Training.
But much to his own surprise, Johnson proved patient through the early part of the Grapefruit League season and now finds himself heading into Spring Training's final week with a sense of confidence that was enhanced by the solo homer he hit during Sunday afternoon's 4-2 loss to the Pirates at Champion Stadium.
"It was not easy during the first couple weeks of games," said Johnson, who recorded just four hits through his first 30 at-bats. "I struggled, and it was hard for me mentally. I'm a results-oriented kind of guy. So, it was tough for me. Being able to stick with it and then see results is a lot of fun."
With a pair of hits on Sunday, Johnson has now recorded eight hits, including a pair of home runs, in his past 12 at-bats. This recent success has been realized as he has grown more comfortable with his adjusted stance. The primary change focused on the pre-swing placement of hands, which have moved from eye level to shoulder level.
By lowering his hands, Johnson has been able to shorten his swing and give himself a little extra time to react to pitches. Recent results have provided indication that he will generate more line drives and pull the ball more frequently than he did in the past.
"Pulling the ball is good for me because the book on me is to pitch me [inside] and not allow me to go to right field," Johnson said. "The new approach and [placement of my hands] is allowing me to get [opposing pitchers] out of there. Then when they go [outside], I'll be able to do what I want to do."
When Johnson batted .321 during the 2013 season, he made a habit out of finding holes up the middle or to the opposite side of the field. But when pitchers began pounding him with inside pitches more frequently last year, his batting average dropped to .263. He batted just .231 against right-handed pitchers.
Braves manager Fredi Gonzalez has said Johnson might sit against some right-handed starters this year. But while watching his third baseman hit a pair of home runs against right-handers over the course of the past four days, Gonzalez has been encouraged.
"He's been on fire, and that's good to see against both right-handers and left-handers," Gonzalez said.
Mark Bowman is a reporter for MLB.com. This story was not subject to the approval of Major League Baseball or its clubs.