Ramirez, Roenicke to discuss plan to keep veteran 'strong' in 2015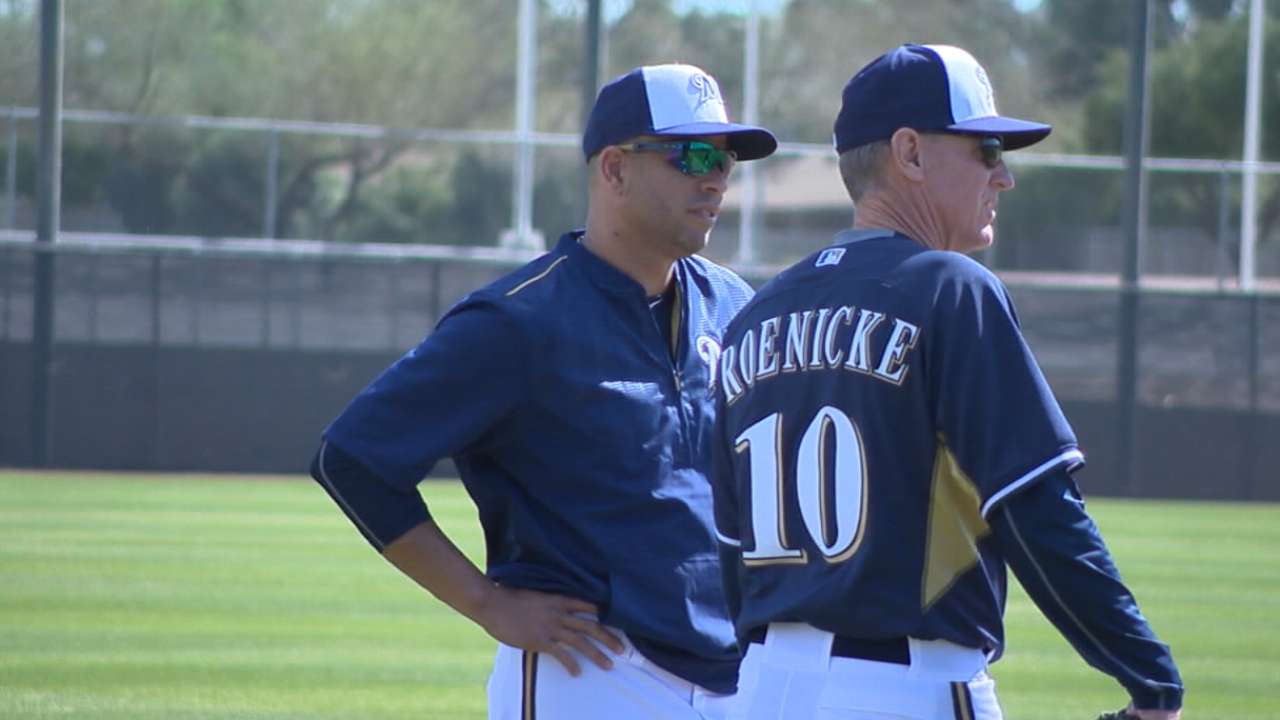 MESA, Ariz. -- Aramis Ramirez plans to sit down with Brewers manager Ron Roenicke on Tuesday to discuss plans for keeping the veteran third baseman healthy and strong throughout the regular season.
Ramirez is entering his 18th season in the Major Leagues. He will turn 37 in June and has said this could be his final season as a professional.
Roenicke said Tuesday's meeting would cover different ways to keep Ramirez "strong," as far as playing time and scheduled off-days. In recent years, Ramirez has been limited by knee and hamstring issues.
"I think that's really important to try to get the most out of him and make sure we keep him on the field, strong and productive," Roenicke said. "How do we do it? We adjust to it as the season goes along. But how do we come up with some kind of a plan to give him his days [off]? Not when he needs it, but days to make sure that he stays strong."
Ramirez has looked good in the field so far in Spring Training, Roenicke said. Ramirez entered Sunday's Cactus League game against the A's hitting .241 with two doubles. He's expected to play a good amount over the final week of Spring Training.
"He's moving around, he made a nice diving play yesterday," Roenicke said. "The bat is what we need to get going here and he's going to play most of these games. That's what he wants to do. Hopefully we can get him locked in. He started the season real nice last year."
Other notes from Sunday:
• Ryan Braun is hitting .556 (10-for-18) with two home runs after opening the Cactus League season in an 0-for-13 skid. The outfielder did not travel with the club for Sunday's road game against the A's, but Roenicke does not think Braun needs many more at-bats to be ready for the regular season.
"At-bats are really good," Roenicke said of Braun. "You look at Braun and [Carlos Gomez] and you think they're not playing that much and stuff, but they're swinging the bat so well that I don't know if it's necessary."
• Relievers Francisco Rodriguez, Jonathan Broxton and Will Smith were scheduled to pitch in a Minor League game at the Brewers' Spring Training complex.
Austin Laymance is a reporter for MLB.com. This story was not subject to the approval of Major League Baseball or its clubs.