Revere breaks promise with leaping catch to rob Davis
Left fielder steals home run in Sunday's Grapefruit League game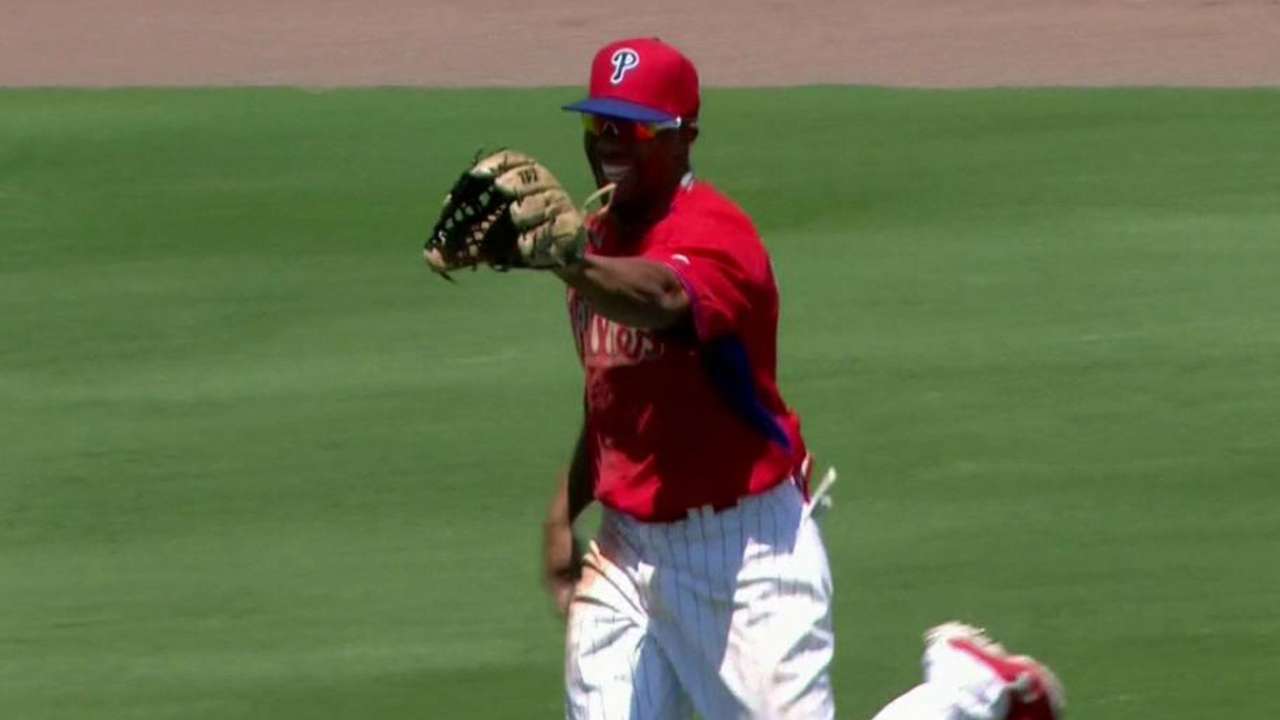 CLEARWATER, Fla. -- Tigers center fielder Rajai Davis asked Phillies left fielder Ben Revere for a favor before Sunday afternoon's Grapefruit League game at Bright House Field.
"Take it easy," he said. "I need some hits."
"All right," Revere replied. "I got you, man. But just drop a bomb. Don't make me run."
Revere reneged on his promise in the third inning. Davis hit a high fly ball toward the left-center-field wall, but Revere timed his jump perfectly and caught the ball at the wall to bring back a home run. Revere leapt into the air to celebrate the catch and laughed and smiled widely as he returned to the Phillies' dugout.
He said he was recalling his pregame conversation with Davis as he returned to the Phillies' dugout. Davis met him near third base and fist bumped him.
"What did we just talk about?" Davis said.
"My bad," Revere said. "I'm sorry, dude."
Coincidentally, Phillies first-base coach and outfield instructor Juan Samuel just worked with his outfielders a couple days ago about making catches at the wall.
"If you missed the ball, I would have been really upset," Samuel said to Revere in the dugout.
Revere, who will open the season in left field with Odubel Herrera in center, certainly showed some ups. He is listed at 5-foot-9, but he said he has dunked a basketball in the past.
"I used to dunk in Timberlands [boots]," he said. "But since I got knee and ankle surgery, it's tough. Now I'm getting close to 30. Back in the day when I was in high school and I had the springs, I'd be in the gym after school and I could dunk in Timberlands, one-handed or two-handed."
Todd Zolecki is a reporter for MLB.com. Read his Phillies blog The Zo Zone. Follow him on Twitter. This story was not subject to the approval of Major League Baseball or its clubs.