Padres banking on Kemp's upside, motivation
Newcomer's big second half in 2014 provides reason to expect big things ahead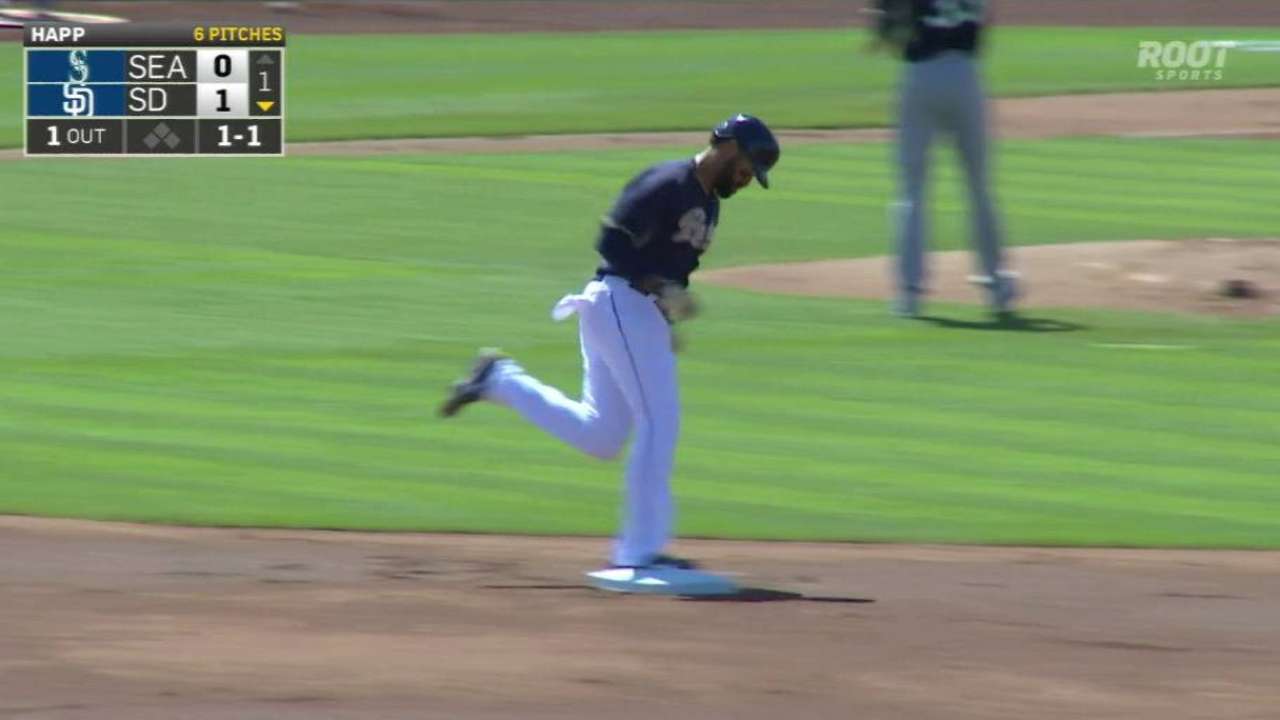 PEORIA, Ariz. -- In the spring of 2003, then-Dodgers scouting director Logan White and area scout Mike Leuzinger made a stop in Oklahoma City for a high school tournament, determined to get a look at two pitchers on the organization's radar.
Enough time has passed that White, now in his first year with the Padres as a senior adviser to the general manager and pro scouting director, isn't entirely sure who he went to see.
"One of the kid's names, I believe, was Perkins," White said recently.
The names and the arms are easily forgettable now, but not the story. There was another player on the field for the Midwest City High Bombers who caught White's eye, but not for anything that he did that particular day.
That player was Matt Kemp, a senior, who had eluded the discerning eyes of scouts to that point -- or they figured he was going to chase a different kind of ball.
"I asked my area scout [Leuzinger] about the right fielder. He said, 'He's a basketball player.' Matt went 0-for-3 that game," White said. "There was another game after [that]. I said, 'Let's stay to see Matt play again.' He went 1-for-3. After [that], we asked the coach if we could have him hit for us."
White -- who had a history of notable signings for the Dodgers, including Clayton Kershaw and Russell Martin, among others -- saw potential in Kemp. It might have been a ways off, but he was intrigued.
"I've always been a person who looks for impact players. A lot of them have a certain body type. At the time, and he'd kill me for saying this, Matt was a little chunkier. I'd call it baby fat," White said. "But you could see this was an athletic guy -- he's 6-4, good build, had good bat speed. Watching him, it was just a gut feeling."
At this point in the story, White stops and smiles.
"Matt hits in the cage for us, and you could see something there. I told him, 'Don't tell anyone you talked to Logan White or the Dodgers -- or that I worked you out.' He took it literally," White said. "I didn't mean for him not to tell his mom or dad, but that's what he did."
Kemp kept his secret and the White eventually got his guy, though he wasn't willing to let him slide past the sixth round.
"I really, really liked him," White said.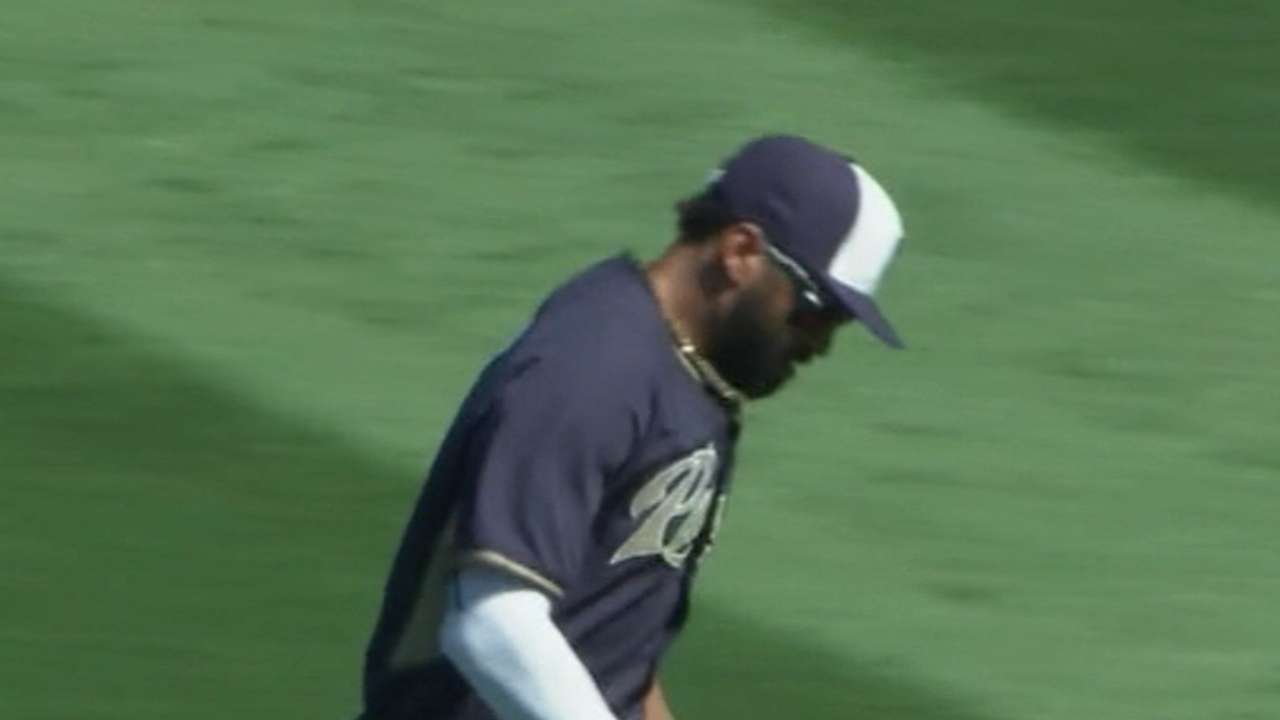 Everyone knows how the rest turned out: two All-Star Games, second in the 2011 National League MVP vote and five seasons of 20-plus home runs.
"You know, I would love to say that there was some brilliance behind it," White said. "But sometimes you get lucky."
Just as White once bet on Kemp's upside, the Padres -- with White among the decision-makers when the team traded for the 30-year-old outfielder -- are essentially doing the same thing again.
Kemp wasn't general manager A.J. Preller's first deal, but he might have been the most important.
The Padres are taking on the remaining five years and $75 million of his deal, believing that his monster second half with the Dodgers last season means that his days as a productive All-Star caliber player are nowhere near numbered.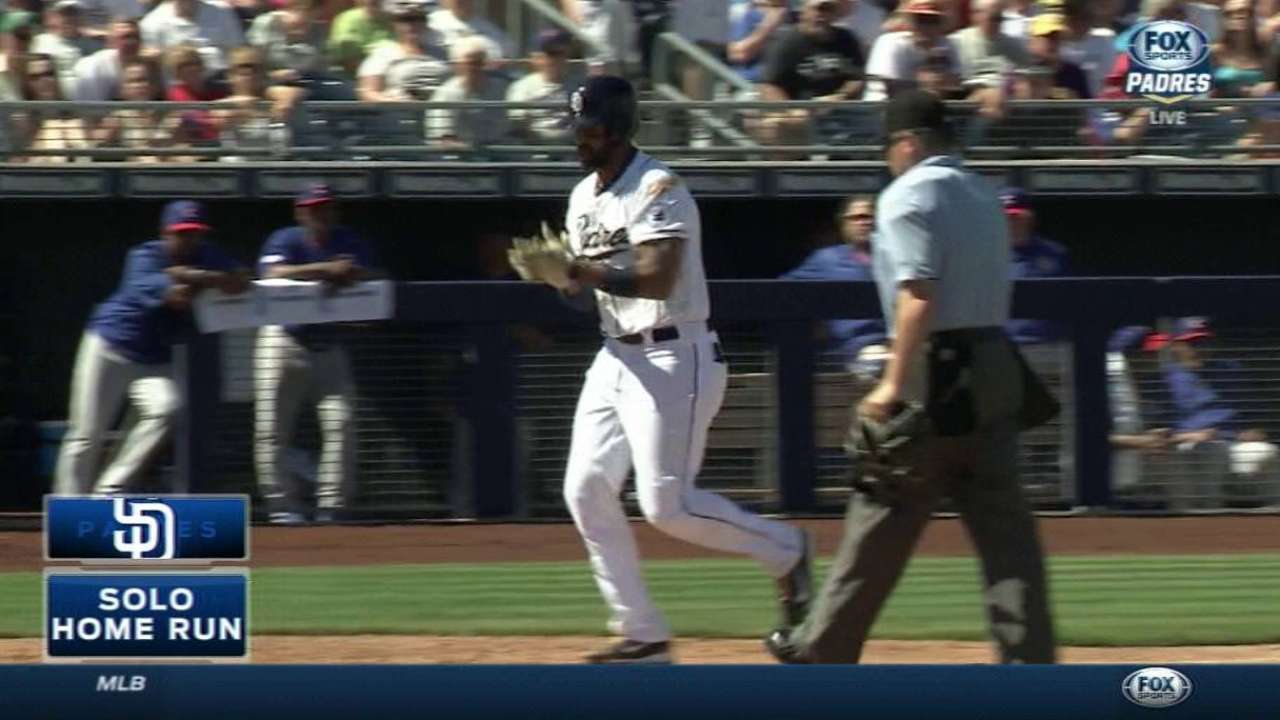 Another thing: The Padres weighed regression models, looked closely at his health before the deal, and also spent a lot of time talking to people about Kemp's motivation.
"He's been one of the best players in the game, so he's got a track record," Preller said. "In talking to a lot of people about him, he's got pride in being a good player. That was a big thing we looked at. He's accomplished a lot, but does he feel like he's got a lot left to play for?
"Going through that, we feel he's coming in here with something to show, something to prove."
For his part, Kemp assimilated himself into the clubhouse quickly this spring. His personality was lively, upbeat. He played music at his locker, '80s music. He sang out loud. Players gravitated toward him. In a short look, Kemp has embraced and is flourishing in his new surroundings.
"It was a surprise to be traded, but I'm ready to be a part of this and do some special things here," Kemp said. "We have a lot of guys who have done some special things, and can continue to do some special things. I like our chances."
And for White, the man who has the longest history with Kemp, he feels that there are plenty of good days ahead -- for Kemp and the Padres, an unlikely but maybe a perfect pairing.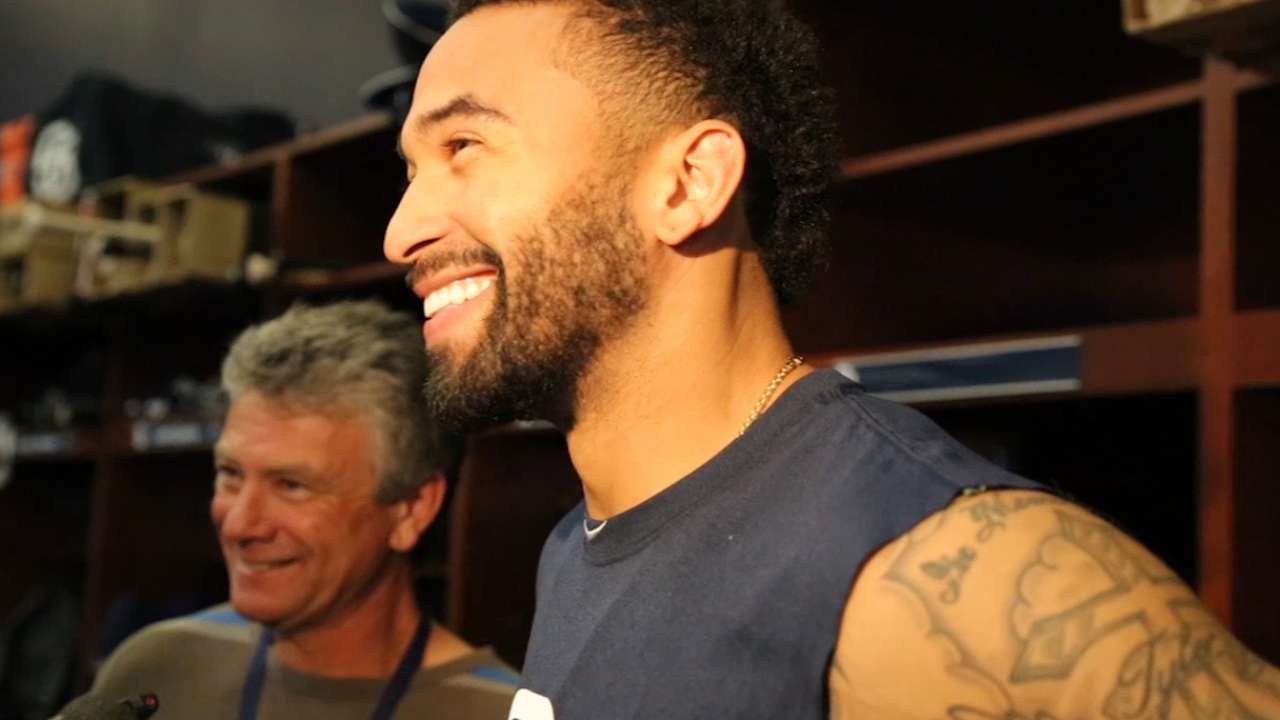 "He's recharged. I really think he is excited to be in San Diego," White said. "It's a new opportunity. He likes his new teammates, his coaching staff. I think, like anything else in life, he feels wanted and that people here believe in him.
"I don't care how great a player you are, if they want you and believe in you, you can accomplish a lot."
Corey Brock is a reporter for MLB.com. Keep track of @FollowThePadres on Twitter. This story was not subject to the approval of Major League Baseball or its clubs.