Drabek throws bullpen session on first day in White Sox camp
Right-handed pitcher claimed off waivers from Blue Jays on Friday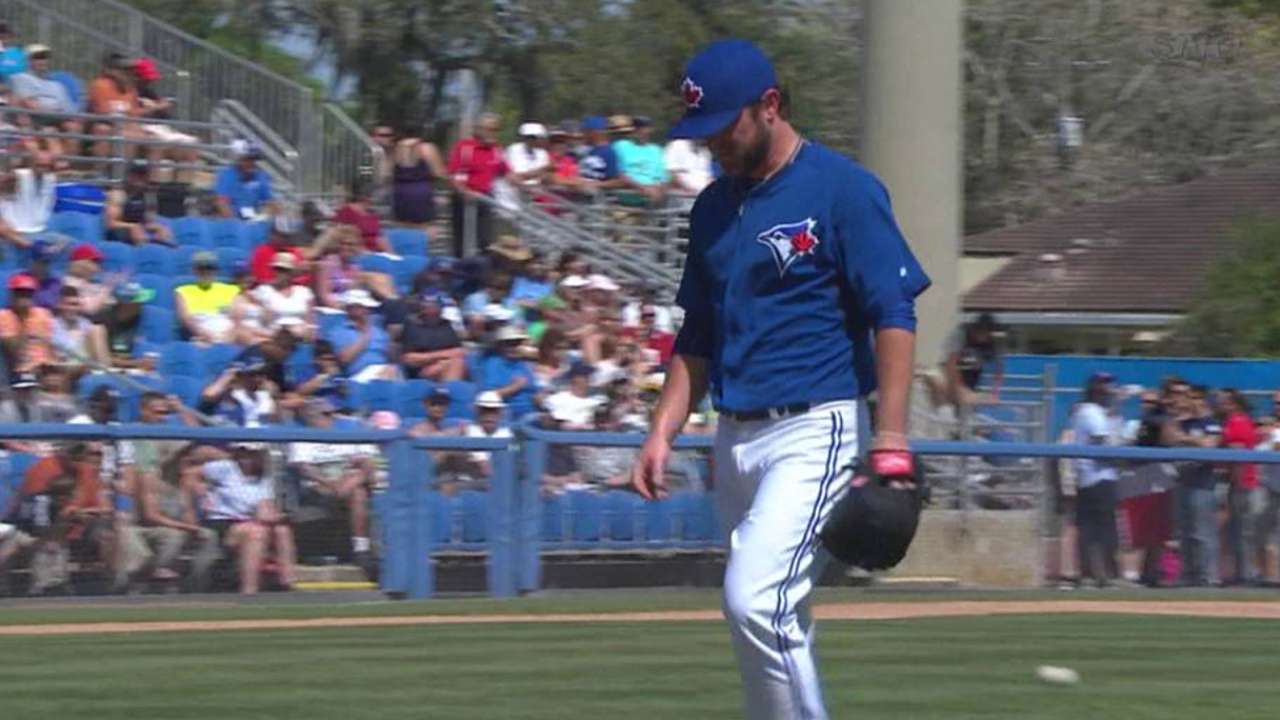 GLENDALE, Ariz. -- Kyle Drabek could be excused if the last few days have taken on a bit of a whirlwind, head-spinning quality.
"Hearing it, and then having to pack up my whole place in Florida and ship out the next day, and there's only five days, a week left," Drabek told reporters Sunday morning as part of his first day in White Sox camp. "So it's spinning a little bit."
Drabek was claimed by the White Sox off waivers from the Blue Jays on Friday. Although he has started in 30 of his 39 games at the big league level and in 113 of 138 appearances at the Minor League level, the right-hander is expected to compete for a spot in the South Siders' bullpen. He had worked in relief during Spring Training for the Blue Jays, striking out seven in seven innings and posting a 2.57 ERA.
His first bullpen was thrown Sunday morning, with general manager Rick Hahn, executive vice president Ken Williams, manager Robin Ventura and pitching coach Don Cooper among those watching.
"It was just a chance for them to get to know each other and talk about what Kyle is trying to do and what our scouts have seen in him and how they see his role potentially evolving over the coming weeks and months with us," said Hahn of Drabek's session. "We actually had Joe Butler, the scout that most recently recommended him, here to see the sideline.
"We were able to pull Joe in and say, 'Is this similar to what you said and what led to the recommendation?' And he was enthusiastic, as well. We are glad to have him. We've talked about this since before SoxFest -- you can never have too much pitching depth and it's nice to have a guy with a little bit of ceiling to him in our mix."
There's a hope from Drabek to return someday to the rotation, and Hahn added that he has a starter's arsenal. For now, the 27-year-old is taking a "whatever they want me to do" approach.
"All spring I've been relieving," Drabek said. "I didn't really have a certain role with Toronto, kind of just looked on the board and, if my name was up there and I was pitching that day, I would take the ball. So I'm kind of just sticking with that. Whenever they want me to go out there and pitch, I will."
Doug Drabek, who won 155 games over a stellar 13-year-career, pitched for the White Sox in 1997. So this move has become a bit of a homecoming for the younger Drabek.
"He loved it in Chicago," Drabek said of his dad. "I think I got to go up there a few times, and all I can remember is the corn [elotes] sold there [at U.S. Cellular Field] was some of the best corn I've ever had.
"He's been great throughout my whole career. I had surgery in my first full year, and that was hard for me. But having him there to talk to and when I got traded and sent down, he's helped out a bunch with my mind, just getting it back onto baseball."
Scott Merkin is a reporter for MLB.com. Read his blog, Merk's Works, and follow him on Twitter @scottmerkin. This story was not subject to the approval of Major League Baseball or its clubs.