'He was tough': Nieves wowed by Ross' dominant outing
Padres starter fans 12 in six innings vs. Rangers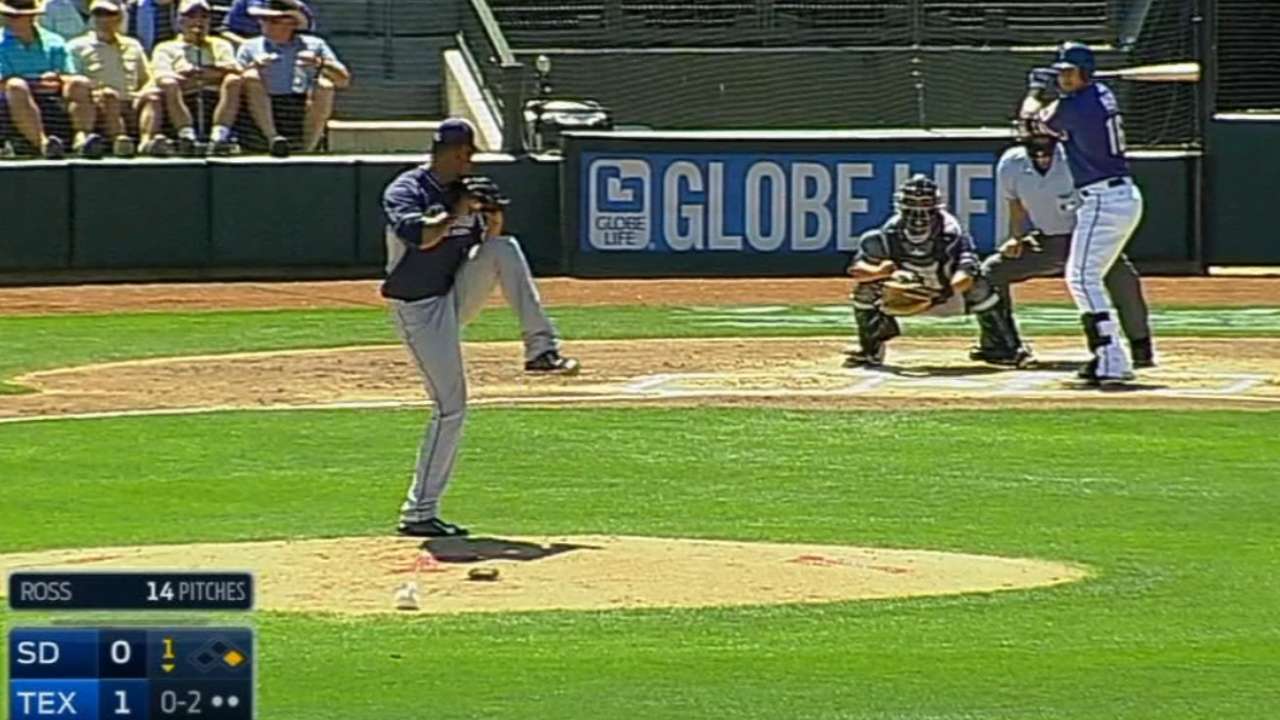 PEORIA, Ariz. -- The first time Wil Nieves caught Tyson Ross this spring, the right-hander was having a bit of trouble corralling his pitches, which certainly isn't uncommon for early Spring Training games.
"He was just working on mechanics and bounced a few the first time out," Nieves said. "After that game, he told me, 'Wil, my bad.' I told him I knew how nasty he could be and that he should just work on what he needed to get ready for April."
By the looks of it, April arrived a little early, as Ross was dominant Saturday, striking out 12 in six innings against the Rangers, doing so against many of the Texas regulars, not Minor Leaguers.
"Yesterday when I caught him, it was like, 'wow,' everything was working," Nieves said. "His sinker was downhill moving a lot, the slider was devastating. They knew it was coming but they couldn't lay off it and couldn't hit it. It's always fun to catch a guy when you put your glove down and he hits it."
Ross struck out Shin-Soo Choo and Adrian Beltre twice as well as Ryan Rua and Carlos Peguero. He also struck out Robinson Chirinos, Delino DeShields, Adam Rosales and Mitch Moreland.
"They had a lot of their [regular] guys playing and he still made them look like that," Nieves said. "And that's a good hitting team. They're smart. When they looked for sliders, he'd spot the fastball. He was tough. If it was another team with young guys, that's one thing, but it was Texas."
Ross became one of two big league pitchers in the last five years to strike out 12 or more hitters in a Spring Training game. The other came when Alex Cobb of the Rays struck out 12 against the Orioles over a seven-inning stint on March 22, 2014.
Ross figures to start Thursday against Brewers, the Padres final game in Arizona, and then the second game of the regular season against the Dodgers on April 7.
Corey Brock is a reporter for MLB.com. Keep track of @FollowThePadres on Twitter. This story was not subject to the approval of Major League Baseball or its clubs.