Johnson, Flowers, Kottaras lead offense with flurry of doubles
Robertson effective in return to mound as bullpen shuts down Tribe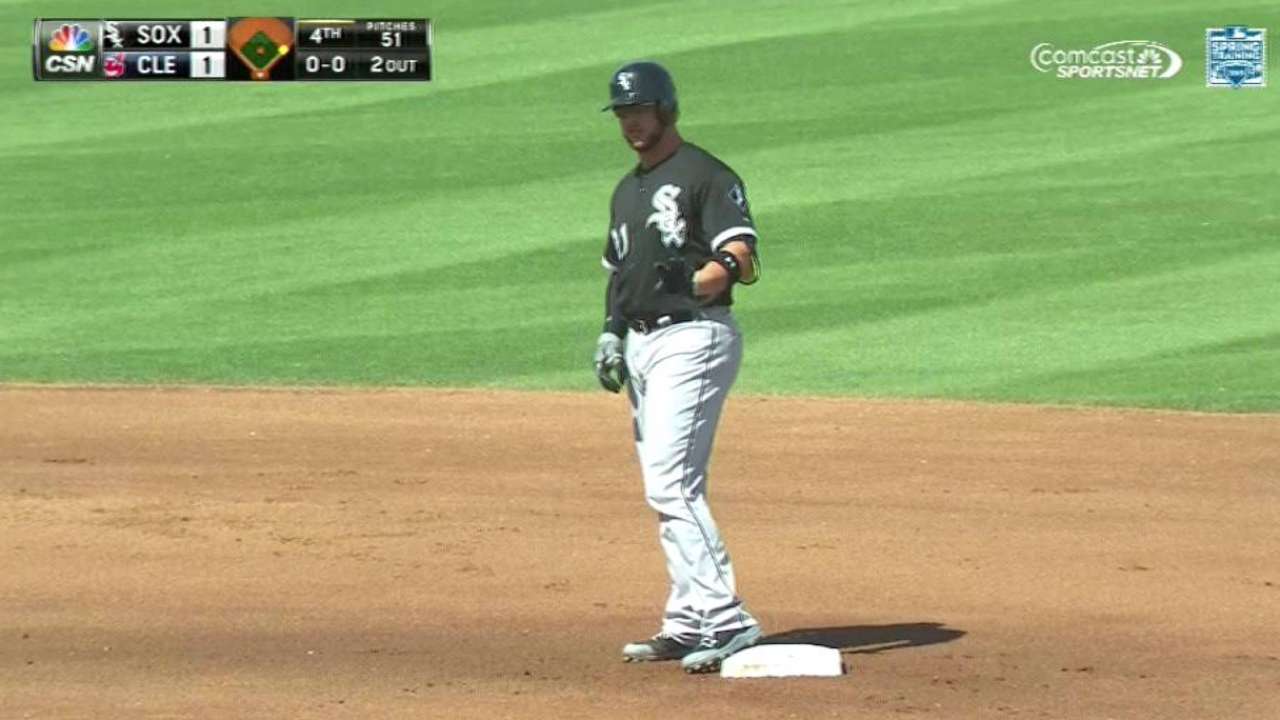 GOODYEAR, Ariz. -- Micah Johnson and Tyler Flowers had two hits each, and George Kottaras had a two-run double as the White Sox beat the Indians, 4-1, Sunday at Goodyear Ballpark.
Scott Carroll gave up one unearned run in three innings, and David Robertson, Arcenio Leon and Jace Fry combined for six scoreless innings out of the Chicago bullpen.
"Today was definitely a new feeling again, going back to starting, so it was cool to be able to do that," Carroll said. "Today was a pretty good day. I faced a lot of lefties so I was trying to work on both sides of the plate. Early on I was struggling with my release, but I settled down. George [Kottaras] and I worked together and I was happy about that, and I got a lot of ground balls."
Carroll is scheduled for two days off and then will pitch in relief Wednesday.
As he was for most of the spring, Cleveland starter TJ House was hurt by one inning. The White Sox got to House for three runs in the fourth, on a pair of walks and doubles from Flowers and Kotaras.
Jason Kipnis scored the Indians' first-inning run on shortstop Gordon Beckham's throwing error.
"This spring it looks a little glaring, that one inning is kind of getting to me in the box scores," said House, who earlier Sunday was told he will be in the Cleveland rotation to start the season. "It's nice to get them out of the way now and maybe during the season we won't see them.
"My ball kind of flattened out a little bit [in the fourth]. Besides that, I felt good. I pounded the zone and got to see some guys I'm going to see during the season, so I'll make a mental note of that."
Up next: Hector Noesi, who is set to pitch the home opener for the White Sox against the Twins on April 10, makes his final Cactus League start Monday at Camelback Ranch against the Indians, with a first pitch at 3:05 p.m. CT. Javy Guerra also is scheduled to pitch.
Chris Gabel is a contributor to MLB.com. This story was not subject to the approval of Major League Baseball or its clubs.