MLB.com Columnist
Phil Rogers
Tito trusts young arms in Indians' rotation
AL Cy Young winner Kluber only pitcher in starting five with 200-inning season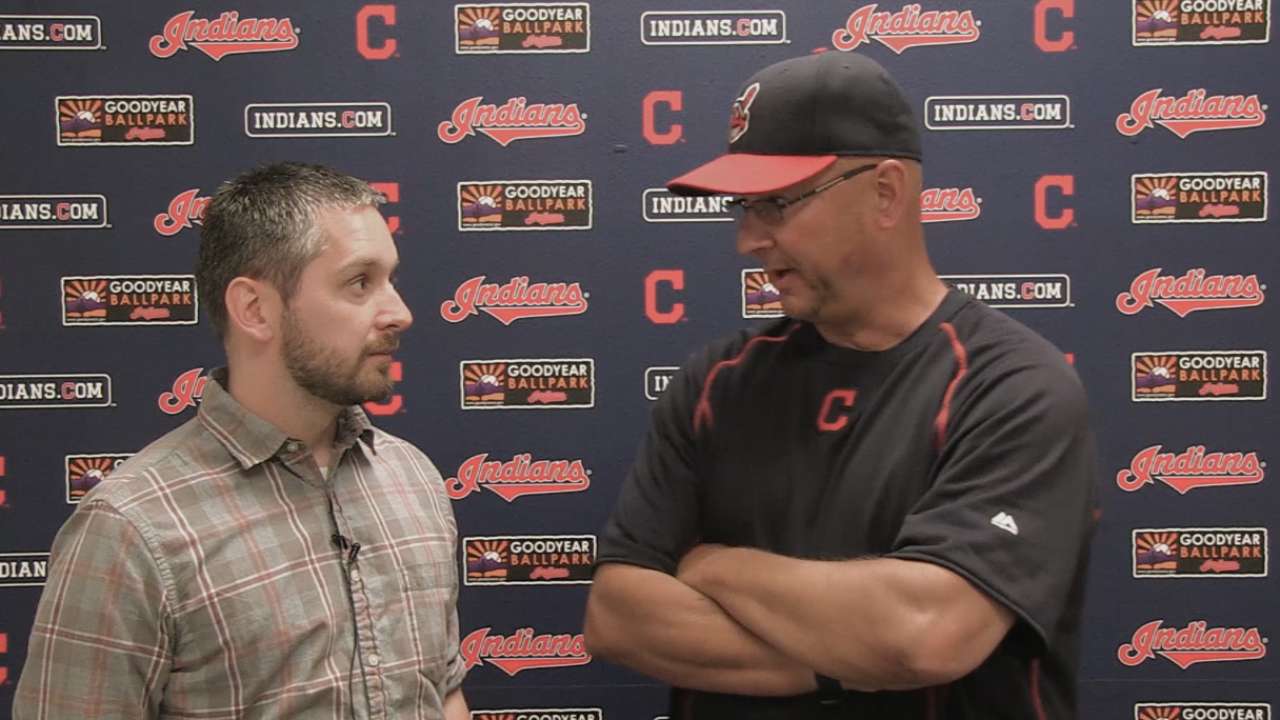 GOODYEAR, Ariz. -- Every good starting pitcher grows up some time. He might be 22 and hitting the ground running, 25 and well prepared after a step-by-step climb through the Minor Leagues or 28 and ready to prove an organization or two wrong.
No matter how long it takes, the goal is to reach the point where he is ready to throw 200-plus innings on a contending team. The Indians hope that they have assembled that kind of rotation behind American League Cy Young Award winner Corey Kluber. But, at this point, all the Indians are doing is believing and hoping because they haven't yet seen a strong, complete Major League season from Carlos Carrasco, Trevor Bauer, Danny Salazar, Zach McAllister or TJ House.
While the Indians carry a wave of positive energy toward Opening Day -- Sports Illustrated is picking them to win the World Series -- they are trying to do what very few teams ever do. They hope to roll into October behind young, relatively unproven starting pitchers.
Say this for the Indians: In manager Terry Francona and his 39-year-old pitching coach, Mickey Callaway, they've got positive thinkers and problem solvers on the case.
"I've given it no thought," Francona said on Sunday about the absence of established starters. "I know our guys. They know what's expected. We know them. I don't know that we've given [the lack of veteran starters] a lot of thought because it doesn't come into play. If TJ House is pitching one day, we're supposed to win; if Kluber is pitching the next day, we're supposed to win. That's how we view it. I don't think we'll ever change. I don't think you need to look at salaries. When the game starts, you need to try to figure out a way to be one run better than the other team. That's how we always view it."
Francona's arrival in 2013 revived baseball in Cleveland, where interest had steadily drained away after Jose Mesa was unable to save Game 7 of that great World Series in 1997. Francona produced an unexpected trip to the playoffs as a Wild Card in his first year after the Tribe had been home in 10 of the previous 11 Octobers, and breakout seasons by Kluber and No. 3 hitter Michael Brantley have some expecting a 90-win season this time around.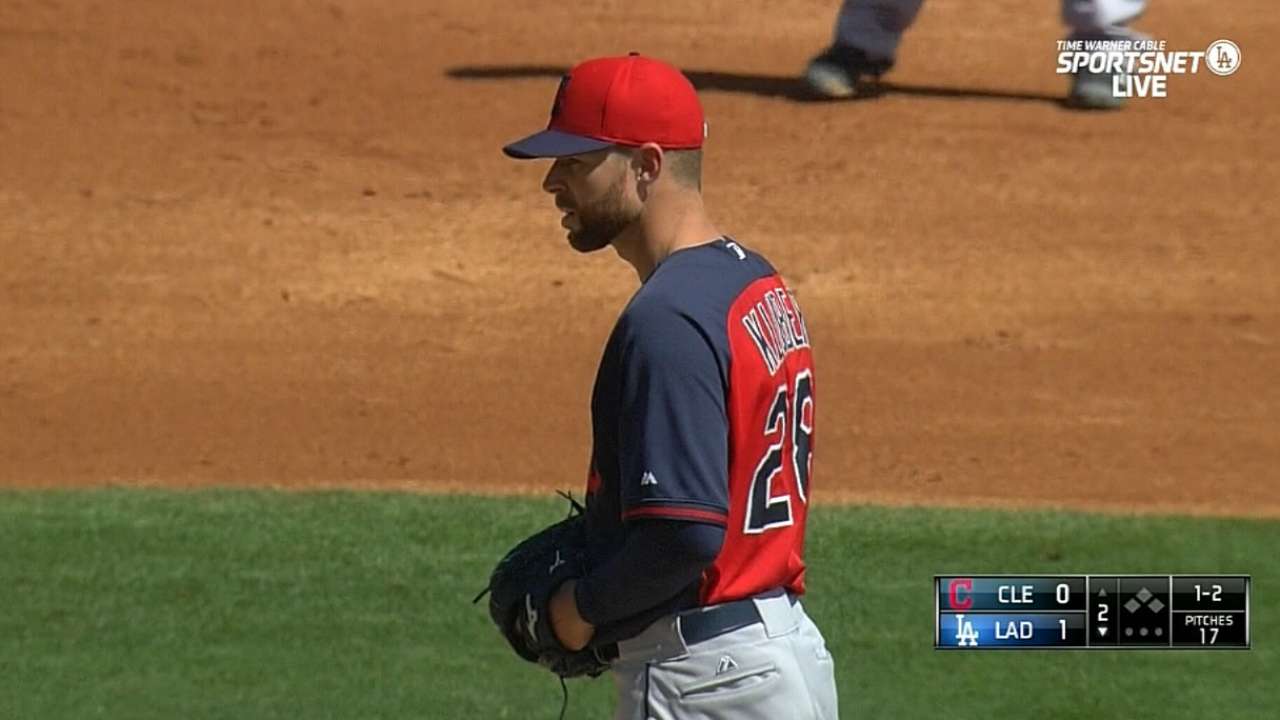 But when Francona looks at the names of the starting pitchers on his organizational depth chart, there's exactly one guy -- Kluber -- who has ever had a 200-inning season in the Major Leagues. Gavin Floyd was added for his experience but was subtracted in the early stages of camp when he was forced to undergo a second surgery for a stress fracture in his right elbow.
Not that Floyd was a workhorse -- he has had only one career 200-inning season -- but his loss leaves no security blanket behind the young arms who are looking for corner-turning performances this season. Carrasco, Bauer, McAllister, Salazar and House have combined for 1,186 career innings, with none of them having thrown more than 153 innings in the Major Leagues in a season.
"We've never used it for an excuse not to win," Francona said.
No, he hasn't. But the difference between this rotation and the one Francona won with in Boston is glaring.
When the Red Sox broke the curse, their rotation included Curt Schilling, Pedro Martinez, Tim Wakefield and Derek Lowe, who between them entered 2004 with a combined 18 200-inning seasons. When the Red Sox won again in '07, they were breaking in Jon Lester but relied on Schilling, Wakefield, Josh Beckett and Daisuke Matsuzaka, a group that entered the year with a combined 15 200-inning seasons.
You didn't have to hope these guys could do it; you believed they could do it again.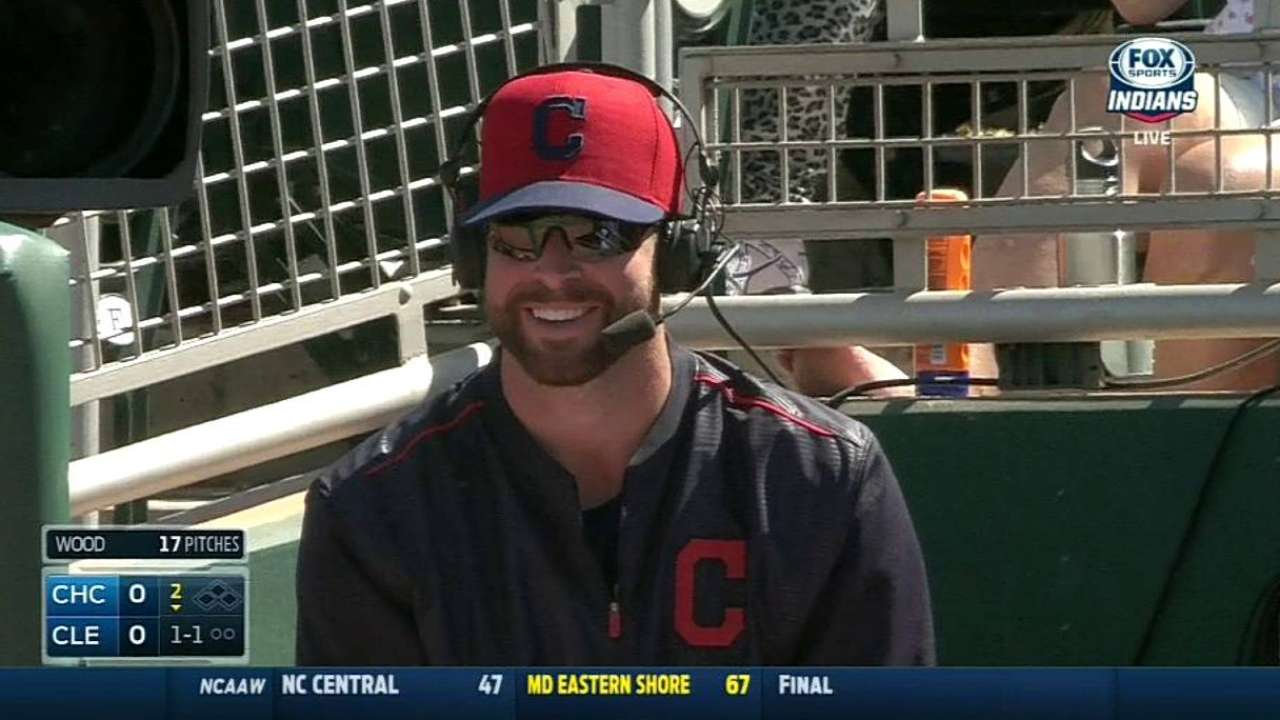 Even Francona's first team in Cleveland had a different dynamic than this one. The 2013 Indians won a Wild Card spot with a rotation that could draw on the experience of Justin Masterson, Ubaldo Jimenez and Scott Kazmir. That might not have been the greatest group of starters, but they had all hung up 200-inning seasons elsewhere on their way to Cleveland.
These Indians are all about promise.
Carrasco, a tease in his four previous seasons after being acquired from Philadelphia in the 2009 Cliff Lee trade, put it all together at the end of 2014 after spending most of the first half of the season in the bullpen. He developed an explosive slider he could throw for strikes while working exclusively from the stretch, and Carrasco wound up with a 1.30 ERA, an 0.81 WHIP and 10 strikeouts per nine innings in 10 starts down the stretch.
Stack 200 innings of that alongside a repeat of Kluber's work last season and the Indians could have the best 1-2 combination in the Majors.
Bauer, who was the third pick overall in the 2011 First-Year Player Draft, turned in a 199-inning season between Cleveland and Triple-A Columbus last year. He and McAllister have shown they're capable of dominating when they find their rhythm.
"There's a way to get good," Francona said. "If you pay attention to what's right in front of you -- don't get too far ahead or too far behind -- [you can succeed]. … One reason I haven't said anything is our guys haven't done it year in and year out yet. They haven't been asked to. These guys are really young. They don't have that much service time. That's why you don't come out and say things. We need for them to do it. That doesn't mean we don't think they can do it. We're confident in them. We're excited about them. … A lot of them got a taste of it last year or the year before and handled themselves just fine. We're excited about it."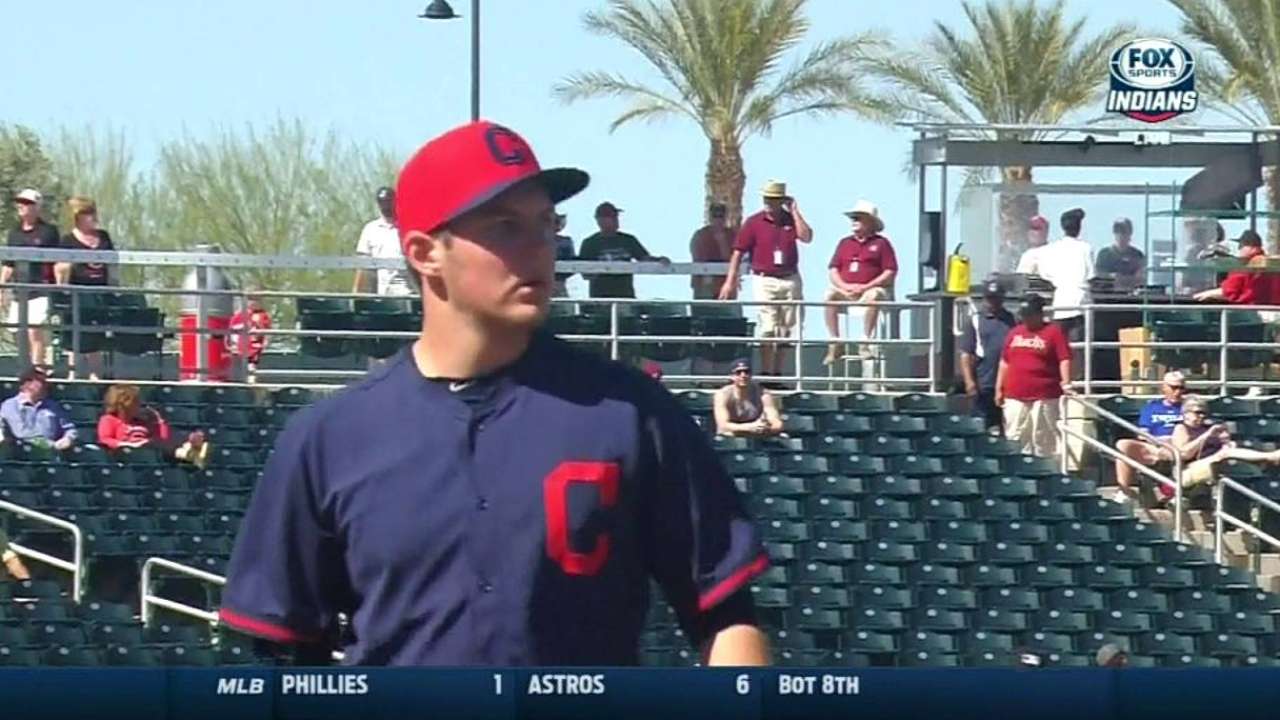 Francona, of course, isn't afraid to go to his bullpen. The depth of his relief staff along with his willingness to use it has been a trademark of his first two seasons in Cleveland.
That group looks as good as usual this time around, and maybe even better. The Indians hopped on former Twins Anthony Swarzak and Jeff Manship when they appeared on the list of available pitchers this winter.
Swarzak learned Sunday he'll open the season on the big league staff, while Manship will go to Triple-A with starters Josh Tomlin and Salazar. All of them figure to be in the normal group of pitchers who will be looked on for big contributions at some point, with Swarzak of particular interest because he has shown himself to be an innings-eating reliever.
"Our goal was never to set records with our bullpen, believe me," Francona said. "But we want our bullpen to remain a weapon. For that, we want to make sure we use it correctly."
Nothing would help more than some 200-inning seasons from the starters.
Phil Rogers is a columnist for MLB.com. This story was not subject to the approval of Major League Baseball or its clubs.