Kintzler optioned, Perez released as bullpen race down to three
Blazek, Thornburg and Wooten vying for two relief spots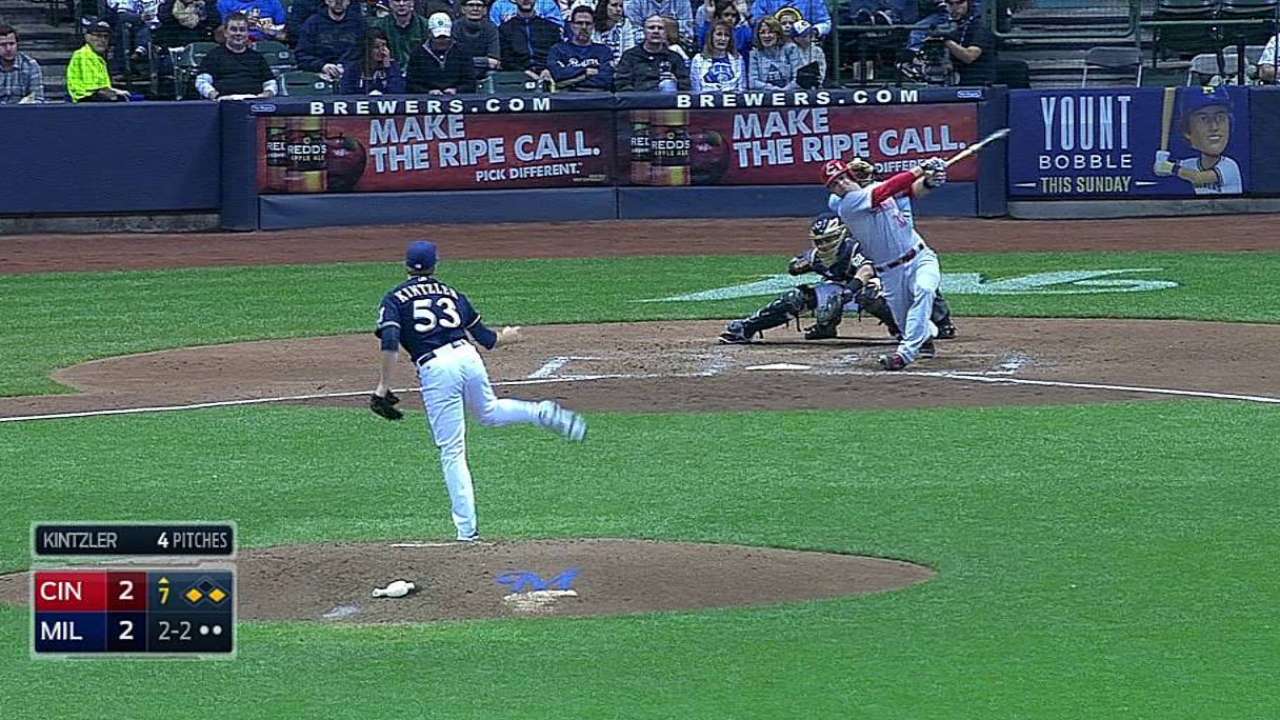 MESA, Ariz. -- The Brewers narrowed the competition for the final spots in their bullpen on Sunday, as Brandon Kintzler was optioned to Triple-A and non-roster right-hander Chris Perez was released.
That leaves three pitchers vying for two relief roles: Michael Blazek, Tyler Thornburg and Rob Wooten.
Kintzler had struggled in the Cactus League with a 6.48 ERA in eight appearances. He allowed 13 hits in 8 1/3 innings with five strikeouts and five walks.
In his most recent appearance, on Saturday against the Indians, Kintzler faced five batters and allowed three to reach base, giving up a run in the process. The sinkerballer has not pitched in the Minor Leagues since 2012.
"There's some guys in the end here throwing very well and he just did not show the progress that you would like to see," Brewers general manager Doug Melvin said. "We're confident that we can get him back, but he's going to have to go and pitch. He just needs to keep working on commanding his pitches and getting back his sink."
Perez was pitching well, posting a 2.70 ERA in 10 appearances, but the Brewers would have needed to open a spot on the 40-man roster to keep him. The veteran had an out-clause in his contract with a Tuesday deadline.
The Brewers now have 34 players in Major League camp -- 15 pitchers, four catchers, nine infielders and six outfielders.
Austin Laymance is a reporter for MLB.com. This story was not subject to the approval of Major League Baseball or its clubs.