Sharp Volquez fans eight in loss to Cubs
Right-hander allows two earned runs over five-plus frames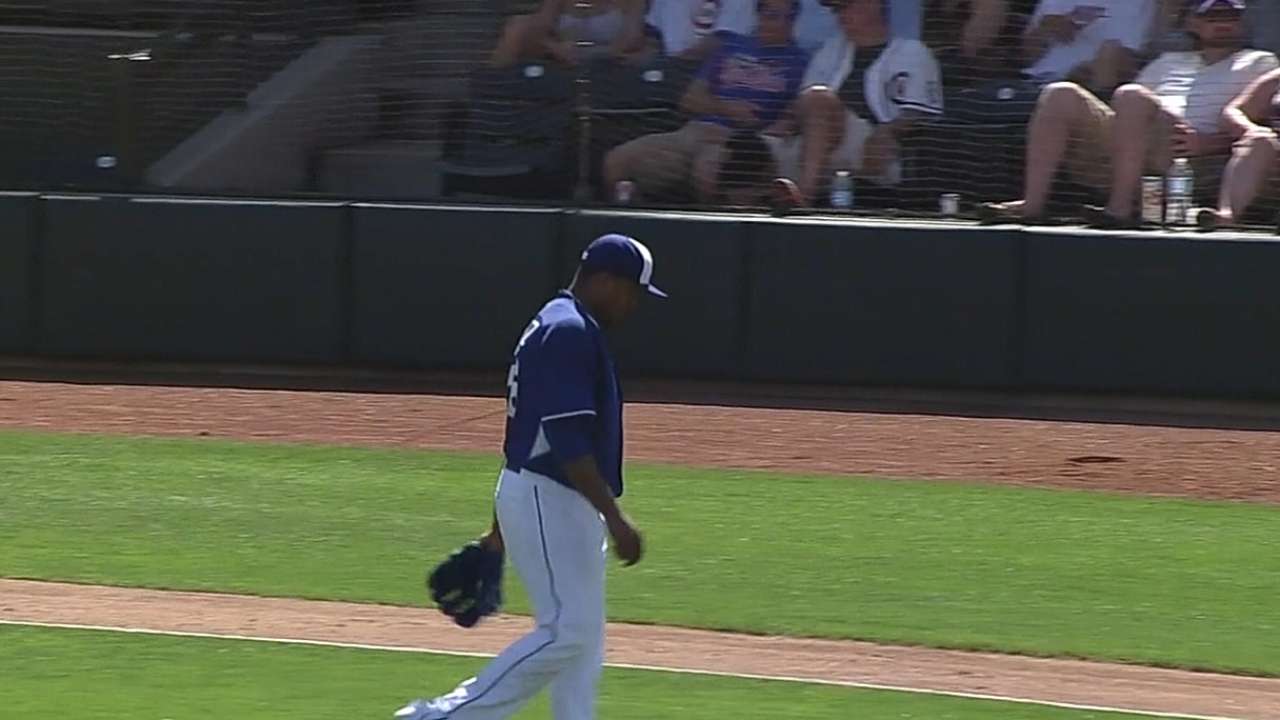 SURPRISE, Ariz. -- Veteran Cubs right-hander Edwin Jackson found the ballpark on Sunday, but he's still trying to find his spot in the rotation with only a week to go in the Cactus League season.
Jackson was pitted against another veteran, right-hander Edinson Volquez, starting his first season with the Royals in a game the Cubs won, 7-0.
Jackson's GPS sent him to the wrong ballpark last week for a Cactus League road start against the A's. Volquez is assured a spot in the Royals' rotation, although he went into Sunday's game with a 9.49 ERA for the spring.
Volquez gave up a two-out, first-inning homer to new Cubs catcher Miguel Montero. He then went on in the first five innings to strike out eight, including Cubs phenom Kris Bryant, who also popped out foul against Volquez.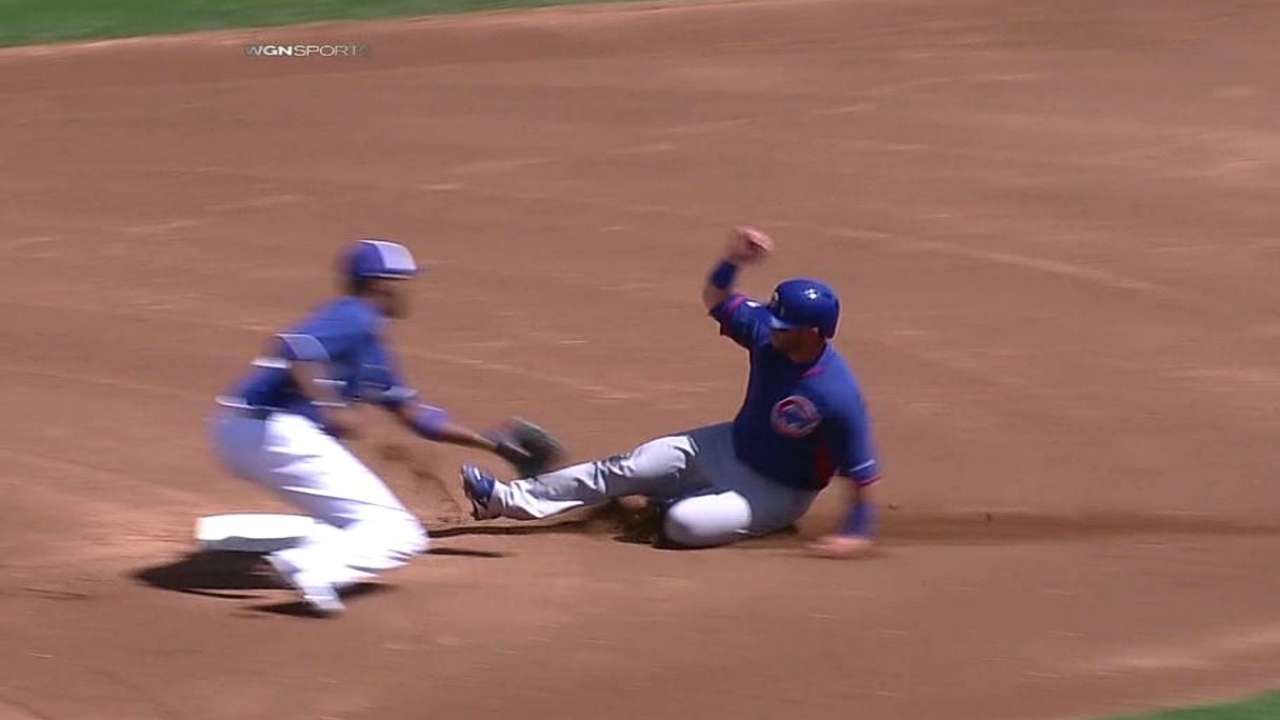 "It was a 3-2 breaking ball," Volquez said about the pitch to Montero. "I didn't want to walk that guy. I just flipped it up there. He's a good hitter. Nobody expects to see a breaking ball at 3-2 during Spring Training. He did. He got a good one, too, took a good swing at it and put the bat on the ball."
It was the kind of outing Royals manager Ned Yost expected when his club signed Volquez in the offseason to a deal that pays him $10 million this season with a similar club option for 2016.
"I don't see him struggling," Yost said before the game. "The importance I place on Spring Training performance and the importance you place on Spring Training performance are two different things. I'm looking for him to gain arm strength and I'm looking for him to refine his mechanics where he's down [in the strike zone] consistently. To me, he's right on schedule."
The Cubs, though, loaded the bases in the sixth against Volquez on a pair of singles and a walk to Montero with none out. Left-hander Joe Paterson replaced Volquez and whiffed Bryant looking. Ryan Sweeney drove in the Cubs' second run with sacrifice fly.
In all, Volquez allowed two runs on six hits -- including the homer -- with a walk, the eight strikeouts and a wild pitch, leaving with a 7.79 ERA.
"I think this is the best one I've thrown all Spring Training," Volquez said. "I was able to throw more strikes today. I was more aggressive in the strike zone. I just followed [catcher Salvador Perez]. He just put the signal down and I threw it."
Jackson allowed only one hit, a third-inning double by Kendrys Morales, in 4 2/3 innings. Jackson survived two errors in that inning, including one of his own, a short scoop toss to first base that Mike Baxter couldn't handle. Jackson was saved from huge damage when second baseman Javier Baez threw out two Royals standing at the plate.
The first was Jarrod Dyson, who started from third on contact when Alex Gordon grounded to Baez. The second came on the Morales double to right field that was played by Sweeney, who made a perfect throw to Baez. The relay toss caught Gordon by about five feet.
Jackson is battling Travis Wood for the fifth and final spot in the Cubs' rotation, a decision that should be made sometime in the next week.
Jackson said he and Montero were much more in sync Sunday, which was their second game together, and also cited some nice defense, including the two great plays by Baez.
"It was a little bit of everything working in my favor today," Jackson said.
Up next: The Royals have three Cactus League games remaining before breaking camp on Wednesday to Houston where they play the final two games of the spring on Friday night and Saturday against the Astros. Manager Ned Yost said there won't be any further significant roster moves until the club trims to 25 just before the season opener at home on April 6 against the White Sox. The Royals play the Rangers, their camp mates, on Monday at Surprise Stadium. Left-hander Jason Vargas gets the start in a game that can be heard on an exclusive webcast on Royals.com.
Barry M. Bloom is a national reporter for MLB.com and writes an MLBlog, Boomskie on Baseball. Follow @boomskie on Twitter. This story was not subject to the approval of Major League Baseball or its clubs.