MLB.com Columnist
Lyle Spencer
A-Gon shines outside the Hollywood spotlight
Soft-spoken first baseman has been model of consistent production for a decade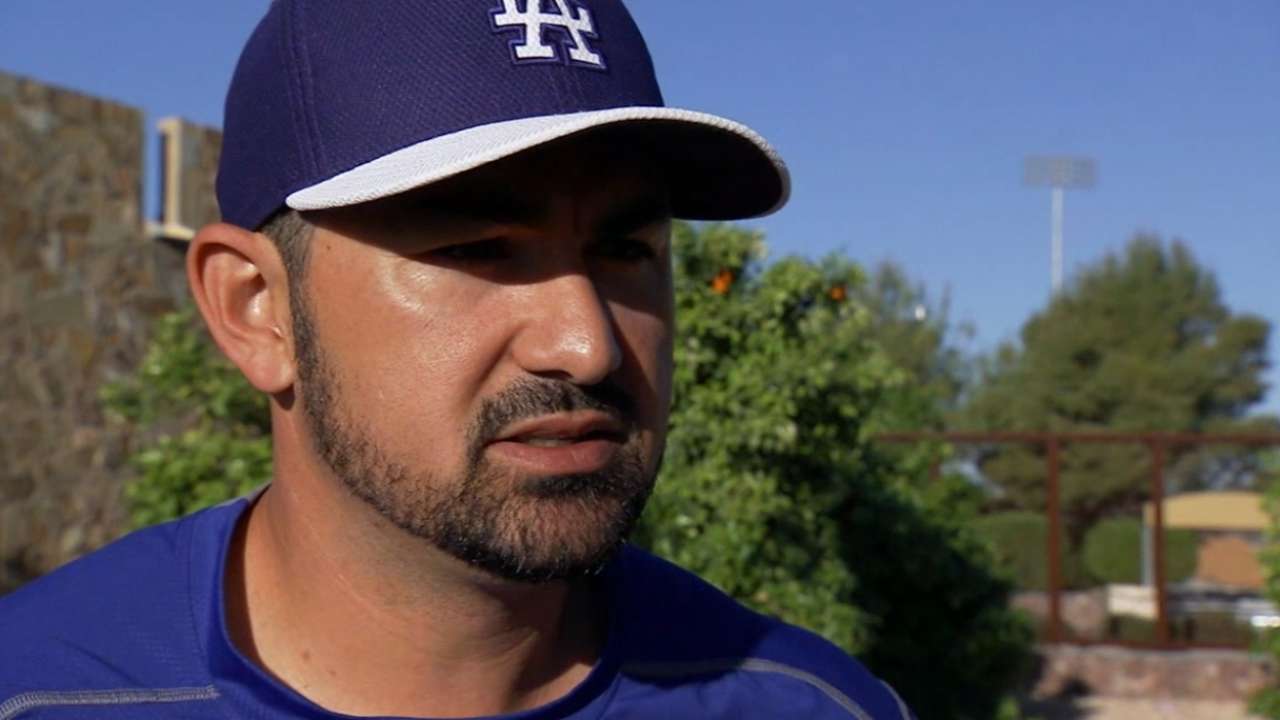 GLENDALE, Ariz. -- In the case of Adrian Gonzalez, understated evidently equates to underrated.
Gonzalez led the Majors in RBIs last season with 116 and is widely regarded as the game's premier defensive first baseman. He rarely misses a game and does his best work under pressure. Add it all up and this is what you get: Major League Baseball's most underappreciated superstar.
The Dodgers' pillar of quiet strength, Gonzalez goes about his business without a trace of flamboyance. Wearing his emotions under his sleeves, not on them, he is the polar opposite of teammate Yasiel Puig. Adrian rarely smiles on the field and maintains his low profile with the media, making headline-grabbing comments about as often as he sits out a game.
What Gonzalez does is stand and deliver on a remarkably consistent basis, producing in ways that can't be denied no matter how you might feel about his personal style.
Since breaking in fulltime in 2006 with the Padres -- his third organization -- Gonzalez leads the Majors in games played with 1,433 (159.2 per season). He is fourth in hits, doubles and RBIs; eighth in homers and runs scored, and 10th in walks. Clutch? He is fourth in batting average with runners in scoring position (.330), sixth in slugging in those situations (.562).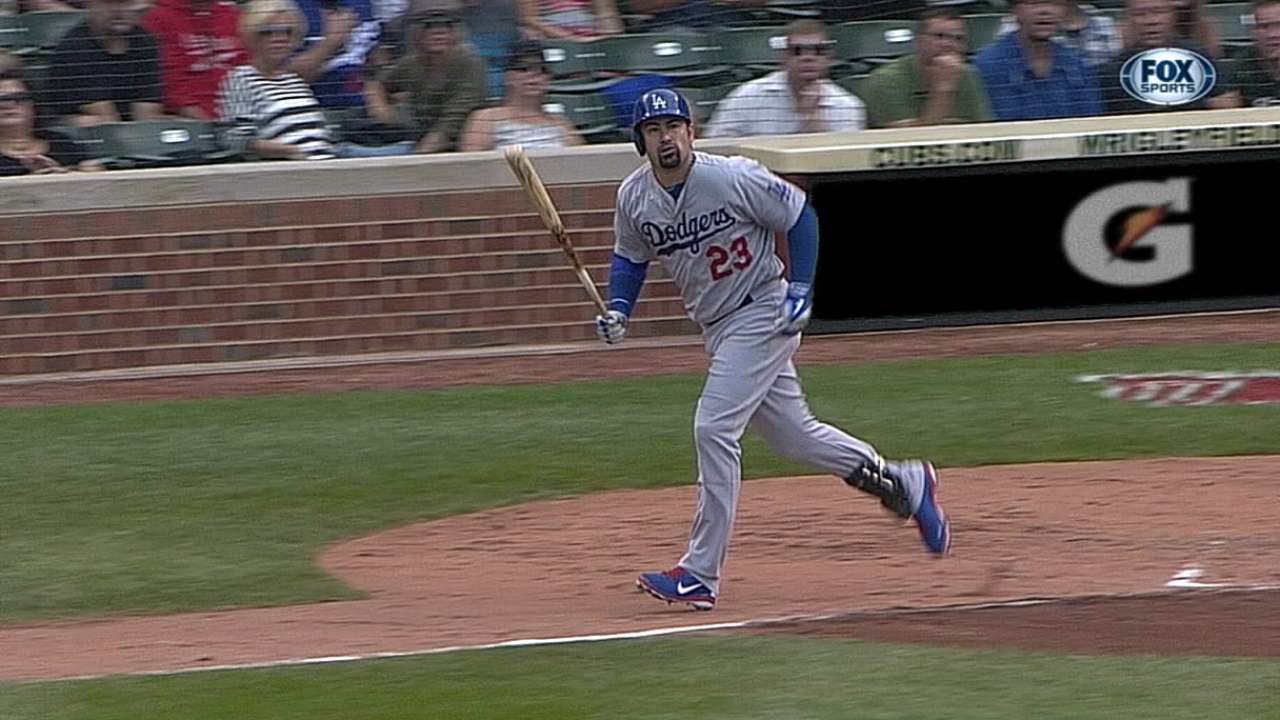 If not for a 99-RBI season in 2009, when he unloaded a career-high 40 homers for the Padres, Gonzalez would be working on a nine-year streak of triple-digit RBIs. Why didn't he get to 100 that season? His NL-high 119 bases on balls (22 intentional) got in the way.
"They kept walking me with guys in scoring position," Gonzalez said. "Joe Torre [managing the Dodgers] walked me leading off in an extra-inning game."
A major point of disagreement among old-school and new-age camps revolves around RBIs. The analytics view that they are overrated compared to other numbers, notably on-base percentage, causes old school blood to boil.
Defensively, there is no argument. With few peers, Gonzalez is a valued ally of infielders and pitchers with his soft hands and aggressive style.
"Nothing is more important to me than saving errors and runs," Gonzalez said. "Defense at first base is so underrated. A bad first baseman can destroy a defense."
Over the past nine seasons, Gonzalez is second in zone rating among active first basemen behind Albert Pujols, first in assists and third in fielding percentage. His 38 runs saved over the past three seasons are 12 more than any other first baseman, according to Baseball Info Solutions.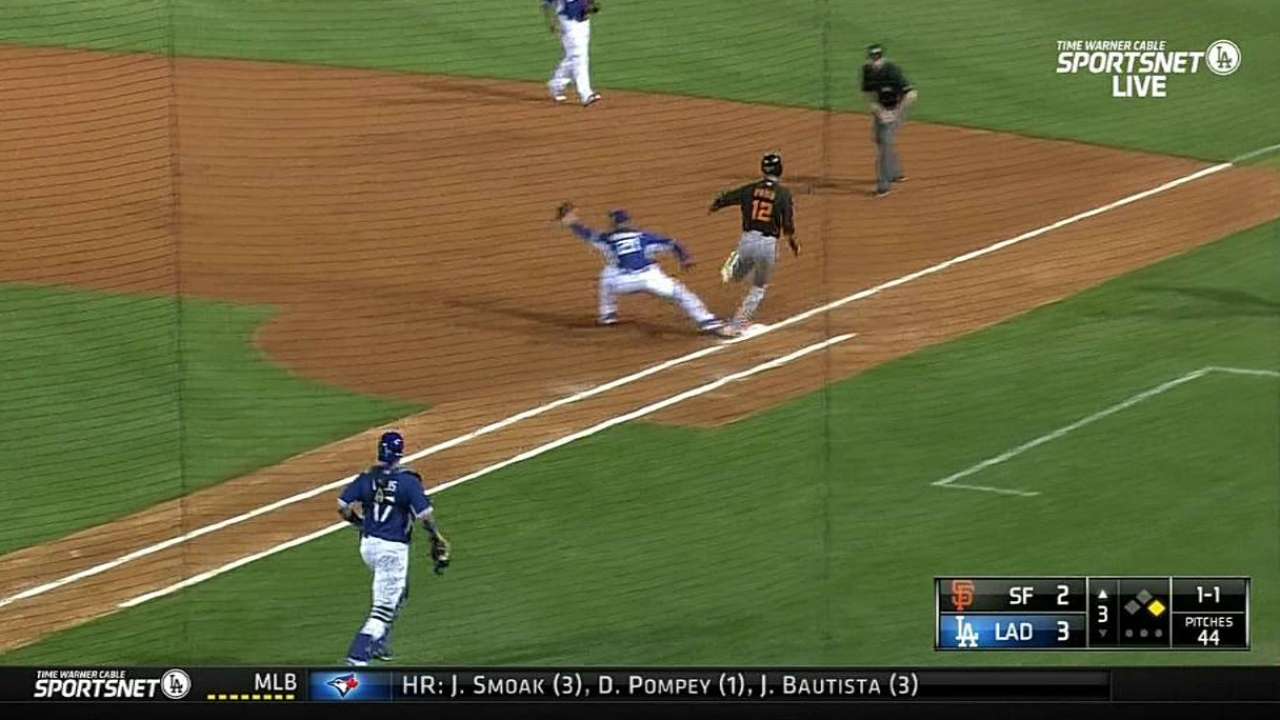 In spite of all the statistical evidence, Gonzalez rarely seems to enter conversations about the game's best players. How does he react to the apparent perception that, while he's clearly a good player, he somehow falls short of the elite level?
He doesn't, at least not for public consumption.
"I don't think I've had a bad year in baseball in terms of enjoying myself, having a good time," he said. "I'm just here to play. It's always been that way."
When Gonzalez was shipped to the Dodgers by the Red Sox in the blockbuster Aug. 25, 2012, deal involving nine players with a small fortune going west, the prevailing response in New England seemed to be "good riddance."
The Sox were a disappointing 60-66, but their first baseman -- with his .300/.343/.469 line -- hardly seemed to be the problem. Boston went 9-27 the rest of the way, rebounding to win the World Series in 2013 with wholesale changes.
Born in San Diego and raised in Tijuana, Mexico, until returning stateside in the sixth grade, Gonzalez was comfortable coming home to laid-back Southern California. He had made his mark with his hometown Padres and has been a driving force for two Dodgers National League West titles, though the past two seasons have ended with numbing playoff losses to the Cardinals.
"We're motivated," Gonzalez said, simply. He doesn't like to waste words.
With Jimmy Rollins and Howie Kendrick bringing rock-solid credentials to the middle infield, and gifted rookie Joc Pederson determined to make center field his home for years to come, the Dodgers have a different feel in the clubhouse as well as on the field. The chemistry has been visibly altered.
When Gonzalez took part in an animated TV interview with Rollins and Puig a few days ago, orchestrated by Alanna Rizzo of SportsNet LA, it was a brand of interplay that didn't seem to come so naturally with recent Dodgers clubs.
Gonzalez's relaxed, easy style can be interpreted as not caring enough to suit fans relating to Charlie Hustle types. That apparently became an issue in Boston, overriding his performance. Gonzalez had a .321/.382/.513 slash line in 282 games for the Red Sox, with 42 homers and 203 RBIs. He won American League Gold Glove and Silver Slugger Awards in Boston.
And yet few tears were shed when Gonzalez departed for L.A. along with Josh Beckett, Carl Crawford and Nick Punto.
"How I may have been portrayed in Boston didn't bother me one bit," Gonzalez said. "I didn't pay attention to it. I was just there to play, and that's what I did."
It is what he does year after year, with stellar results.
Lyle Spencer is a national reporter and columnist for MLB.com. Follow him on Twitter @LyleMSpencer. This story was not subject to the approval of Major League Baseball or its clubs.