Cruz may hold the key to the Mariners' World Series hopes
Newcomer provides big bat for a club that fell a game short of the playoffs in 2014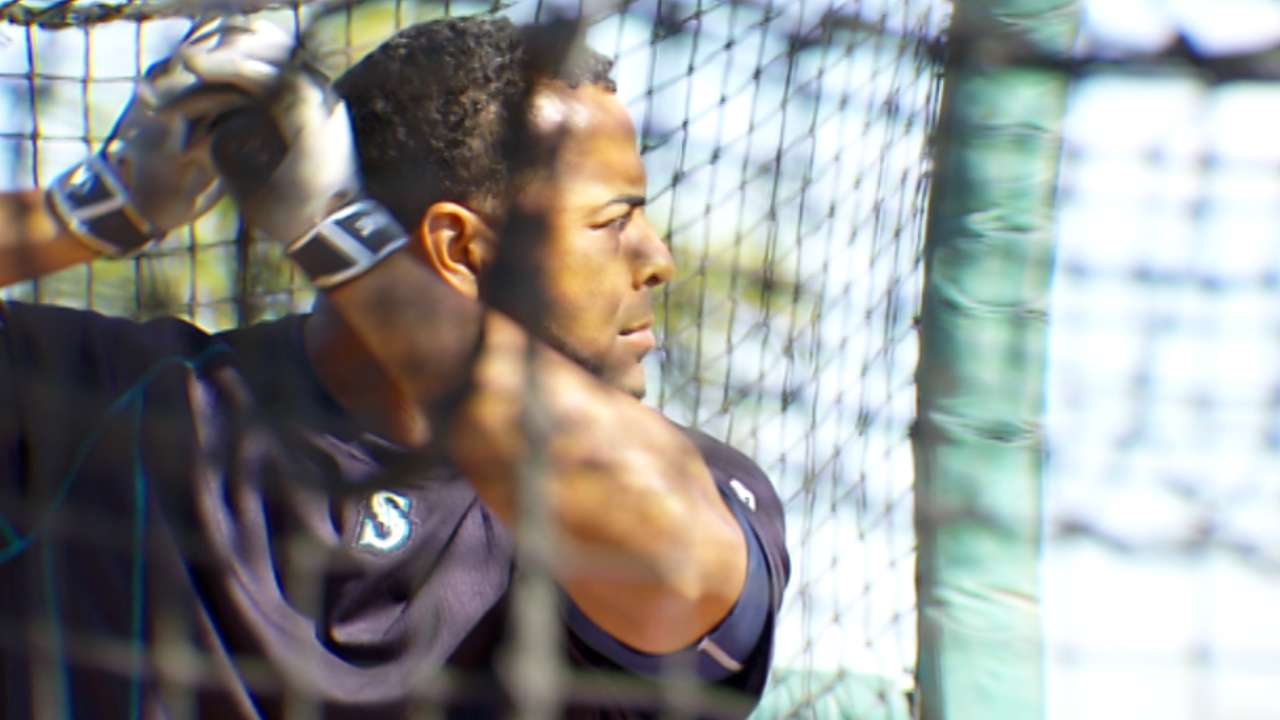 PEORIA, Ariz. -- When the Mariners improved by 16 wins last season but still fell one shy of an American League playoff spot, the obvious missing link was a big bat in the middle of the lineup behind Robinson Cano. So when you're looking to a key player for Seattle's success in 2015, it's hard to overlook the imposing presence of newcomer Nelson Cruz.
The 6-foot-2, 230-pound Dominican brings a power bat to a Mariners lineup looking for that threatening thump. The club hasn't had a 30-home-run player since Russell Branyan hit 31 in 2009. Cruz smashed 40 homers last season for the Orioles, as he earned his third AL All-Star bid and helped his team to the postseason for the fourth time in the past five seasons.
Whether Cruz comes close to matching his Major League-leading long-ball total remains to be seen, given Safeco Park's reputation as a tough challenge for right-handed hitters. But the Mariners are confident his mere presence puts a needed power threat behind Cano.
"I think it's just a complete [game-changer]," said third baseman Kyle Seager, who led the club with 25 homers in 2014 and will hit fifth behind Cruz this season. "You bring in Cano the year before and that changed the dynamic. I think the Cruz signing is going to be just as big. Just now the fact that A), you're bringing in the home-run champion into the lineup. But B), you have to pitch to Cano. The whole thing is going to be a lot of fun to watch."
Seager has watched Cruz closely all spring.
"He's got such a nice swing," said Seager. "He stays so connected and he drives the ball. It's not like he's trying to lift it or topspin it. It's a legit, back-spun line drive -- and it's special to watch. He's a strong man with a really good swing and a good idea of what he's doing. He knows what he is. So it's a pretty good combination."
Manager Lloyd McClendon believes the combination of Cano, Cruz and Seager in the 3-4-5 spots is pretty good, as well.
"We've got three All-Stars in the middle of our order," he said. "Not many clubs can say that."
Splitting the two left-handers -- Cano and Seager -- with a powerful right-handed threat eliminates opposing managers bringing in a lefty specialist without fear in the late innings. And teams figure to be far more reluctant to pitch around Cano at any point in a game, knowing Cruz awaits.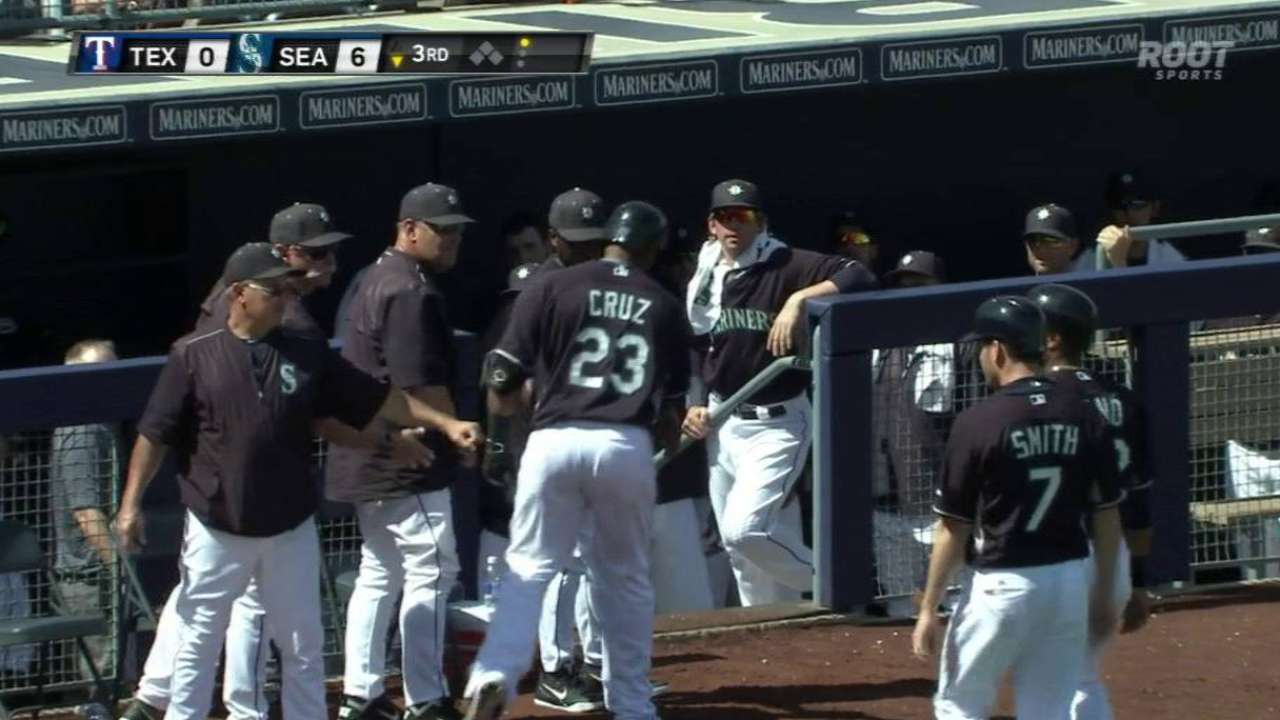 McClendon is thrilled to have a legitimate cleanup hitter to pencil into his order every day. He tried nine players in that spot last season, and the combined group produced the lowest batting average (.218), on-base percentage (.295) and slugging percentage (.352) of any team's No. 4 hitters in the AL.
Kendrys Morales batted fourth in 50 games in 2014, Corey Hart in 35, and Justin Smoak in 24. Even catcher John Buck, outfielders Cole Gillespie and Stefen Romero and designated hitter Jesus Montero combined to start seven games in the cleanup spot. The only players returning to this year's 25-man roster who hit cleanup last year are Seager (40 games) and Logan Morrison (six).
As long as he remains healthy, Cruz will fill that spot this season.
"I can tell you what it means to our ballclub," McClendon said. "It adds validity and extends our lineup and protects Robbie. It gives Seager more opportunities. A true No. 4 makes your lineup better all around."
For his part, Cruz looks around his new Spring Training clubhouse -- where his locker is near high-profile teammates and longtime friends Cano and Felix Hernandez -- and sees a club that could end Seattle's 13-year playoff drought. The Mariners have become a popular pick among many to be a World Series contender.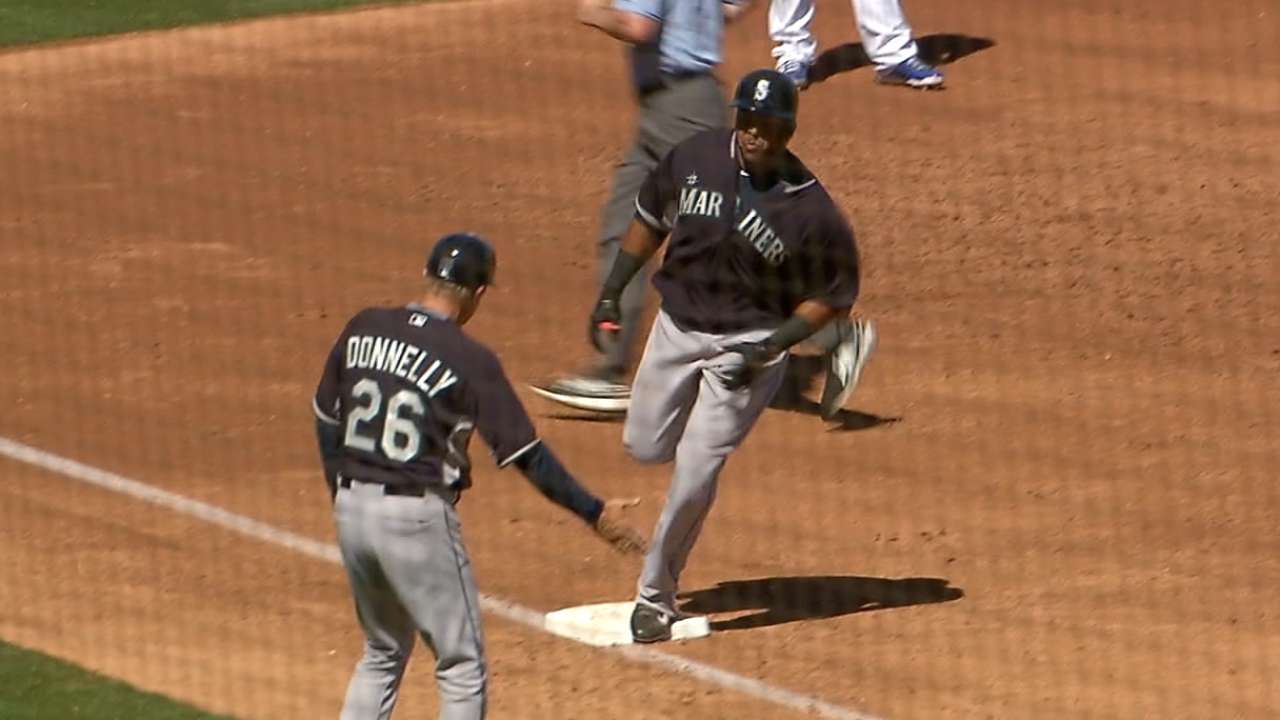 "It doesn't matter what people say, we have to believe in what we've got here and what can take us to that next level," Cruz said. "Everybody is on the same page. We know what we have to do to win games. The most important thing is health. If we stay healthy, we should have a pretty good shot."
Cruz averaged 29 homers and 86 RBIs over the past six years while playing in hitter-friendly Texas and Baltimore. Safeco Field is traditionally tough on right-handed hitters, and Cruz's career average there is .234 with nine homers and 19 RBIs in 52 games with a .749 OPS. But the Mariners moved the fences in two years ago and McClendon remembers well a scorched line drive Cruz hit off Hernandez last year that looked like a missile into the Edgar Martinez Cantina.
"I've heard the critics say he won't hit home runs in Safeco," said McClendon. "But he made it look real small last year. This guy is a good hitter. He hits home runs, but he's also a good hitter and he has the ability to drive in runs. I suspect that he's going to be just fine."
Greg Johns is a reporter for MLB.com. Follow him on Twitter @GregJohnsMLB as well as his Mariners Musings blog. This story was not subject to the approval of Major League Baseball or its clubs.