Madson shows he still has plenty to offer Royals
After years of struggling with injuries, right-hander has productive camp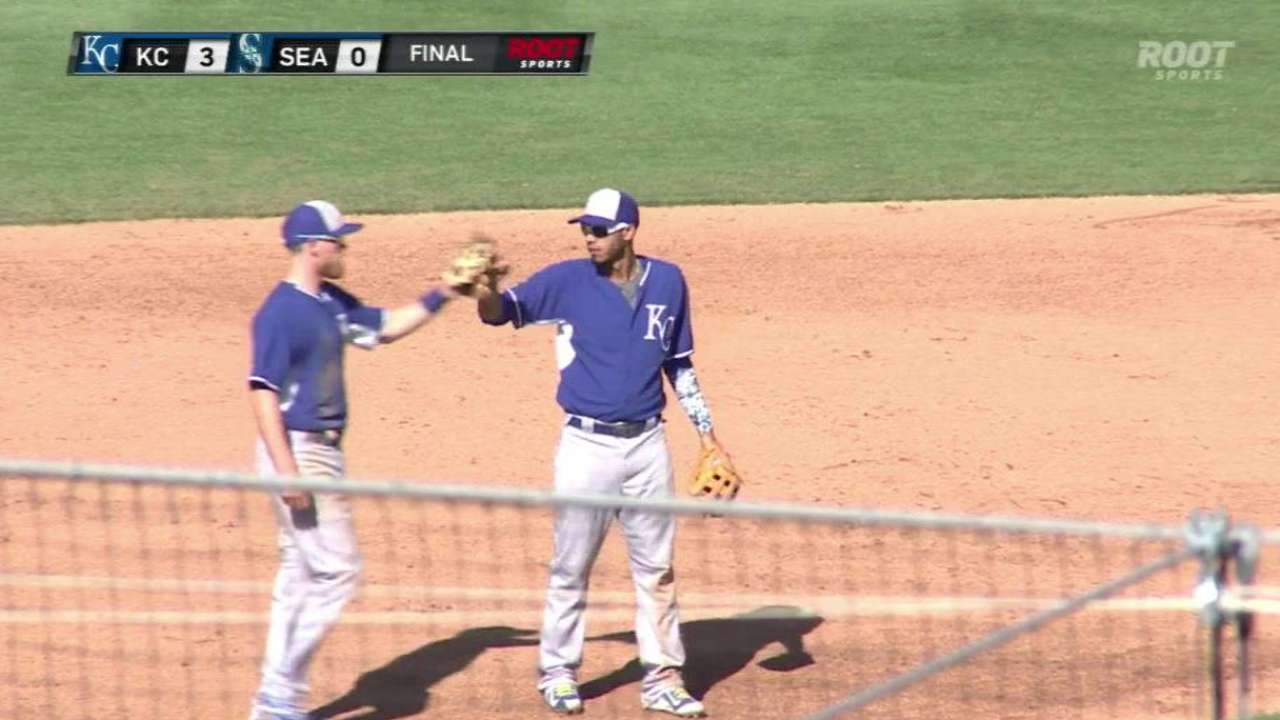 SURPRISE, Ariz. -- When Ryan Madson came into camp this spring with the Royals, he wanted to prove to himself he's healthy enough to pitch again in the Major Leagues. That mission has been accomplished.
"It has been a challenge," said the veteran right-hander who has been with Kansas City this spring as a non-roster invitee with a chance to make the big league team. "I've been away from it for so long. It took a lot of determination and hard work and just the grind. The time off put a lot of rust on."
Madson hasn't pitched in the big leagues since 2011 when he saved 32 games in his only full season as closer for the Phillies, the team he played with for nine seasons. In 2012, he signed a one-year deal with the Reds as a free agent, but suffered a right elbow injury during Spring Training that led to Tommy John surgery. Save for one Minor League appearance in 2013, he hadn't pitched since. Until this spring.
Now decisions have to be made. If he doesn't pitch for the Royals by May 1, he can opt out of his contract and sign as a free agent with another Major League team. In the meantime, if he has to go to Triple-A Omaha to continue building up arm strength, he will.
At 34, he knows this is it for his baseball career. If he doesn't make it back now, he probably never will.
"If it doesn't happen here, I will see if there's any other interest and will go from there," Madson said. "I mean, I came in not knowing whether I could pitch on consecutive days or three times a week, and now I'm past that. I know what I can do and I want to pitch again in the Major Leagues."
It was only this past offseason that Madson realized he could throw again with some velocity and without pain. He was home in Temecula, Calif., just north of San Diego County, helping take care of his four little kids. The extent of his baseball effort at that point was just lobbing the ball with Little Leaguers. Jim Fregosi Jr., a scout for the Royals who helped sign Madson with the Phillies, asked him if he'd like to work with a local high school pitcher.
"I had to air my arm out again and it felt so fresh, so clean, without pain," Madson said. "Before that, I've had those moments when I didn't feel like I was myself. All I did was play baseball all my life and I couldn't do it. It didn't sit real well with me and I'm sure it's the same thing for any player who's been injured and couldn't get back from it."
Madson was so impressed with his condition that he asked Fregosi to help him out. That led to the invitation to Royals camp. Once he was back in action, he had to locate the ball and find a rhythm. He's pitched eight times, finished five games and allowed three earned runs and 10 hits while walking none and striking out five in eight innings. He has pitched without pain. Feeling good and delivering solid results, Madson's last six weeks have far exceeded even his wildest expectations.
"I'm very happy I gave it another try," Madson said. "I'm very pleased with where I'm at, with what I've done this Spring Training. I never would've guessed it would've gone this well. There are moments when I'm not surprised, but I'm elated about what I've been able to accomplish this spring. Sometimes I really can't believe it's me doing it. So just getting the feel back to where I was before all this happened is pretty amazing."
Barry M. Bloom is a national reporter for MLB.com and writes an MLBlog, Boomskie on Baseball. Follow @boomskie on Twitter. This story was not subject to the approval of Major League Baseball or its clubs.